Zuka Is The Perfect Destination for All Chocolate Lovers
Chocolate lover Srinath Balachandran did hotel management and then trained in chocolates in France before he returned to India to dabble in his own chocolate concoctions. From 2003 to 2006, he had a company called Choco Là where he sampled and conducted trials in everything chocolate before he opened Zuka, in 2009. The first store was opened in Pondicherry at the time where Srinath created and wrote the recipes, while the chefs he trained and brought on board worked on the process of putting these dishes together.
What Zuka has that nobody else does is the fact that it's all about the chocolate. There is nothing else getting in the way of your attention and every dish on the menu and in the display always has some chocolate in it. While the store in Pondicherry is smaller and has more variety thanks to the constant flow of tourists, the Chennai café set up in Mylapore is going to have a lot more exclusive dishes on the menu. Plus, there's a chocolate carving of superstar Rajinikanth in the café that is a beautiful (and delicious) piece of work.
As for the name? "It's an invented name. It's a two syllable name, it's easy to remember and you don't have too many companies, especially in chocolate starting with 'Z'," Srinath told us when we sat down to drink some signature hot chocolate and talk about Zuka.
What can you tell me about Zuka?
Zuka is a Pondicherry based company. This is more of a chocolate café and every product will have a little or a lot of chocolate in it. Our raw materials come from Belgium, but I also get the direct supply from Madagascar and Ghana. We're also starting to work with the Ivory Coast and we're also now keenly working with Indian cocoa plantations.
Where are the cocoa plantations in india?
You have some in Coimbatore and some in Pollachi, and along that belt. And also in Kerala. So we're also keen to promote Indian chocolates. It's not going to happen overnight, but it's a work in progress.
Is the café going to be solely focused on chocolate?
In Pondicherry, the place is quite established, here we're still experimenting. As you can see, I haven't gotten my entire menu and we're hoping to launch that mid-June. There's going to be chocolate, obviously, and coffee and sandwiches, pasta and innovative desserts.
What can you tell us about the upcoming menu?
We're working on something called the "Surprise Meal" where a guest can walk into the café and order a dessert, but they won't know what they're going to get. Our creative chef is going to be planning something and it will come directly to your table.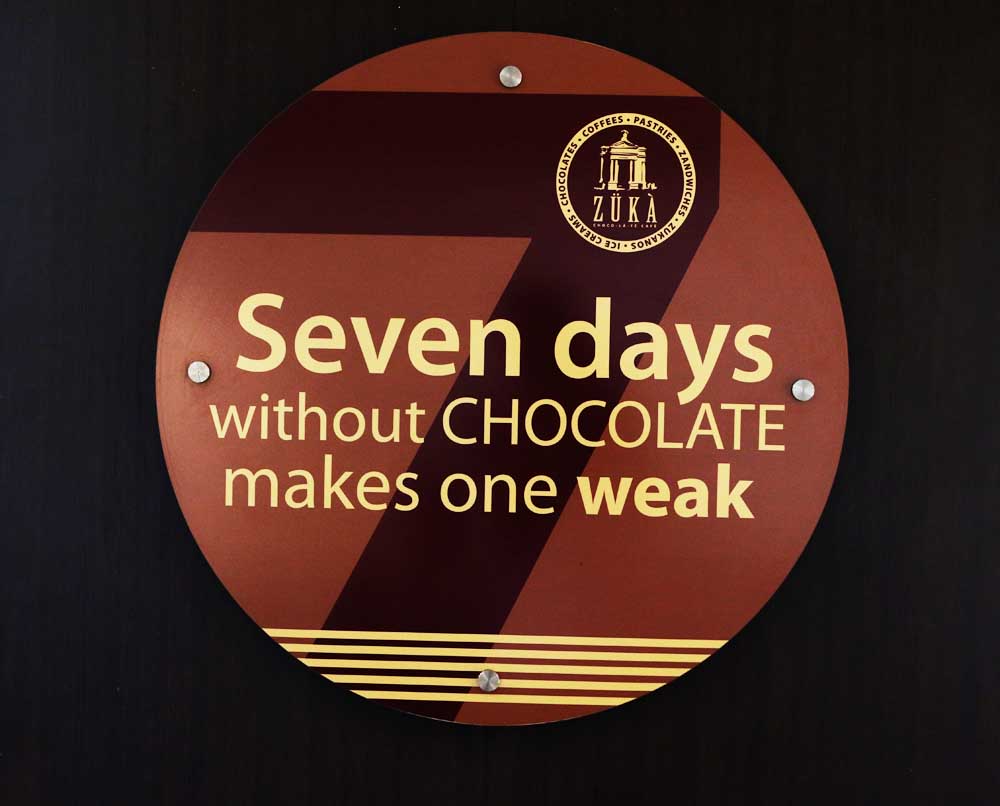 How long has the shop been open in Chennai for?
About 100 days; and I still have plenty of work to be done. It's not yet complete. We're working with different chefs at the moment. We currently have various chefs from different parts of the world come and give us some training. And we're also in the process of tying up with a company from the south of France. A know-how program and get training to be scheduled sometime later this year.
Why are you tying up with this company?
Let me put it this way, why is it that when we go to a cake shop or a bakery, we focus on the black forest cake. It's a nice cake and I'd love to call them nostalgic cakes, because you grew up cutting those cakes every birthday. And to be honest, the black forest that we get here is not the same as what it's really supposed to be. Black forest in general is a quiche with cherry liqueur. Making it the authentic format and putting it, I doubt if people are ready to have it here. So what we're presently doing is; we're trying to infuse something that is original, but with a little difference that people may like here and also slowly getting them to the original taste of what it was like. This was the basic reason we wanted to tie up with this group. We're going to come up with a lot of new things, we're going to have.
What else will you be introducing Chennai chocolate lovers to?
People always ask us if we're going to be making sugar-free desserts and I'm not. But we're going to have something called the "no added sugar" dessert. Mainly because you can't promote a product that is going to be sugar-free. Let's say you're going to take cocoa; that has natural sweeteners. Let's say you have fruits being planted somewhere close by, you'll have that flavours also gets infused with the cocoa. If you take the orange oriented chocolates, there is an infusion of another flavour along with the cocoa. So obviously when you have that, you have natural sweeteners that are already there. So you can't really call it sugar-free. And you don't get any certification that says you're not allowed to put anything else and that it's 100% sugar-free.
But we are going to launch the "no added sugar", but that's going to take me a little time.
How come you decided to open a store in Chennai?
Originally I've been having lots of people wanting franchisees for Chennai. We've actually opened a private Zuka as well in Chennai, which was my first outlet in the city. That was opened inside Mr. A. R. Rahman's college (KM Music Conservatory) and that's for the students and the faculty. When that came in, I needed to open a kitchen to support that. And the kitchen is the backbone for any food institution, so we have a kitchen that is larger than the shop and it can cater to maybe another six more outlets. Very soon we'll have more of Zuka expanding . But once we got the kitchen ready, we thought that we could open a café and make the most of it.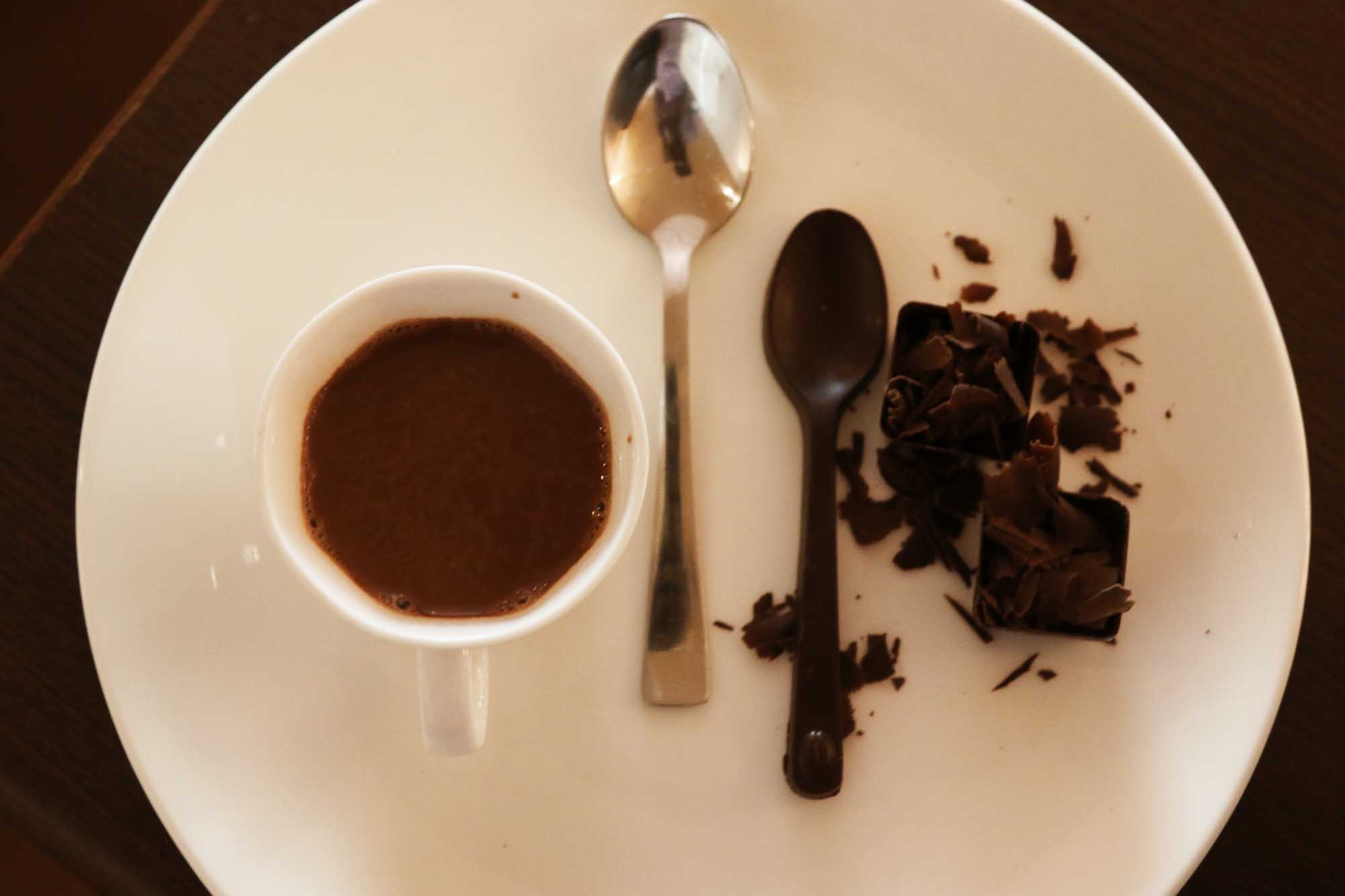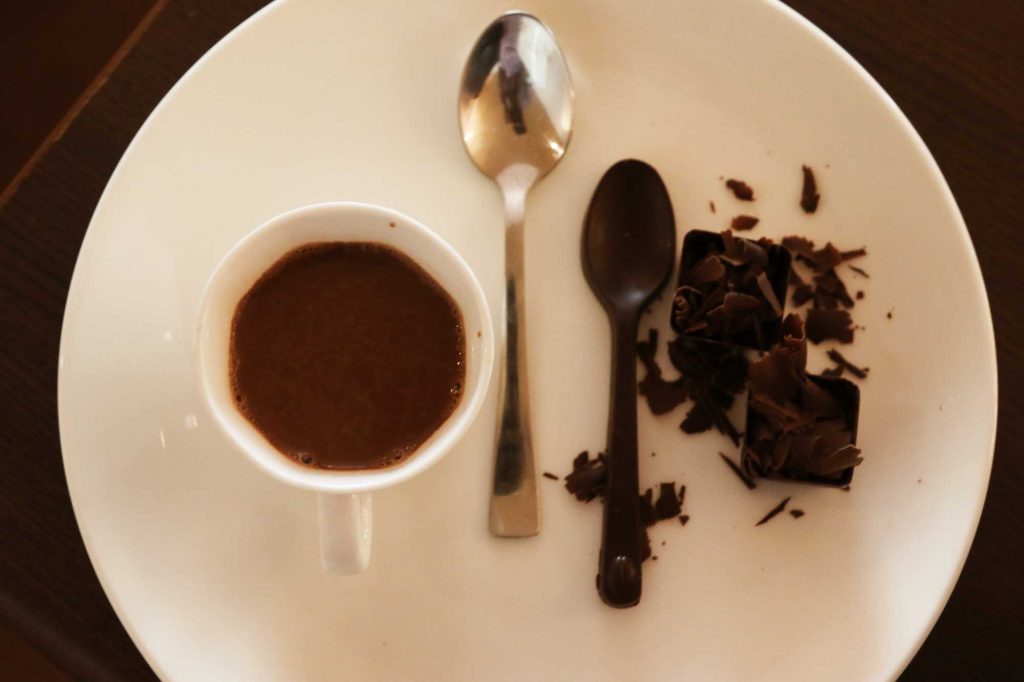 What are we drinking?
This is called the 54 Degree Celsius Hot Chocolate, it's my signature product. It's made with low calorie milk and no added sugar. Instead of sugar cubes, you have the chocolate cubes that you need to put in. Then you have a chocolate spoon to stir it with, so seven stirs and lift it slantingly up and you can just leave the spoon in the cup, let it just melt in it. When you mix it all together, you get the chocolate balancing to the right proportions. There are six different chocolates that go into making this drink, all from Madagascar.
How did you come up with this?
This is one of my first products. I like hot chocolates, so I made sure that I made something that I would like. And at that time, I didn't really have that much choice and this was the chocolate that I could get and it wasn't easy to source all the chocolate you wanted in 2009, but we were happy with what we could get. From there, it just got better. And now you have this.
Have you introduced anymore of your special dishes to the menu?
Quite a few, actually. Every weekend we have something new happening. We have a product called "Serendipity", which is a premium chocolate brownie made with a hazelnut praline and it's served with origin oriented chocolate from Madagascar. I have six different Madagascar chocolates and I use the 68% dark chocolate for the Serendipity. It has a well, so when you pour the hot chocolate ganache into the center, it wells up and when you cut, it oozes out. And it's served with white chocolate ice cream. We have a limited number of that every day and whatever I have in the day usually gets over pretty fast. We also have the Ice Cream Eggs – they look like Easter Eggs, but on the inside there's cake and ice cream. So when you cut it in half, you have the ice cream that looks like the yolk and it's covered with a cake. So it's very different.
Tell me about these chocolate carvings!
Earlier we had made one of APJ Abdul Kalam in Pondicherry. The chocolate Rajinikanth took one person about 160 hours to make, using 600 kgs of raw chocolate. The café is temperature controlled and maintained, so the chocolate carving is preserved. Before that we'd also made one of Mahatma Gandhi, the Statue of Liberty and a 12-foot long winter chocolate train. And the butterflies (on the ceiling) are also made with chocolate. Each of them are individually crafted and used with food certified colours.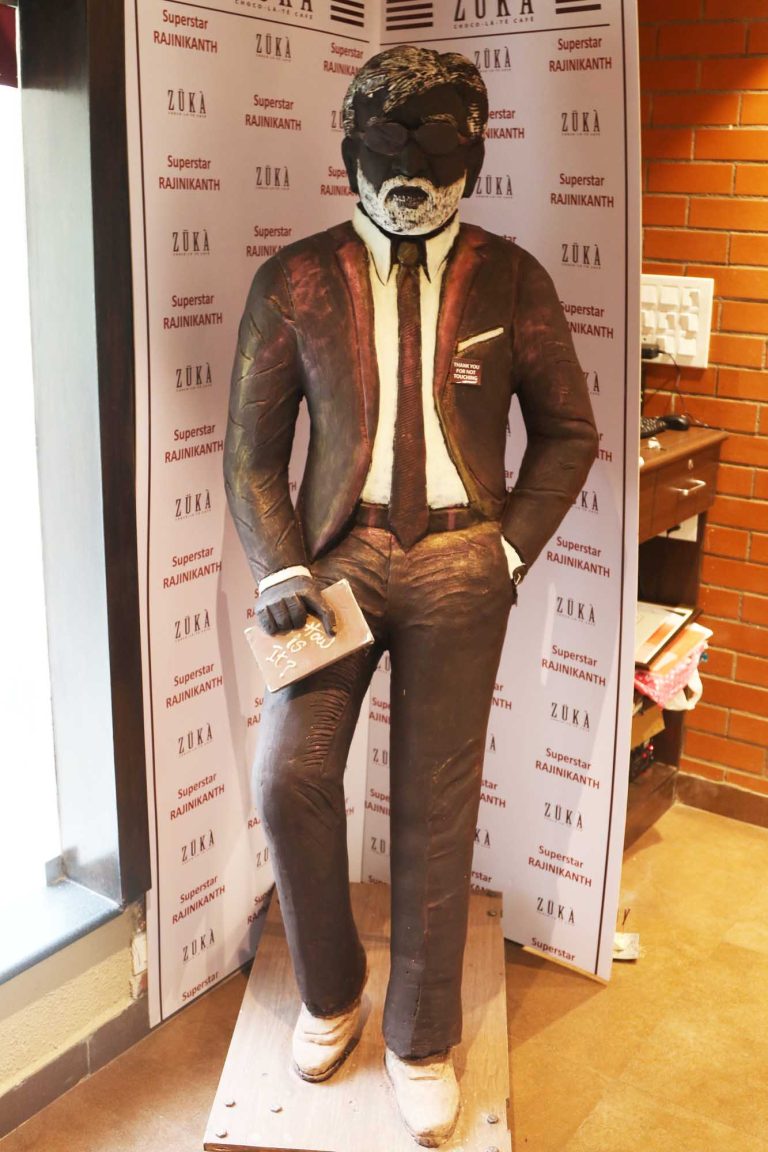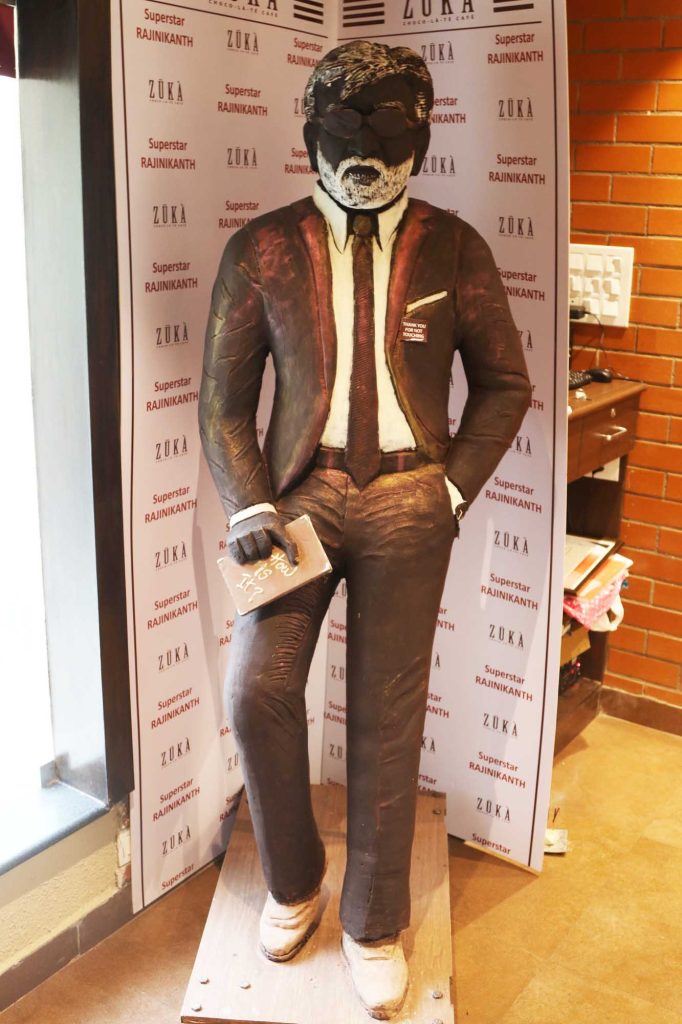 Visit Zuka at 100/1, RK Salai, Mylapore. It's located in the same building as Fully Local.