Yauatcha Mumbai Launches Aperitif Style Cocktails Made With Tea And Asian Flavours
The Yauatcha mixology program is based on the philosophy of fresh and eclectic; it offers a wide selection of cocktails using fresh ingredients, homemade purees, foams, fruits, herbs and spices that pay a modern homage to Asian flavours. With its cocktail philosophy deeply rooted to fuelling connections, Yauatcha cocktails are designed to bring friends and families together over a meal. The cocktails are designed to complement Yauatcha's vast range of dim sum without overpowering the flavours and taste. The mixology philosophy is predominately divided into citrus and aperitif, fruity and fresh, aged and experimental.
What To Expect

These drinks have distinctive citrus components that bring forth the aperitif element to the cocktail. The newly introduced Fang Xiang draws its citrusy flavour from freshly squeezed grapefruit and a delicate floral fragrance from elderflower. The earthiness to the cocktail is lent by crushed cumin seeds. This rum based cocktail is then finished off with a few spritzes of Absinthe mist. An aperol based drink, Around the World uses the flavours of lychee and apricot jam as aperitif, with limoncello balancing the sweetness of the cocktail. Pineapple and passion fruit find their way into our Lam Peak Martini, which is mixed with basil and fresh gin.

Tea Based Cocktails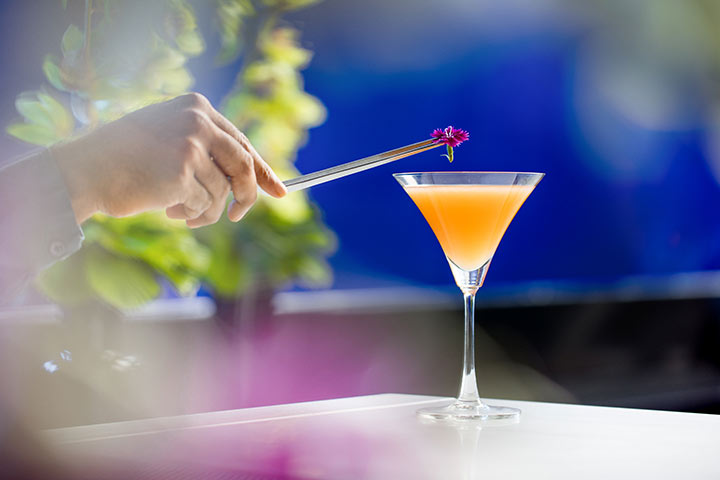 Since the ethos of Yauatcha lies in tea, it makes for an important ingredient to create infusions. The joy you get from the first sip of your morning tea, comes through in the Xing Fu, which literally translates to "happiness" in Chinese. A sweet and floral aperitif tea cocktail, it is a concoction of Earl grey tea, lemon, citrus gin, Cointreau and the floral fragrance of lavender. Named after the Ging Tea House in Darjeeling, the Golden Ging is a long tea cocktail which has the flavours of passion fruit, fresh ginger juice and lemon. A light, refreshing drink made using the exclusive Yauatcha blend tea.

These cocktails can be sipped by our exclusively designed community table area which is a valuable and stylish addition to the Yauatcha experience. The bar serves cocktails by world-class mixologists as well as an impressive selection of wines by the glass and non-alcoholic cocktails.