Wood Fire Oven for Pizzas? Pfft, Now you have a pizza box that cooks your pizza
One glance at CuiZen's pizza box, you're going to think that it's just a pizza box minus the grease at the bottom. But it is actually an oven in disguise. Halfway between a conventional pizza oven and a Panini press, the pizza box oven can cook homemade pizza and reheat your favorite 12-inch fast-food.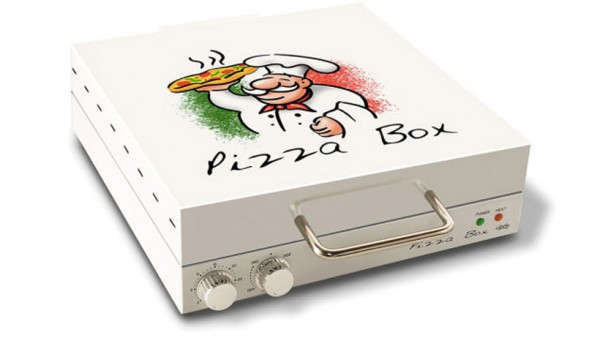 The whimsical Pizza Box oven is made out of metal and has a 1200W heating element inside. Priced at $60 which could be a tad bit expensive for a device that cooks only one thing, but it's pizza. And we think it's a worthy investment. The oven can heat up to 525 degrees Fahrenheit, and has a timer for up to 30 minutes. The rotating cooking surfaces have heating elements to cook both the top and bottom of the pie perfectly, and when your pizza is done, you can open your oven with the "cool touch" handle. The oven also comes with 40 pizza recipe ideas.
Here is what an Amazon reviewer thought of the wonder box: "I've tried cooking pizza of all types at home, pizzas on the grill, pizzas in a pan, pizzas in a skillet, homemade pizzas, cook at home pizzas, pizzas in a kit — all to no degree of success. Until I purchased the CuiZen Pizza Box Oven. Mamma mia, it produces the best pizza pie."
So till you order your fancy new pizza oven, why don't you try cooking a chicken ranch pizza?