Wok the Talk at The Madras Wok, Green Meadows Resort
As we walked into the evergreen beauty, that is Green meadows resort, we felt time stand still. The place has been designed ever so beautifully with traditional Kerala-style houses and a sprawling lawn. Ducks and geese take strolls around the place. The resort has recently given their restaurant, Madras Wok, a makeover and we went over to check it out.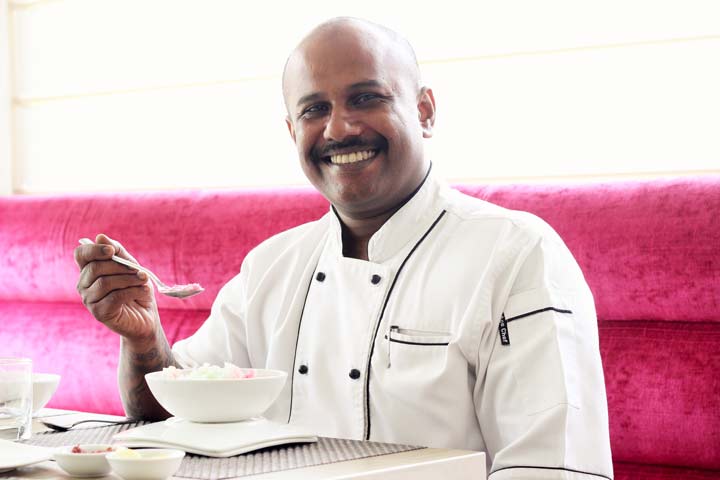 The ambience was very welcoming. We chose to sit by the window to in order to enjoy the view. As we made ourselves comfortable on the plush couch, we were greeted by friendly staff. The chef, Mr. Shivajee, is a culinary artist who's travelled across the seas from Singapore and brought with him, some of the delicacies from there. Hailing from a family of passionate chefs, Mr. Shivajee is a master of Asian Cuisine. After having worked in several reputed establishments across the world, he decided to cook up some magic at the beautiful restaurant in Green Meadows resort, Madras Wok.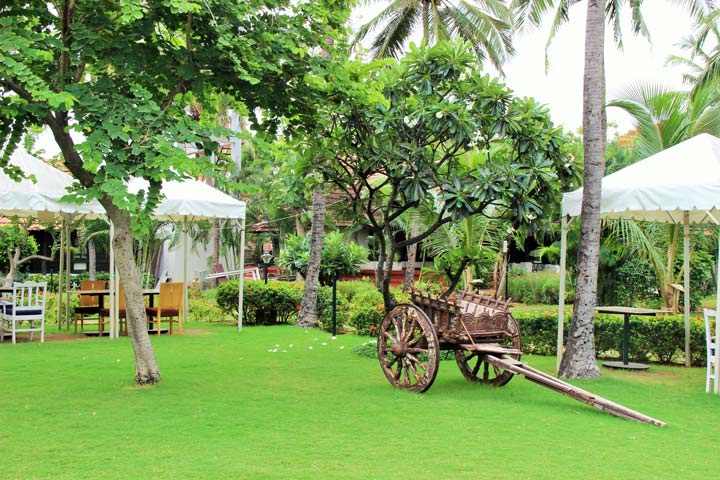 While we were soaking in the view, some very exciting starters were brought to our table.
The starters
1. Crackling Spinach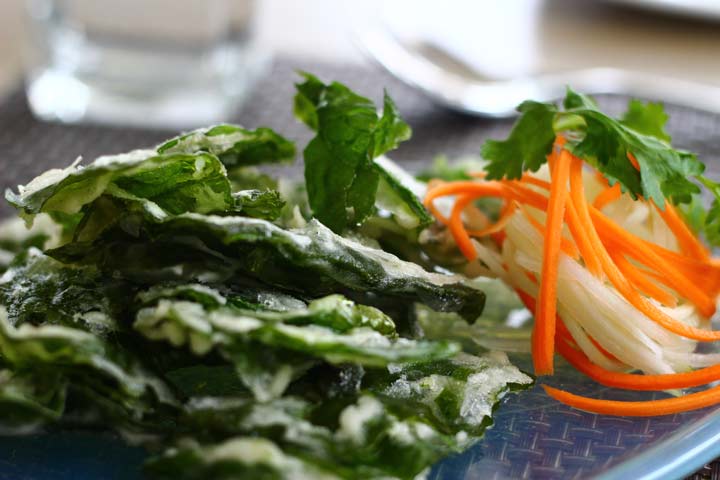 This is one Dish that we've heard loads about but somehow never managed to taste. We're glad we waited to try it here. "Crisp" is not usually a term you associate with Spinach but this was as crisp as it can get. We're of the opinion that Popeye may have convinced more kids to eat spinach had he just served them on the plate, crackling!
2. Diced Cashew Chicken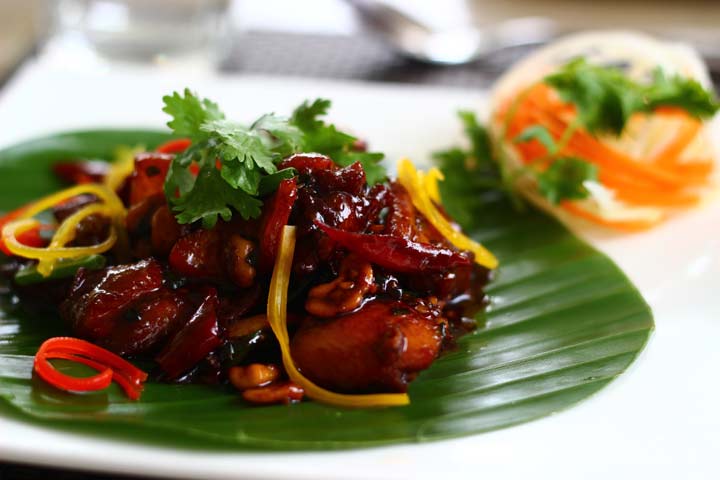 The sauce was divine. The chicken was cooked just right. This flavourful dish is bound to make your mouth water if you love oriental cuisine as much as us. In a nutshell (see what we did there?), that plate that it was served on, was polished clean.
3. Fried Cheese Wontons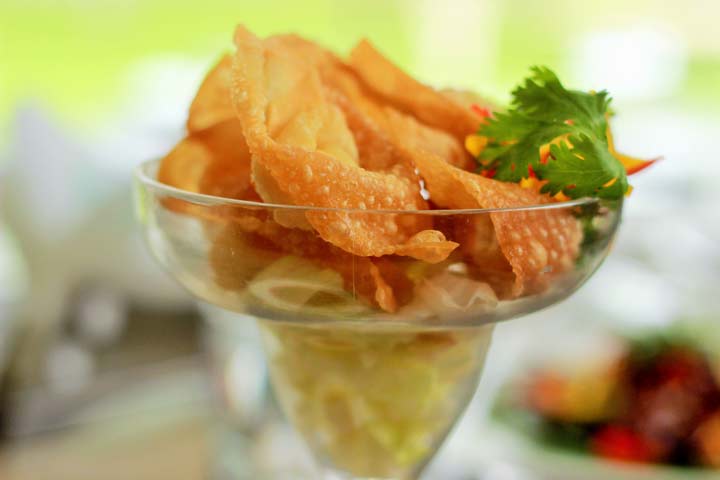 This dish said all the right things to us – fried, cheese, wontons. Wontons are such a happy, comfort food and Madras Wok does it perfectly well. Imagine having that on a breezy afternoon with a light drizzle pecking at your window.
4. Thai Chilli Prawns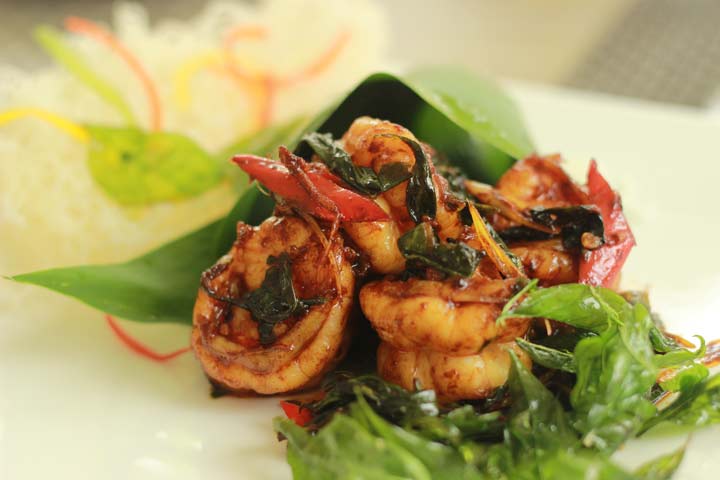 Let's talk about the presentation for a bit here. Not only did this dish smell downright sinful as it arrived at our table, it looked priceless. Served in a leaf, it was the best kind of burst of flavour imaginable.
The Main Course
Singapore Curry Laksa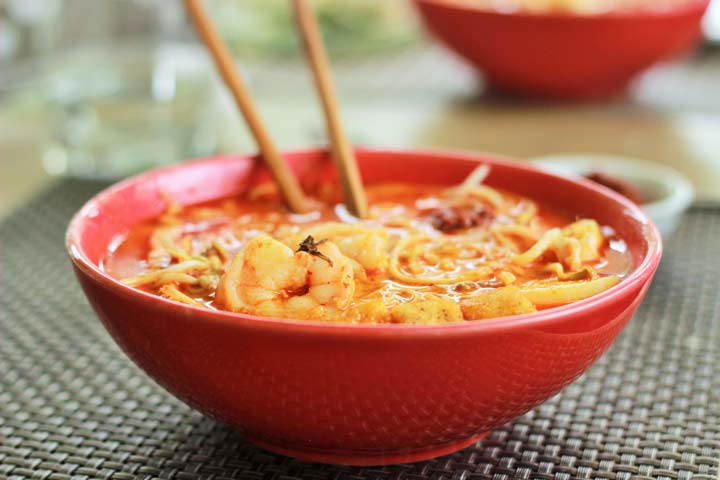 This dish will make Malaysians sing a melody. Anyone who's visited Malaysia and had authentic food from there will feel completely at home with this dish. What's more, it is quite filling. Having chicken, fish and egg cooked in perfect sync to give you a completely delectable meal is an experience by itself. We'd go so far as to say that this is the closest and easiest way to taking a holiday through Malaysia. More so for us, because we usually experience places through food. This is one very rich dish, that will leave you blissfully full and content.
Dessert
Ice Kachang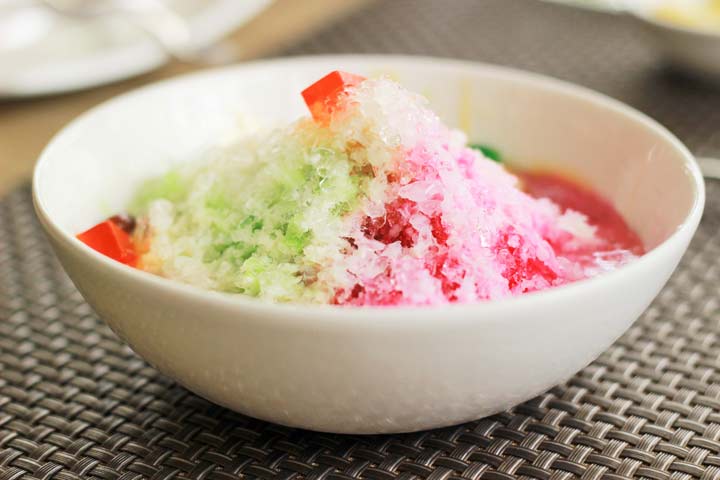 Oh yes, we said it. Ice Kachang. For people who've lived abroad or visited Singapore for a long holiday, this is a knock on your childhood's door. Ice Kachang is crushed ice infused in delicious syrups and meant to be relished like ice cream. Remember that drizzle we were talking about? It couldn't have come at a better time!