Weekend Getaway: The Thali Fit For Royals At Fasal at Mahabaleshwar's Saj On The Mountain
As the summer descends and the sun becomes more and more stifling, Mumbaikars have the habit of packing their overnight bags and heading to the hills. There's an abundance of hill stations a couple of hours drive from the city from Lonavala to Matheran to Mahabaleshwar.
A few weekends ago, we got the opportunity to unwind at Saj On The Mountain, a luxurious resort atop a miniature mountain in Mahabaleshwar. Mahabaleshwar, as any local knows is famous for its lush, large strawberries, so as we loaded our bags on the bus that would take us to Saj, we were anticipating three days filled with juicy berries and fresh mountain air.
Indeed, we got all that and more. A bounty of strawberries was only the cherry on the top of our Saj On The Mountain experience. Our stay there was a gastronomical delight, with fire side buffets, royal thalis and poolside dining.
Welcome To Saj On The Mountain
Before we draw your attention to the array of gourmet experiences we enjoyed at Saj On The Mountain, allow us to briefly introduce you to the property itself.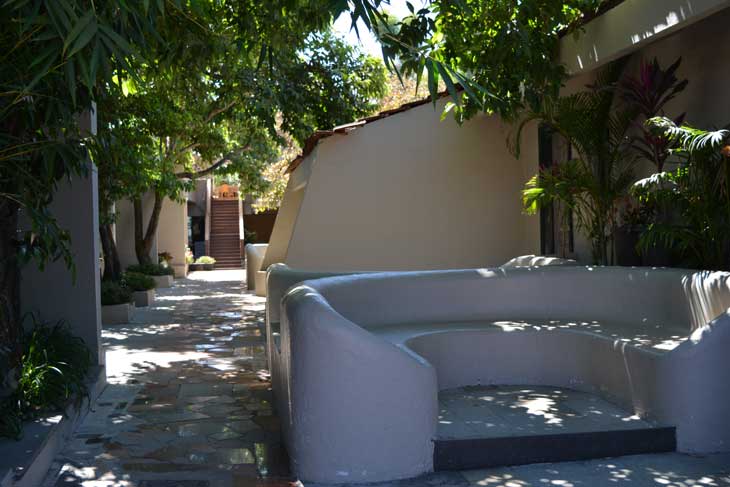 Saj On The Mountain has been around for over twenty years; a sprawling self-contained property which has been hosting swarms of families and groups each weekend. The resort recently stepped out, sparkling, out of a round of renovations which has made it an even more ideal getaway spot.
Stepping into the resort and ones' senses are immediately delighted by the abundance of flowers, trees and shrubs. While soon bloom in a medley of colors from carefully planned and planted gardens others grown naturally and haphazardly across the resort; along the walls of guests cottages, into airy gazebos for guests to lounge in and even into the resort's poolside dining restaurant, Wilson's Cafe.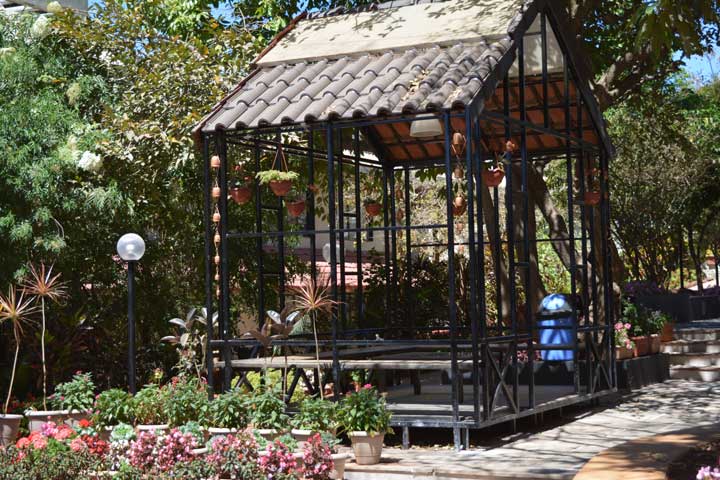 Along with two poolside restaurants (the other is the intriguingly named Darwin (which was inaugurated on the first night if our stay) the resort houses a host of other facilities. These include a luxurious spa; the Vyom Spa, a recreation room and the resort's iconic thali restaurant, Fasal.
Farm To Thali Dining
Fasal occupies a place of pride in Mahabaleshwar's dining destinations; even people who are not putting up at hte resort go out of their way to dine at the restaurant.
It offers patrons an unlimited thali using many ingredients which are grown in a garden outside. The thali boasts a vast array of dishes from gravies to flat breads to rice to desserts.
After arriving at Saj, we had our first meal at Fasal, an experience which managed to set the high tone for the rest of our stay. Within minutes of seating ourselves in front of gleaming silver thali platters waiters began materialising at our sides, dishing curries into the bowls, spooning dahi wadas on the plates and plying us with rotis and parathas.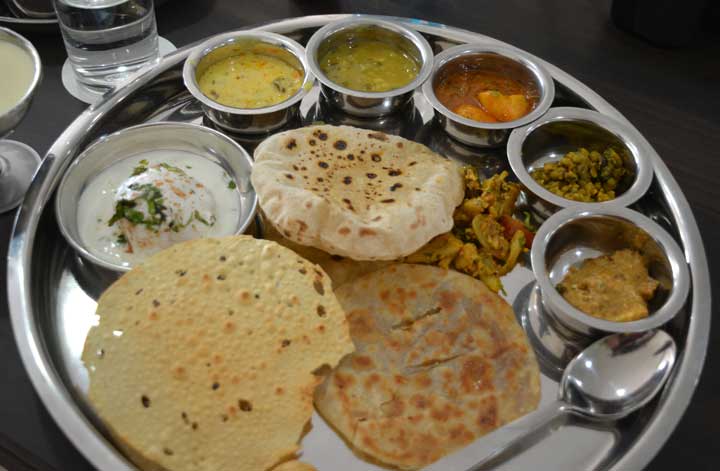 We accepted healthy servings of the dahi wadas, coated with velvety dahi – a refreshing way to begin our meal. The dahi tikkis were equally addictive with a soft, crumbly filling. We then moved on to sample the curries; the rich, creamy Paneer Labadar was an instant win as was the Jaipuri Aloo which was spicy and buttery. We scooped up these dishes with Phulka Rotis and Puris. Following these were a serving of lightly seasoned jeera rice mixed with Dal Rajwadi. We polished off our meal with Kesari Dry Fruit Basundi, a creamy, cool treat.
We left the restaurant with the taste of a light glass of buttermilk on our tongues to take a walk around the resort and hopefully walk off a little of our indulgence.
We dined at Fasal again the next day and had a similarly superlative experience. We began our meal with crispy kothibir wadis and Paneer Cheese Rolls. We then proceeded to scoop up spicy Paneer Khurchan with Phulka Rotis and Masala Parathas. We then had a generous amount of beautifully spied Vegetable Pulao with a side of Cucumber Raita and Gujarati Kadhi.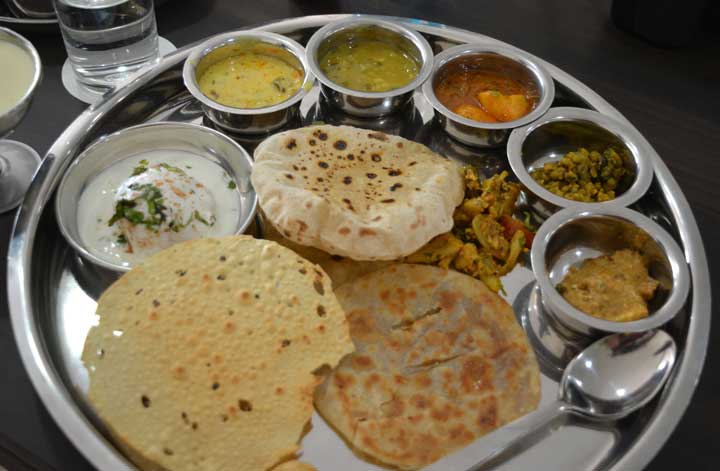 Finally, we rounded off our meal with a tall, cool glass of Masala Chaas, again stepping out feeling full but pleasantly invigorated.
Next up, we'll take you through our meals at the resort's other restaurants; stay tuned!