A Week Of Eating Holachef In Mumbai
In the middle of the summer heat, a majority of Mumbai found themselves praying for the monsoons. However, now that the rains have finally descended, we find ourselves remembering the disadvantages of the Mumbai monsoon. Stepping out, for instance, becomes a battle with unruly umbrellas, dirty puddle filled potholes and a higher chance of falling ill. In the midst of the monsoons, no one really feels like wading outside to dine. At the same time, ordering in gets monotonous; so what's a hungry Mumbaikar to do?
Here's a one word answer; Holachef.
What Does Holachef Do?
Holachef is a cloud based food service, which collaborates with a team of professional and amateur chefs to create daily menus. Customers can scroll through these menus and place orders for the dishes that catch their attention in their desired time slot.
Describing the service on its website, Holachef says "Holachef is an extension of one's personal kitchen. It serves home-quality food with daily new menus of breakfast, lunch, evening snacks and dinner; along with packaged edibles under the Flavours section. Holachef is a perfect blend of freshest ingredients, authentic recipes, wide variety of cuisines and the expertise of select chefs. Simple everyday meals to exotic indulgence – find them all at Holachef."
Holachef, therefore, saves you the bother of wading out to buy groceries and cleaning up your kitchen when you're craving the taste of home cooked food.
Tasting The Talk
While you can read more about Holachef's workings in an interview with its founder here, we're getting down to a more pertaining question: what does the food taste like? Over the past few days, we've been on a little bit of a Holachef trip – we've been ordering meals from them for breakfast, lunch and dinner and had a bite of their Flavours menu as well. Here's a taste of our experience.
Breakfast On The Go
The Holachef breakfast menu operates from 9 am to 11 am each day and is divided into light meals, which include dishes like bisi bele bhath and pindi chana with pooris, filling meals, which include heavier dishes like elbow pasta florentine pie, desserts which feature items like a whole wheat orange and dark chocolate muffin, beverages like masala buttermilk and munchies.
We were planning to be on-the-go the morning we placed our order and so decided to order a Nutty Apricot Mojo Bar, a Glow juice from Raw Pressery and a strawberry greek yogurt from Epigamia.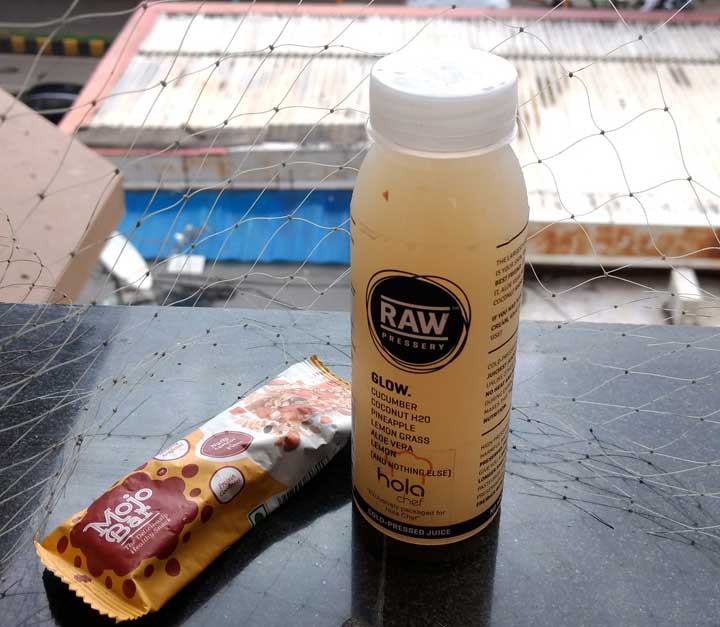 The Mojo Bar was packed raisins, apricots, black currants and a collection of nuts making a delicious combination. The yogurt was smooth and sang of an indulgent strawberry flavour, while the Glow Juice – a combination of cucumber, coconut water, pineapple, lemon grass, aloe vera and lemon – was tongue tingling refreshing.
All in all? An incredibly healthy, well balanced meal, both in terms of texture in taste that could be easily had on the go and be ordered from the same platform, making things just that much easier.
Lunch
Like with the breakfast menu, Holachef's lunch menu has both light and filling meal options along with a selection of pizzas, desserts and beverages. We called for a Mexican Chicken Chunks salad one day, a Turkish Baked Lamb and Eggplant the next and a plate of Mughlai Chicken Pualo on the third day. Yes, we do like our non-veg.
Or favourite by far was the Turkish Baked Lamb and Eggplant, cooked by Chef Nishant Pawar. Served with a side of pita bread, the lamb was flavoured with a rich sauce and was incredibly tender as were the accompanying slices of soft eggplants. Had with the pita bread, this was a filling, delicious meal.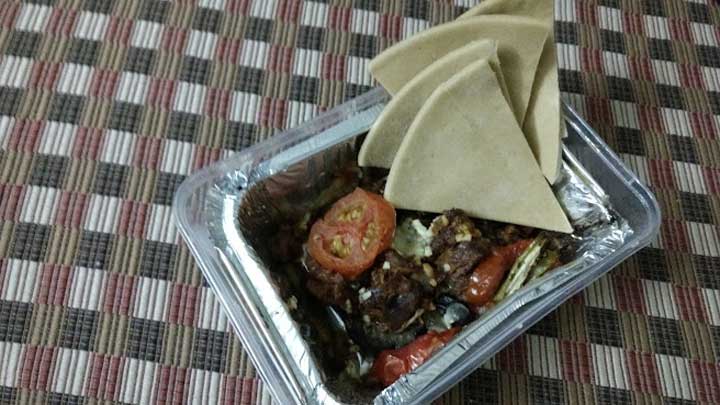 The Mughlai Chicken Pulao, prepared by Chef Ravi Saha was subtly spiced and had a generous amount of moist chicken. Meanwhile the Mexican Chicken Chunks salad would be a perfect cold, light meal – small chunks of chicken are combined with green and red peppers, beans and corn to make for a variety of textures in each bite.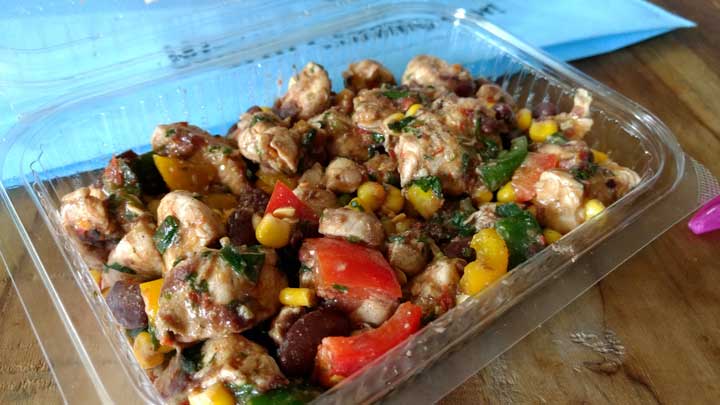 Dinner
We got a little heavier (both figuratively and literally) with dinner, calling for Wok Tossed Hakka Noodles on one day, Rajwadi Murgh Korma with Chapatis on another and Grilled Chicken Drumsticks with Mexican Rice on the third.
The Wok Tossed Hakka Noodles combined a stir fry of vegetables, including capsicum and spring onions with soft noodles. Accompanied by vegetables in Sapo sauce – a rich, savoury Asian sauce, the dish went a long way in satisfying our Chinese cravings that week.
The Rajwadi Murgh Korma featured chicken headily flavoured with ghee, ginger and onions making for a royally rich dish. The dish was accompanied by a serving of Chicken tikka, which, with a spicy, smooth masala marination and tender chicken grabbed our taste buds' hearts.
Our favourite dinner was the Grilled Chicken Drumsticks, prepared by Chef Nishant Pawar.
The chicken drumsticks were flavoured with a unique, interesting collection of spices, as was the Mexican rice. Paired with the Coriander Mole spice, the dish was further elevated into an exciting meal that we definitely look forward to ordering again.
Indeed, part of the charm of Holachef is that you can order from it every day; it retains a collection of favourites while regularly introducing new dishes of the menu to prevent ennui from setting in. This monsoon, Holachef is the perfect way to get your fill of homemade food, with absolutely no effort on your part. Head here to give it a try!