Want To Eat In Style? Head Over To Gucci's New Restaurant
Fashion and food are not too far apart. Both are forms of art and both have a wide market and demand all across the globe. So, it doesn't come as a surprise when a fashion giant steps foot in the food realm, especially after Dolce & Gabbana have already paved the way for this amalgam with their designer kitchen appliances' range. This latest design house that is targeting the food market is Gucci. That's right, now you can carry Gucci, wear it, and even eat it!
Palette & Palate
The popular luxury fashion brand's first ever venture in the hospitality industry is a restaurant christened Gucci Osteria, which is nestled in the culture-rich streets of Florence, Italy. Staying true to its design sensibilities, Gucci doesn't disappoint when it comes to its latest endeavor. Located at Gucci Garden inside the historic Palazzo della Mercanziain, Florence, the restaurant boasts of classy elements doused in bright hues. Gucci's restaurant-cum-museum pays attention to detail as it brings together a neo vibe in a classic ambiance with its grand chandeliers and a fresh palette.
From a gorgeous palette to satiating the palate, the restaurant takes care of it all. Michelin-star chef Massimo Buttura, who drew inspiration from his travels for curating the spread, has put the menu together for the Florentine fine dine. The menu features iconic Italian dishes as well as conceptual twists on classics such as Parmigiano Reggiano tortellini and mushroom risotto, Peruvian-inspired tostadas and pork belly buns, reports The Indian Express. The restaurant has a capacity to seat 50 people.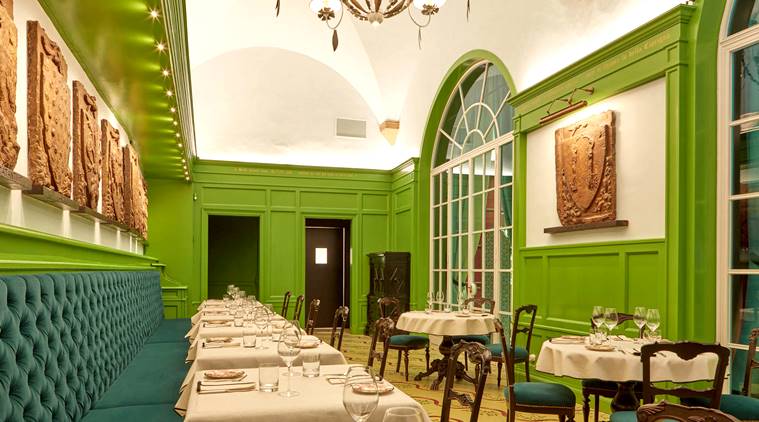 A Walk With Gucci
Meanwhile, Gucci's creative director, Alessandro Michele, has designed the museum section of Gucci Osteria. The Gucci Garden Galleria takes the customers through a walk down the design house's fashion journey through the years, from its archived vintage collections to its new vision. The museum showcases Gucci's overall identity in terms of its products, campaign, artisans' images, et al.
While dining at the restaurant will set you back by approximately 20 to 30 Euros (~ INR 1,500 – 2,500) per dish, the museum will charge an entry fee of about 10 Euros (~ INR 780) per person. The money collected from both the attractions will be donated to support the restoration of structures in and around Florence.