Walk Down Kolkata's Famous Russel Street Right Here In Chennai At Hyatt Regency
Bengali food might not be commonplace in the city of Chennai, but starting this week for ten days, Spice Haat at Hyatt Regency is giving food lovers in the city a chance to experience something new. While traditional Bengali food is very specific and focuses on home-made dishes, the food festival happening at Spice Haat is a combination of everything we've come to know as Bengali food.
For those, like myself, who have never been to Kolkata, an experience like this is one of a kind. We've heard of Park Street and Russel Street our whole lives, wishing one day to have the chance to visit these famous streets and experience what they are best known for – delicious food. Of course, bringing both streets to Chennai and giving food lovers a chance to try something new would be close to impossible, but having the chance to properly enjoy at least one street is good enough.
Kolkata is one of the few cities in the country that has all the cultural influences from different parts of the world. Influence from China, India, Mughal and obviously the traditional Bengali cuisine. All those influences come together to create a vast variety of food that you can't find anywhere else.
Before our meal, we got a little history lesson from Chef Gourab Pattanayak about Russel Street and what is special about the food on the street. One of the important parts of is the street food element, which you get as soon as you walk into Spice Haat. Along one side are three sections that serve three different kinds of street food.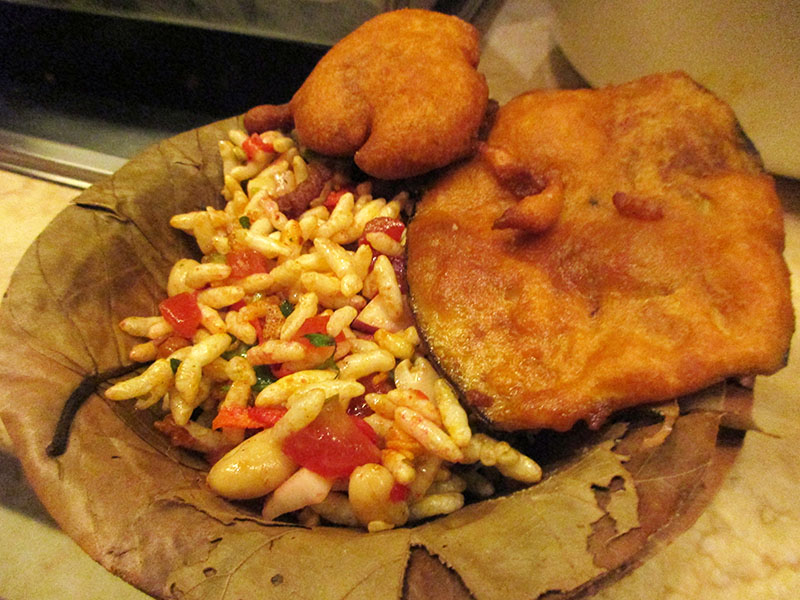 First, you get Puchka which is also known as Pani Puri to most people. It's made the same way, and you get to decide how spicy you want it. Then, you have the live station for rolls, where you get to pick between egg roll and vegetable roll – both will be made right in front of you and hot and delicious when you bite into it. And finally, there was a live station for Jhaal Muri which is a dish of puffed rice that is prepared with different kinds of spices.
We did a few live videos from the event last night that you can find on our Facebook page, but also check them out here:
Making an Egg Roll at the Russel Street Food Festival
Making Jhaal Muri at the Russel Street Food Festival
We were started off with a mud cup of Aam Pora Shorbot. Then head over the buffet display which is marvelous.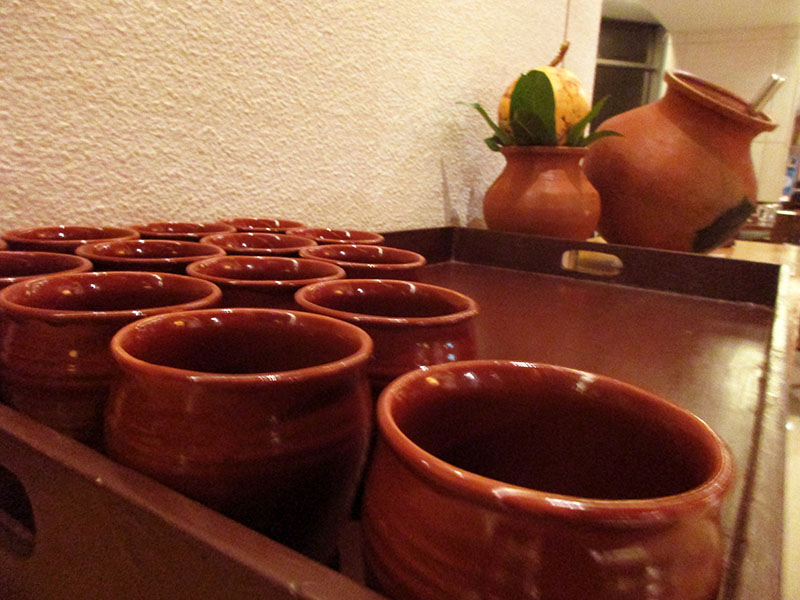 The elaborate menu includes different Bengali dishes featuring different preparations including Rajnandini Pulao which is made with dry fruits and mixed vegetables, Dum Aloo made with baby potatoes cooked with onion and tomato and seasoned with chopped coriander, Rasgullar Dalna, which as you'd suspect is a savoury version of the infamous Bengali dessert Rasgulla, and instead of a sugar syrup the Rasgullar Dalna is made in a cashew and tomato gravy.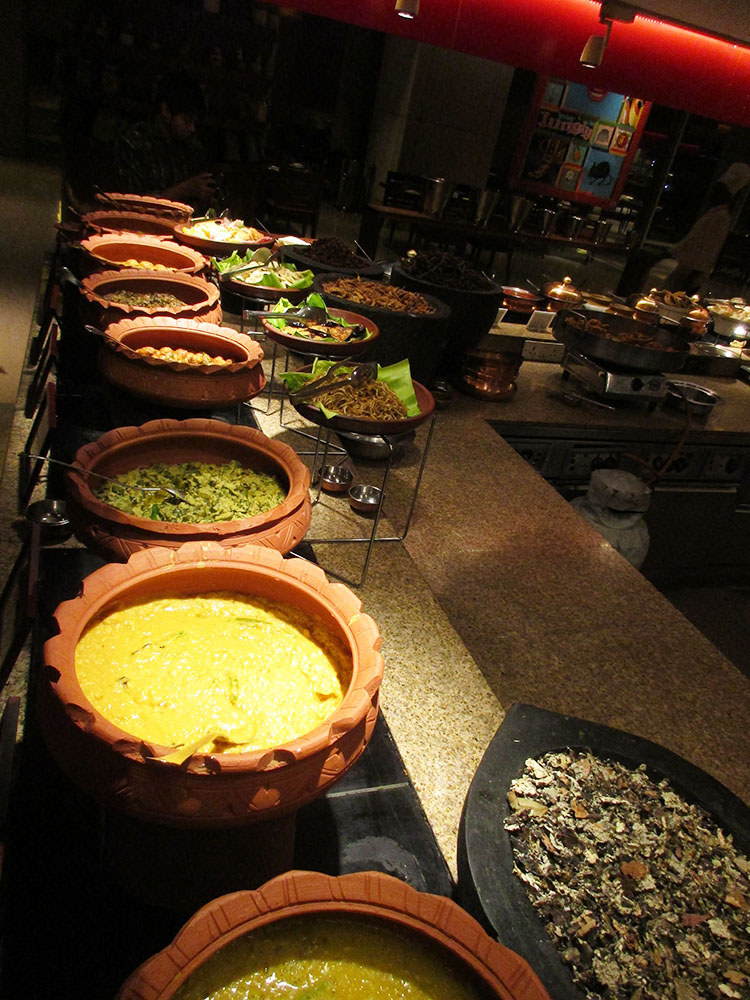 Fish and mutton are the most popular non-vegetarian dishes in Kolkata and on the buffet, they had Kosha Mangsho – a dry mutton preparation – and Nawab Barir Murgh Biryani which is the Mughal influence on the city. And of course the meal was completed with a selection of desserts from the famous Mishti Doi to the Rasgulla and the Pantua, which is very similar to that of the Gulab Jamun.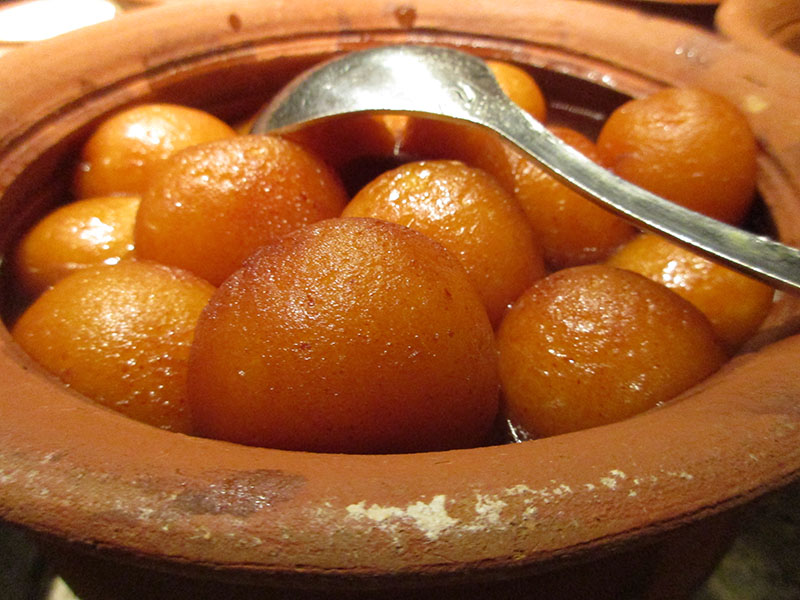 And for those not wanting to explore a different cuisine in the country, you can always dig into the standard Spice Haat buffet menu for something a little more familiar.
The Russel Street of Calcutta Food Festival is on at Spice Haat from Friday, February 24th till Sunday, March 5th for lunch and dinner. The buffet is priced at Rs. 1,350 (plus taxes) for lunch and Rs. 1,450 (plus taxes) for dinner.