Waffles Get A Bubbly Make-over At Bubble Bee
You hear "waffle" and you immediately imagine them with the characteristic honeycomb pattern. Not necessarily, say Bubble Bee's bubble waffles, the trending dessert that is all the rage among foodies right now. Less than five months old, Bubble Bee, located at Anna Nagar, stays true to its name, specializing in bubble waffles and bubble tea, the only place in Chennai to serve this combo. What's more is that their waffles are made from an eggless batter, and that's one of the reasons why people come keep coming back to this dessert joint. Their super delicious waffles, tea, and smoothies, of course, make for the rest of the reasons.
First off, we try their bubble waffle (well, duh!) and pick the Rocky Road Bubble Waffle, a sinfully chocolatey dessert with a chocolate waffle base, chocolate ice cream, Ferrero Rocher and loads of chopped nuts with a lavish drizzle of chocolate syrup. The lightness of the waffle and the creaminess of the ice cream together made the dessert our absolute favorite. Not to mention, the waffles are so filling owing to their portion size which, as far as we are concerned, is a huge bonus point.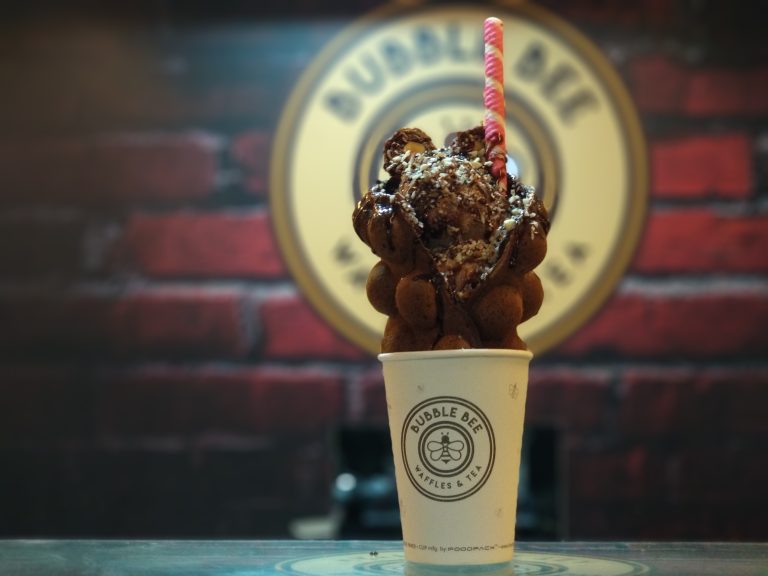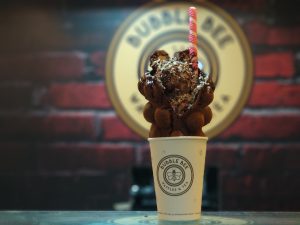 We wanted to give their Belgian waffles a shot and tried their Banarasi Paan Belgian Waffle, which as we expected was an explosive fusion of western and Indian flavors. It has a red velvet waffle base with paan flavored ice cream topped with tutti frutti, coconut shavings, and sprinkles for that gritty crunch. Who knew that something as Indian as paan would go so well with something so western as red velvet! But it did, and very well at that.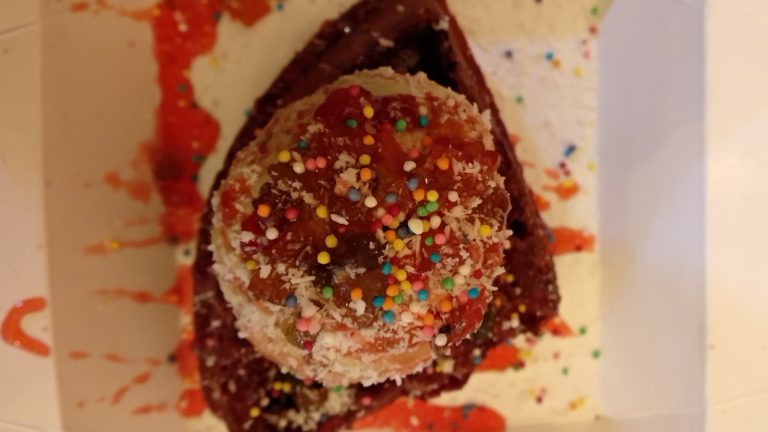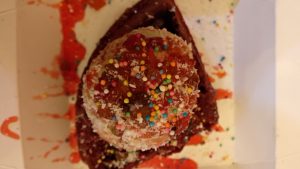 Bubble Bee's famed bubble tea was our first choice of beverage and we had The Joker, which has green apple-flavored tea with strawberry flavored bubbles. What is interesting and perhaps unique about Bubble Bee's bubble tea is their bubbles, called the 'popping boba'. They are these poppable bubbles filled with fruit juice that burst in the mouth to give you a dash of fruity taste, which in the case of The Joker, was a delightful strawberry flavor. The bubble tea was a fun experience in itself and tasted delicious.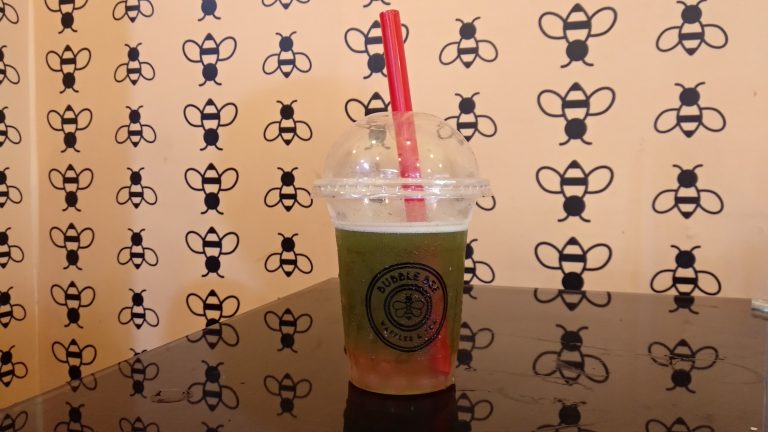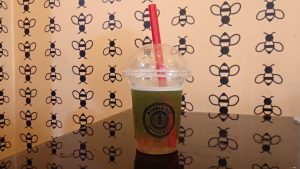 We decided to finish off with their strawberry smoothie, which again had its own version of bubbles. This, however, was the tapioca kind – soft chewy balls that enhance your smoothie experience. A thick, milk-based smoothie topped with loads of whipped cream, strawberry jelly, sprinkles and strawberry drizzle that together made it everything you'd want in a strawberry smoothie.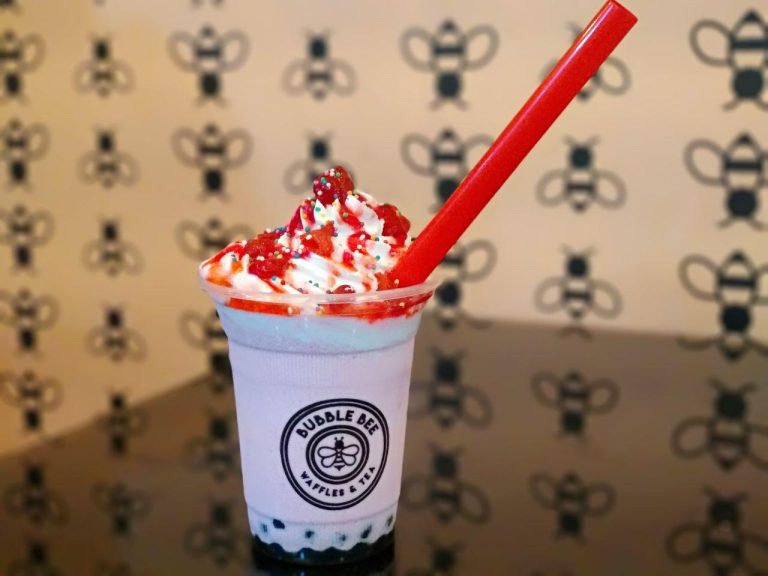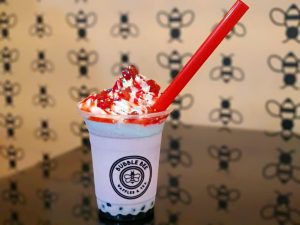 A very attractive feature that Bubble Bee offers you is their 'make your own bubble waffle' option where you can customize you waffle base, fillings, toppings and drizzles from the selection they offer. We went with their traditional combos but you can mix and match the flavors any way you like, thus creating a very satisfying dessert experience for every individual. They also have a 'make your own bubble tea' option where you can select your own flavor of tea and the toppings (in this case, the bubbles) and jelly you want to go with it.
Bubble Bee has something to delight every visitor with and their quirky yet delectable dessert menu is proof enough of that.