Visit Mango Tree For Some Yummy Authentic Chettinad Food
When we think of regional cuisine, the first thing we think of is home cooked food or places that serve them. You automatically know that you will get something special when recipes used and techniques followed are those that have been passed down from generation to generation from grandmothers to mothers and daughters. The owner of Mango Tree, Chitra Ramu is one such person who is making use of the authentic and yummy recipes passed down to her.
In an interview with The Hindu she says that she is peeved by the fact that Chettinad food is always only termed as "Spicy" Tired of self-proclaimed Chettinad restaurant chains playing it fast and loose with spices in the name of her region, she decided to show the city's foodies that Chettinad has more to do with pepper than chillies, and that the spices, far from being the protagonists, "are only used to bring out the original flavour. In real Chettinad food, you taste the actual vegetable, and the meat, instead of the sauce or gravy that dominates most preparations."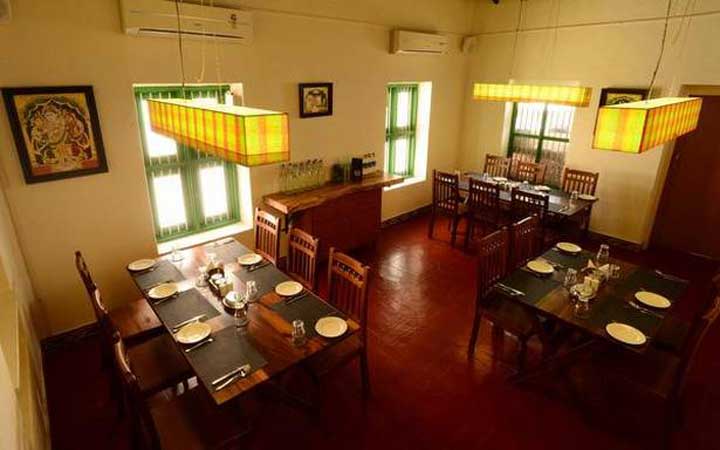 The restaurant is located inside a beautiful old bungalow with the namesake Mango tree at the entrance. The rafters and the wooden ceiling, the red tile floor and even the furniture and lighting used give a sense of nostalgia.
The dishes that you must try here? Well everything of course, because you will be coming here more than once for sure. Start with the delicate yet robust (both together yes) eeral maangai soup and then move on to their many delicious mutton dishes like the mutton dosai and the kari uppu kari.
Ordering the meals here is a must of course and then there are soft paniyarams and the thaalicha idiyappams that melt in the mouth and are sreved with a kathikai kosumali. The desserts too are unique and worth trying. You will not get such good quality Aadi kumaayam halwa or Tender coconut mousse anywhere else.
So after work, head to 31, Jambulingam St, Pushpa Nagar, Nungambakkam, Chennai, and  have some true blue Chettinad comfort.