Village Ticket – A Taste of Village-Style Life, Food And Culture
The grounds of Dr. MGR Janaki College of Arts and Science for Women, R. A. Puram came alive with folk music, laughter and the "moo's of cattle", on the 26th of July, which marked the beginning of the four-day village-themed festival, Village Ticket. Uzhavar Unavu Unarvu goes the tagline of the event, highlighting the main focus of the event – farming, food and feeling of our villages. The villages of Tamil Nadu have to their name an extensive legacy, glorified by tradition and culture that have been a way of life for thousands of years. The village festival or thiruvizha as it is popularly known in the state was an initiative of Grand Catering Company and presented in association with Brand Avatar, with a focus on giving the people of Chennai a holistic taste of village-life.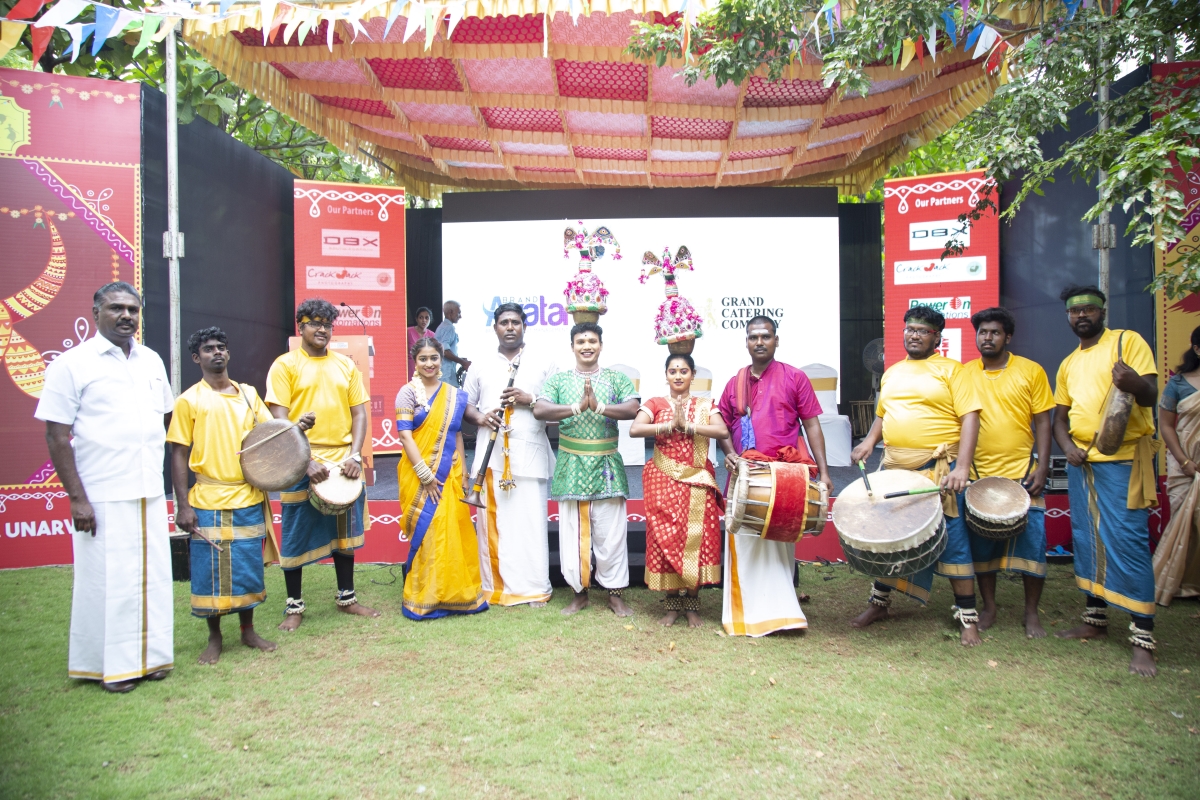 The event's launch took place in the college's premises on the 14th of July and Tamil Nadu Farmers Association Joint Movement President Mr. P.K. Deivasigamani, Brand Avatar's Founder & CEO Mr. Hemachandran, Dr. Mariazeena Johnson, Director of Sathyabama Institute of Science and Technology, Dr. S. Abhita, DEAN of Dr. MGR-Janaki College for Women and Mr. Thilakarasu, Managing Director of Grand Catering Company participated in the launch event. "Every city dweller who works in IT companies must also understand the hardships and hard work that every farmer puts in for the sake of producing food for millions and take up farming as part of their lives," said Mr. Deivasigamani, while speaking at the event.
Over 20 food stalls were set up across the place, each offering several delicacies that are specialties of villages across Tamil Nadu. Prepared by native cooks brought in from the 32 districts of the state, each dish that was served was a wholly authentic experience of taste and flavors, which isn't much of a surprise seeing as the recipes and technique were passed on through generations, giving that uniqueness to the dish that cannot be perfected elsewhere.
Among the stalls, one could find Mani Iyer Kadai selling traditional breakfast fare, Kattu Soru Kadai offering mixed and packed rice varieties in traditional mandharai / vazhai elai, Kumbakonam Degree Coffee, Dindigul and Arcot Biryani, Muniyandi Military Hotel offering Madurai mutton specialities military-hotel style, Kongu Varuval Kadai selling kongu-style fries, Dhaniya Unnavagam selling organically farmed millets, Saththu Kanji and Payasa Kadai selling millet soups, stews and payasam. There were also several other stalls such as Naatu Marundhu Kadai and Maligai Kadai selling authentic village fare, groceries and traditional medicines.
One of the stalls that stood out is the one by nativespecial.com, an online venture with a vision to make native specialties from all over the states of Tamil Nadu and Kerala accessible online. Some of their star products include srivilliputhur palkova, tirunelveli halwa, kulithalai olapakkoda, oothukuli nei biscuit, kovilpatti ellu mittai, etc. The Inippu Kadai was also pretty popular with traditional sweets like velliyanai adhirasam, ooty varkey, etc, raking in the crowds. About 20 stalls were allocated to farmers free of cost, for them to market the products that were grown by them. Visit nativespecial.com, and order traditional savouries directly to your home!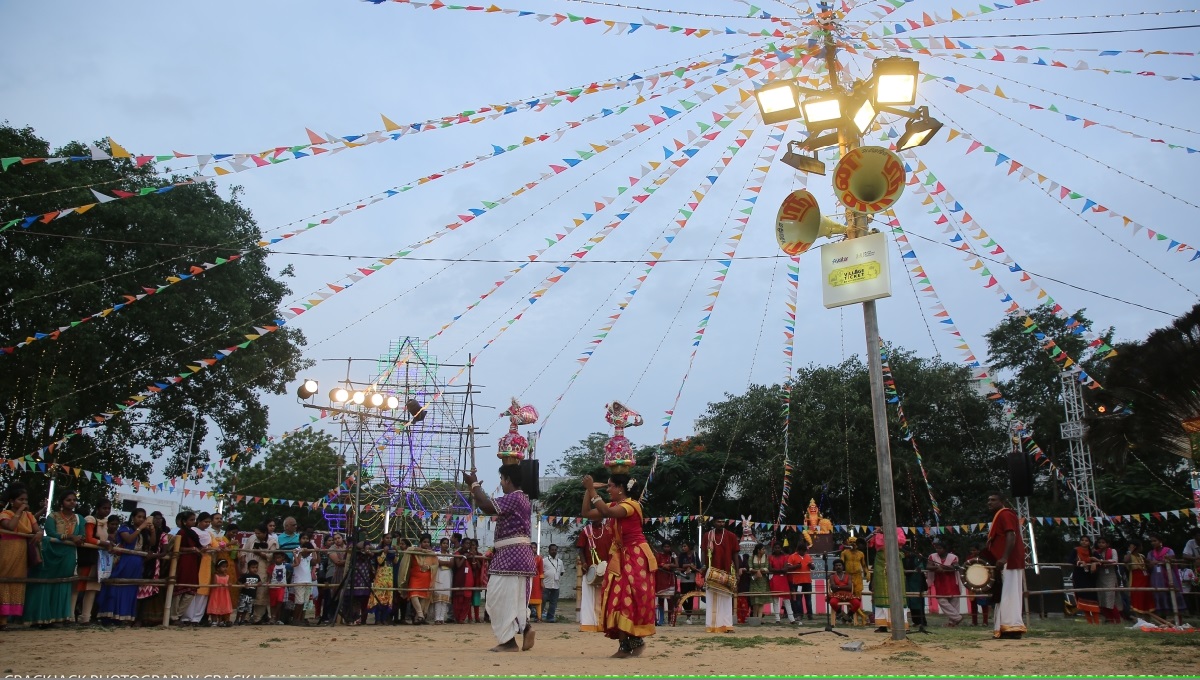 One of the highlights of the event were the two types of feasts that were served for the visitors – the vegetarian kalyana virundhu and the non-vegetarian kari virundhu. Served the traditional way over a banana leaf, each spread had 32 delicacies from the 32 districts of Tamil Nadu, giving you a taste of the entire state on a platter. While the kalyana virundhu served a grand traditional platter of a Tamil Wedding, the kari virundhu offered meat-lovers a dream platter of meat and seafood dishes that have their origins in the various villages and traditions of Tamil Nadu.
Another main attraction that had people flocking to it by the dozen was the Tent Kotta, an old timey movie screening hut set up by Mayajaal Multiplex. In keeping with the good old days, this popular attraction was playing the MGR hit, Kaavalkaran.
Over 12,000 guests attended the four-day event and 30 plus traditional folk performances like Mayilattam, Oyillattam, Villu Paattu, Theru Koothu, Kummi Paatu and 30 plus Namma Ooru games including Pallanguzhi, Gilli, Kabadi, Dhayam, Bambaram, Goli and Raatinam were conducted to keep the guests entertained. The entire place was set up picturesquely to replicate a Tamil village, complete with open courtyards, sit outs known as Thinnai, Potti Kadai, Tea kadai, Bullock Carts, Panjayat model, etc., which brought out the aura of life in a village.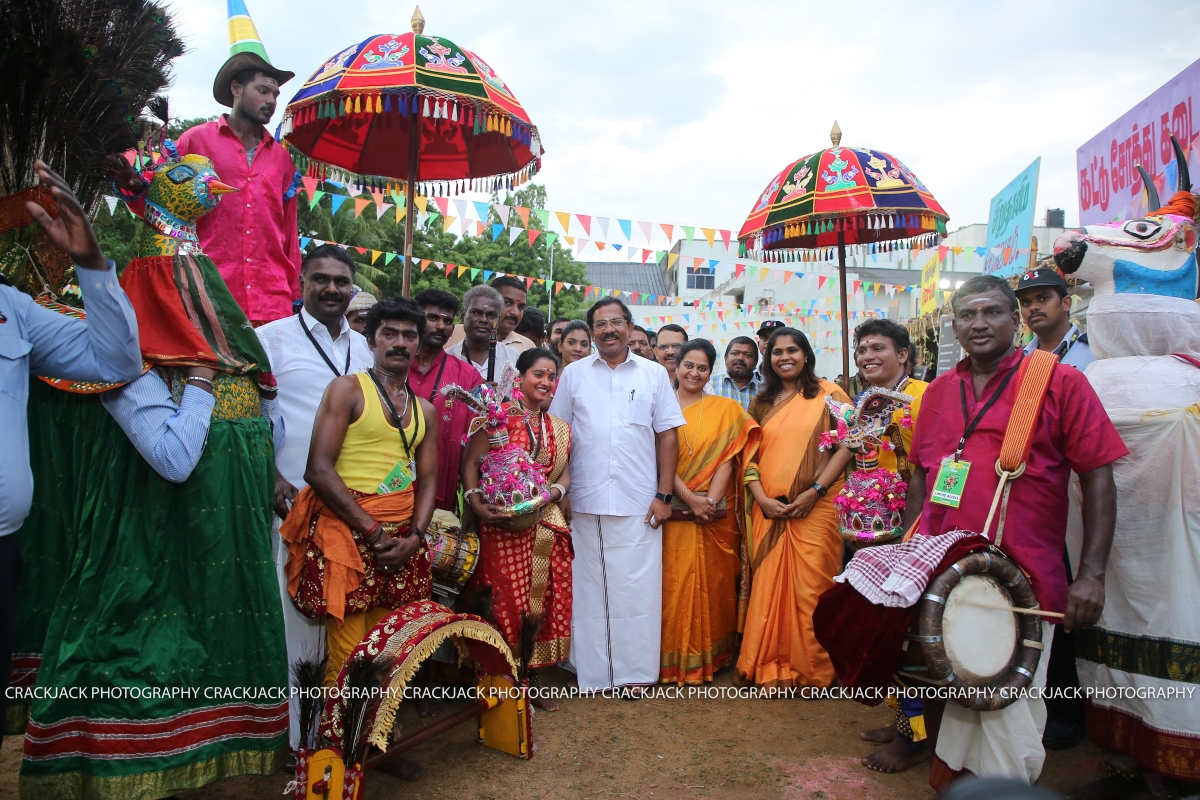 Generous doses of traditional food, folk art and music, all in a village-like set up, gave the visitors a fun sneak peek into life in a village and for those urban folk with familial roots in villages across the districts, it was quite the nostalgic trip down memory lane. The event also brought out the importance of local markets, local art forms and local food, teaching one and all to appreciate what our culture and tradition have given us and how it is our duty to preserve it.