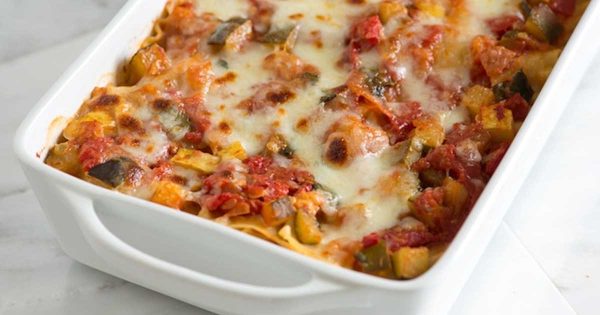 | | |
| --- | --- |
| | |
Heat Oven and Prepare Baking Dish
Pre-heat the oven to 350 degrees F. Lightly oil or spray your 13-inch by 9-inch baking dish with non-stick cooking spray.
In a large pot add water and salt. Add the lasagne and let it cook. Add few drops of olive oil so that the noodles don't stick together. Once cooked, drain and lay flat on a sheet.
In a large frying pan, add olive oil over medium heat.

Add onions and cook. Stir occasionally. The onions should become translucent about 3 to 5 minutes.

Add garlic, red pepper flakes, zucchini, squash and a pinch of salt. Then cook, stirring occasionally. Cook until softened about 5 to 8 minutes

Now add the roasted red peppers and crushed tomatoes.

Stir then bring to a low simmer. Simmer until liquid has thickened about 5 to 8 minutes. Add basil then season to taste with additional salt and pepper.

Add ricotta cheese (or cottage cheese), eggs and a 1/2 teaspoon of salt to a medium bowl then stir until well combined.

Spoon just enough vegetable mixture into the baking dish to lightly cover bottom (about 1 cup). Arrange four noodles lengthwise and side by side to cover the bottom.

Spread about half of the ricotta cheese (or cottage cheese ) mixture over the noodles. Sprinkle with a third of the parmesan cheese and a third of the mozzarella cheese. Then, top with about a third of the vegetable mixture. Add another layer of four noodles then repeat with remaining cheese and vegetables.

Finish with a final layer of noodles, vegetables, parmesan cheese and mozzarella cheese.

Cover loosely with aluminum foil and bake 20 minutes, uncover then bake 15 minutes until cheese is crusty around the edges. To make cheese golden brown on top, slide under the broiler for 1 to 2 minutes.

Let rest at least 15 minutes before serving.