Upstage Insider Presents 'Mr. & Mrs. Iyyer Ki Love Story'
Upstage – the Luxury Auditorium Cinema at Roseate House New Delhi in association with The Operose Theatre is all set to tickle your stomach with laughter through their live theatrical comedy production 'Mr. & Mrs. Iyyer Ki Love Story'. An adaptation of K.P.  Saxena's 'Zukham Jaari Hai', the act is directed by Abhijeet Verma and talks about glitches and happenings which partake in the couple 's lives when they both get caught by the Flu, a severe Flu! Prepare for clever table turning minutes that are set to include an unexpected component for the audience. Amidst the funny production, a perfect family evening awaits you!
To enhance their evening experience further, guests can head to Chidya Ghar Bar post the performance and enjoy their signature cocktails followed by a scrumptious Indian feast at Kheer!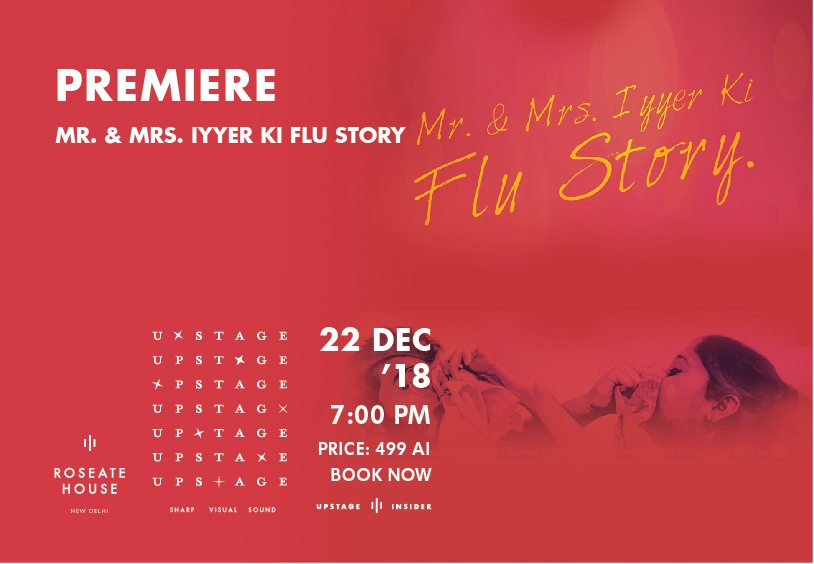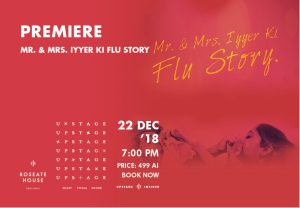 Venue:
Upstage, Roseate House, New Delhi, Asset 10, Hospitality District, Aerocity, New Delhi
Date: December 22nd, 2018
Time: 7:00 pm onwards
Cost per ticket: INR 499 AI
Tickets can be sourced at: https://in.bookmyshow.com/plays/mr-and-mrs-iyyer-ki-flu-story/ET00090168