UK Startup Makes Alarm Clock That Brews Coffee
If you're a coffee or tea addict, then this is just the alarm clock for you.
Meet The Barisieur, an automatic coffee or tea brewer that eases you into the day with the sound of bubbling water and the smell of freshly brewed coffee or loose leaf tea.
All you have to do is set the alarm and add your coffee beans or tea leaves the night before and let it brew your cup just in time for you to wake up. Their Kickstarter page says that "It encourages a ritual in order to establish a routine before going to sleep, signalling to the body and mind that it is time to unwind and relax".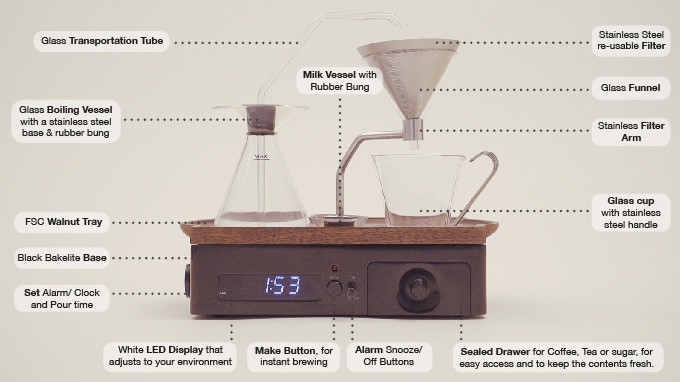 This project was started by London-based designer, Joshua Renouf, with the aim of "looking into the psychology behind sleep, and understanding how adopting a routine before going to sleep encouraged a restful night sleep. The researched showed how having a sensual awakening can leave you feeling stimulated to seize the day ahead."
And it's not just for your bedside. If you work too hard and need to be reminded to take a break now and then, this can sit on your desk and brew your hot beverage for you just in time for a much needed break from the work day. You can add the right amount of coffee beans or tea leaves, sugar you want added and you can even use the USB port in the base to charge your phone. Does it do everything or what? And it comes in two colours too!
The Kickstarter campaign still has 26 days to go, so check it out right now!