Twinkies Coffee Is Now A Thing Thanks To Hostess
Just a couple of weeks ago, we told you about Twinkies ice cream. Now, Twinkies is revving up 2017 even further with the launch of a new concoction; the Twinkies Cappuccino.
Twinkie In a Cappuccino
The exciting new treat is the result of a tie up with Kerry Convenience, which creates food and beverages products to convenience stores.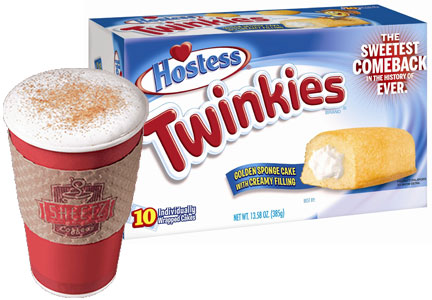 The Twinkies Cappuccino will be available in cappuccino machines and combines milk, sponge cake flavour and a hint of coffee.
"Hostess has risen to be the number one snack cake of choice for [convenience] store customers," Ellen Copaken, vice president of marketing at Hostess Brands, L.L.C said to the press. "Twinkies Cappuccino not only provides consumers with another option when selecting a treat, it combines two of their favourites into one decadent indulgence."
The Twinkies cappuccino is available at Sheetz and will be rolled out across America in the coming weeks.