Tucking Into Pa Pa Ya's All New Menu That Features Tantalizing Asian Delights
Pa Pa Ya is not a new name for those who love Asian food, especially Japanese. So when the Pa Pa Ya restaurant at Palladium launched a new menu, we were intrigued. Having tried their amazing food at the BKC restaurant, we were sure that the food is going to be delightful. The highlight of their new menu is the nigaki which is cross between nigiri and maki and this is certainly a must try for sushi lovers. How did the new menu fare for us? Read on to find out.
New Small Plates
We ordered ourselves a Hibisco Sour and Shikoku Cooler amongst their cocktails and loved them. Both drinks are absolutely delightful and refreshing with the tapas at Pa Pa Ya. Our first tasting was of the Carrot Truffle Crème Cheese Dim Sum. We loved the carrot shaped dimsum and the delicate flavours. Next up was Curry Leaf and Peppered Calamari which is a sheer delight to eat. The winners in the tapas for us were two lip smacking dishes – Braised Lamb Chilli And Lime and Grilled Prawns Moreton Bay Chestnuts. They are a must try and we're sure you're going to love it too.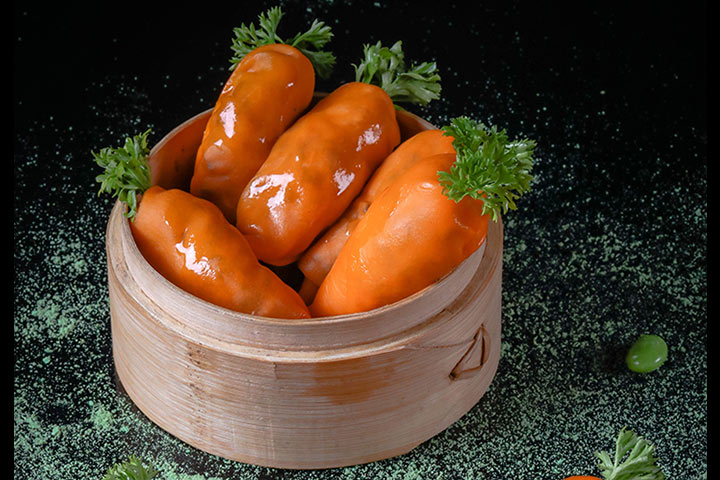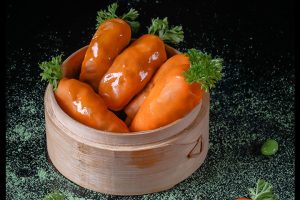 We also tried their pizzettes – Asian Margarita Pizzette and Tuna Tataki Pizza. The former instantly became a hit with our taste buds thanks to the tantalizing fresh truffle on top. We also enjoyed their scallop carpaccio, something which is quite different in texture and in flavour. But hey, being a foodie is all about trying something new right? Speaking of which, the newest on the menu and the star of the evening was nigaki.
Out of their variety of nigaki, we tried the True Ocean which is made with nori, rice, yellow fin tuna, salmon, yellowtail tartare and black caviar. We loved it and would definitely go back to try out their other nigaki as well. For those who'd still want the old school sushi roll can go for the Yellow Tail Raw Mango Sushi Roll which is lip smackingly delicious.
Delicious Mains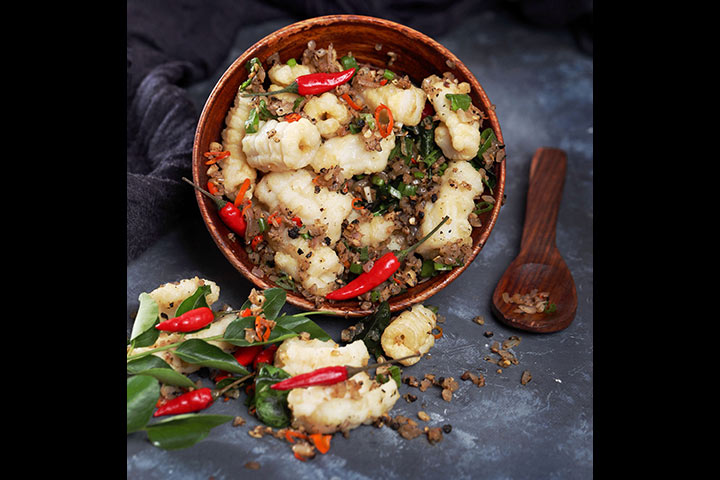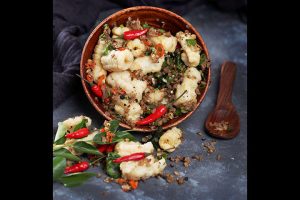 For the mains, we had Pa Pa Ya's delectable Massaman Curry, Tenderloin Bulgogi and Khao Pad Kar Pao Veg. The beef was stir fried in Korean style and it's flavours were absolutely out of the world. We loved the soft, fluffy egg in the Khao Pad Kar Pao and paired it with a sumptuous Massaman Prawn Curry. We ended our meal on a sweet note with Liquid Hazelnut Fondant Matcha Cake with a Blueberry Quenelle. We walked out of Pa Pa Ya, Palladium with a full stomach and satiated taste buds. And so we recommend you this place with promising Asian delights and feel that you should put it on your list of must visit places!