A Tryst With Epic Japanese Food At Akira Back, JW Marriott Delhi
Food Trail

/fuːd/ /treɪl/

noun

A series of meals had in succession at more than one eatery.

"Marriott Hotels invited us on a food trail across two of their properties in Delhi."
With a slight nip in the air and a rich aroma of fresh lilies wafting through the lobby air of Aerocity's posh JW Marriott, a food-loving shutterbug landed at the tall doors of one the city's best Japanese restaurants – Akira Back. This was our second – and final stop – along the Marriott Food Trail, which commenced with lunch at Westin Gurgaon's Italian eatery, Prego.
Chef Sarmiento
We'll tell you a little later about the excellent tuna pizza and yellowtail we had for dinner, but let us tell you first about the vivacious Chef De Cuisine Roman Allen Sarmiento, who is easily the best person to learn, cook, and eat with.
Bringing Chef Akira Back's recipes with a dash of his own cooking sensibilities to the table, Chef Roman walked us through the spread, which was an eclectic blend of Japanese and American food. The chef paired our meal just right with a side of colloquy that revolved around everything right from the food and the restaurant to Las Vegas and Philippines – the latter being Chef Sarmiento's home country and former is where he aced his art.
With this expert dialogue in tow and a few glasses of warm sake (from the restaurant's unmissable eight-meter-tall sake wall) down our system, we set out to experience world-renowned Chef Akira Back's culinary prowess.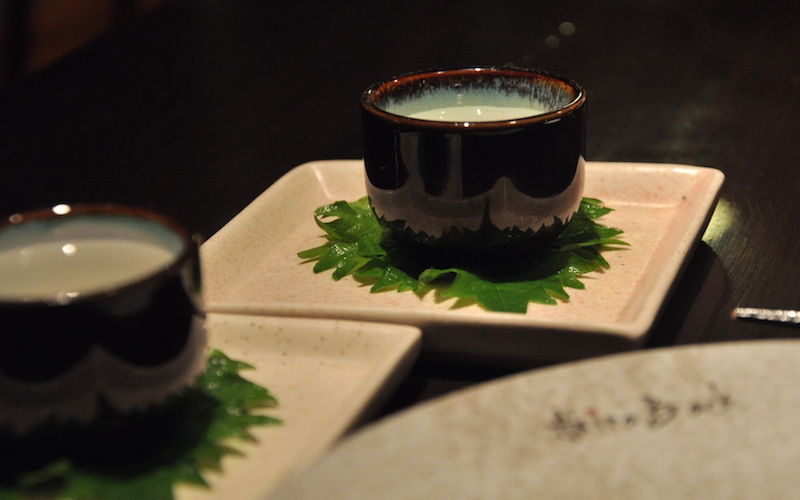 A Contemporary Nook
It's not a Japanese restaurant but a contemporary Japanese restaurant. The contemporary there stands for a menu that carries not only the best of Far Eastern preparations but dishes that are a palatable blend of Japanese and American. Speaking of the menu, we tried not what was already on the menu but instead got a peek preview of the top-notch offerings from Akira Back's up-coming menu.
The sneak peep included some spectacular preparations that were not only a delight to devour but also a treat for the eyes. We started our dinner with a Japanese-American lovechild, a crunchy tuna pizza, which was essentially a thin and crisp base topped with thin slices of cold tuna. The pizza tasted as delicious as it sounds simple. Also, this was probably the first pizza we've had sans cheese and we are not complaining!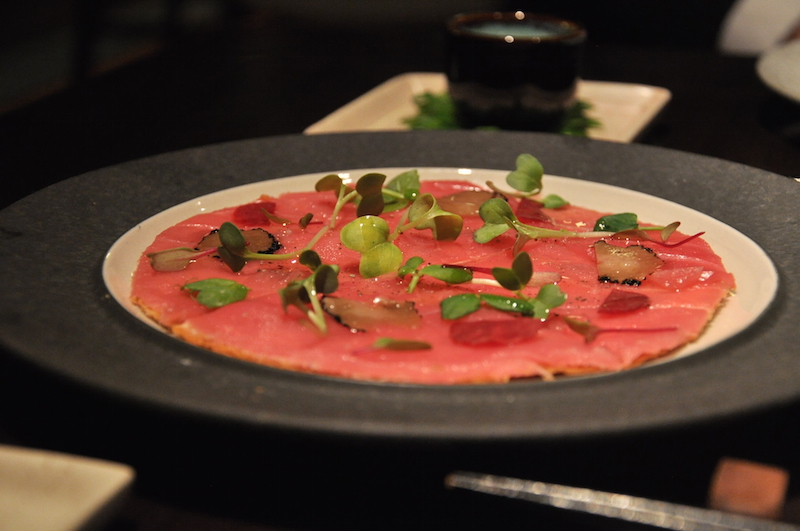 A small plate of whole yellowtails (a.k.a Japanese Amberjack) topped with a mildly spicy salsa trailed the pizza. This was a surprisingly pleasant blend of a classic fish flavor and the tang of salsa, one that we may just be trying to recreate soon. Next up was a vegetarian prodigy, to say the least. This dish featured a bite-sized aubergine flavoured with some cheese, sauce, sesame seeds, and scallions baked to a creamy perfection. Again a culinary and aesthetic genius!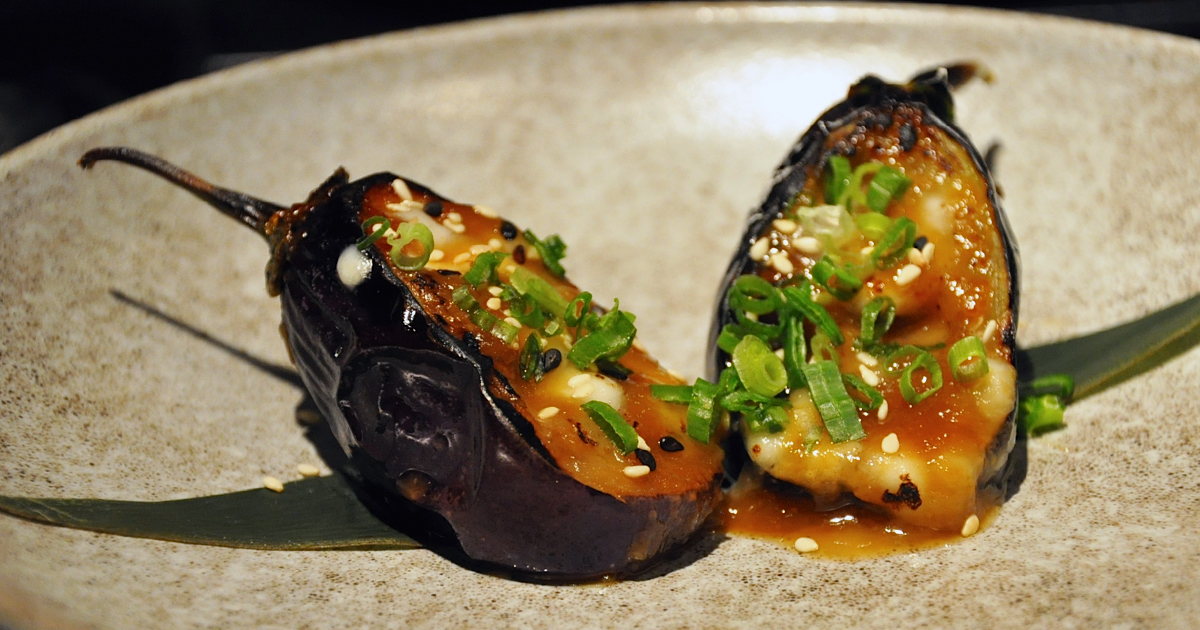 See what we mean?
Keeping up the vegetarian streak was a heavenly silken tofu, which braised to a crunchy perfection on the outside and an unbelievable smooth texture inside.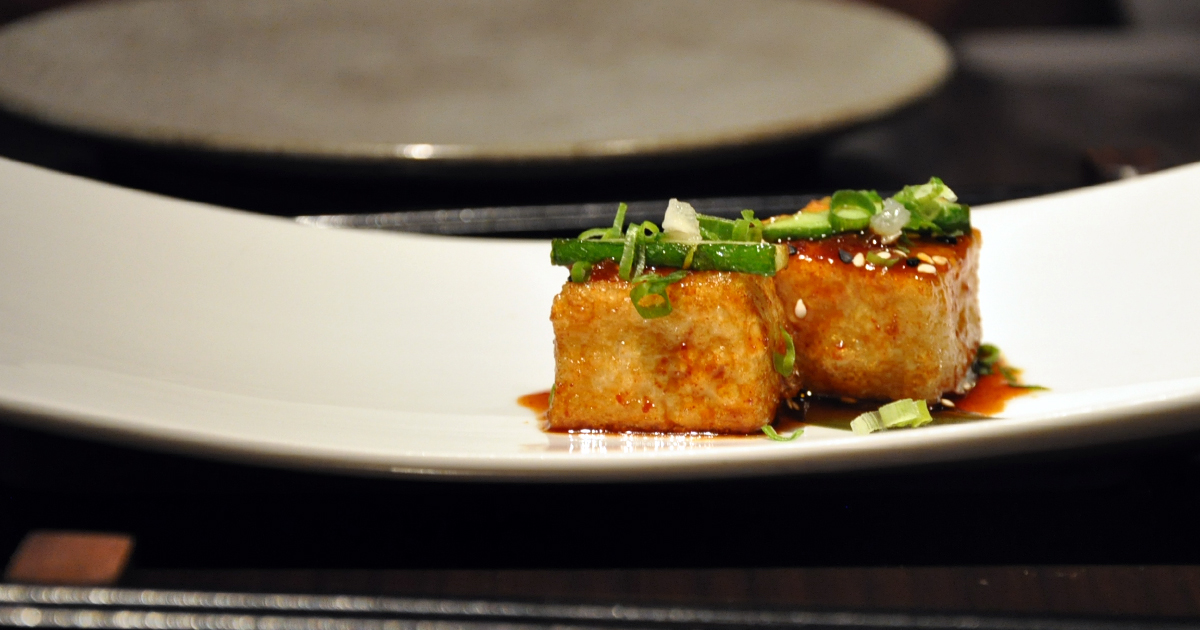 Resonating this crisp-smooth combination was the grilled salmon served on a bed of fresh cut pickled veggies with a tangy coriander dip.
Our tryst with Chef Back's culinary awesomeness did not end here for there was a sushi platter too to complete the experience. Packed with three different varieties of authentic Japanese fish sushi, this platter single-handedly stole the show with its on point flavours, presentation, and nuances. This was not all, Chef Roman also put together dessert-tasting platter, which was a spectacle in itself with sweet somethings like crème brûlée, in-house ice creams, a matcha cake, cheesecake, and white chocolate.
Words would not be enough – or even fair – to describe all the food that went down during our visit to JW Marriott, so let us tell you some and leave some for you to experience for yourself!
In Conclusion
By the end of it, the meal had our palate serenading the excellence of Japanese food – not that we ever doubted it. Every dish in itself was a masterpiece and the spread as a whole was a complete package in every sense!
To conclude we must point out the subtlety with which Akira Back brings together American food and Japanese cuisine without tampering with the basics of either. The result is a cuisine that is supremely palatable, can be praised as top-notch Japanese, and will have diners coming back for more!