Trade In Your Current Hang Out Place For One That Is Better In Every Way: The Good Spot
Located on a quiet and beautiful street in Adyar is Chennai's latest hang out joint. The Good Spot is different from other places you've visited in the city. It gives customer a place to relax and hang out with friends, while enjoying food and drinks that you wouldn't get anywhere else. What makes The Good Spot unique is their juice menu and the way they make their juices. If they don't know it yet, people in Chennai will know this restaurant for their mocktails. When we visited the restaurant, we spoke with Saravana Kumar, one of the owners of the restaurant to get a better understanding of what makes their mocktails special, what it is about their restaurant that separates them from the rest.
"We're the first people in Tamil Nadu to serve juice without sugar, water, artificial colouring and flavour or ice. It's cold pressed juice that is made using chemical free fruits, so what you're served is fresh juice," Saravana told us, explaining that it took him six years of research and a study in nutrition to get it absolutely right. They have over 600+ options in juice and whatever kind of juice you're craving, if you ask them and they have it, they will make it for you. "I wanted to identify myself as unique and this is the best way to do it. There are a lot of food places out there and everyone is serving the same thing. I don't want to compete with everyone else and being unique is the way to do it," Saravana explained.
As for their menu, it was designed by Chef Bee from Malaysia who is married to a Frenchman, giving her food a distinct taste and flavour. Nothing in the restaurant is bought weeks in advance, frozen and cooked and served. They strive to provide customers with absolutely fresh food in keeping with them being a health conscious restaurant.
With all his research and studying, Saravana understands what is better. "If you're eating fruits, there's a fibre called "insoluble fibre" which takes about 5 to 6 hours to digest and you can't eat 1 or 2 kilograms of fruits at a time, because your body can't handle it," Saravana explains, "But if you have it in juice form, it will be turned into soluble fibre and it will only take 30 minutes or so to digest. You still get the same nutrition and enzymes, just in a much easier to consume and digest process."
And just like that, this is obviously a better place to hang out than a coffee shop, because you still get to have the delicious food and ambiance of a hang out place, but instead of pumping your body full of caffeine to get your start for the day, you get to drink really fresh juice.
We also got to try some of the food, as well as the juices, because after all that information how could we not understand the importance of The Good Spot juices!
Juices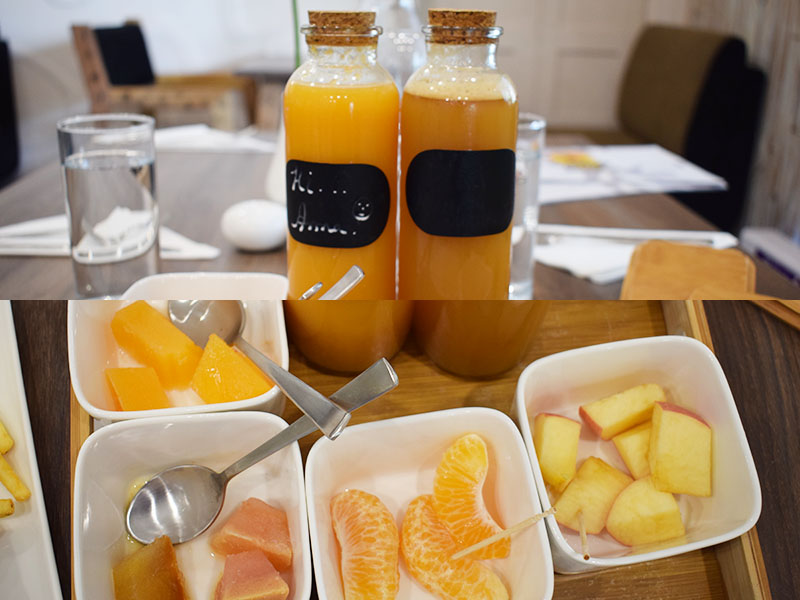 We got started with a Fizzy Apple and a Citrus Gin. The juice is served in 400ml glass bottles, on a tray along with freshly cut fruit pieces and wine glasses to drink the juice. As Saravana explained, the wine glasses are so that you enjoy your drink slowly and not rush through as you would if you were served in a tall glass. Plus, the juice you are served, will not fit into the glass and you have to pause and serve yourself some more, giving you more time for conversation and properly enjoying your drink.
The Fizzy Apple is made from Fiji apples imported from China while the Citrus Gin is made from two kinds of citrus – one locally sourced and one imported.
Starters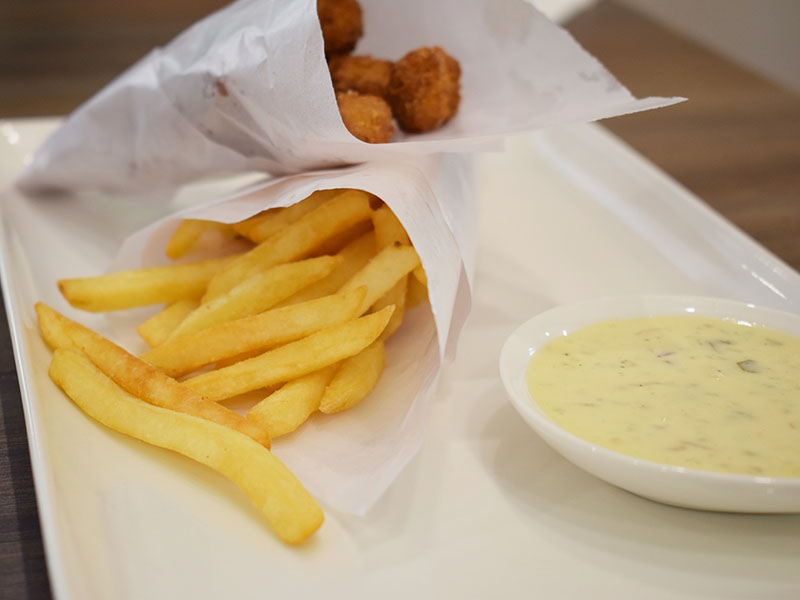 First up, we had the Fish Popcorn, which as you'd imagine is small pieces of fish deep fried and served with French Fries and tartar sauce. And before you ask, the fish used for the popcorn is Mahi Mahi, which is also imported.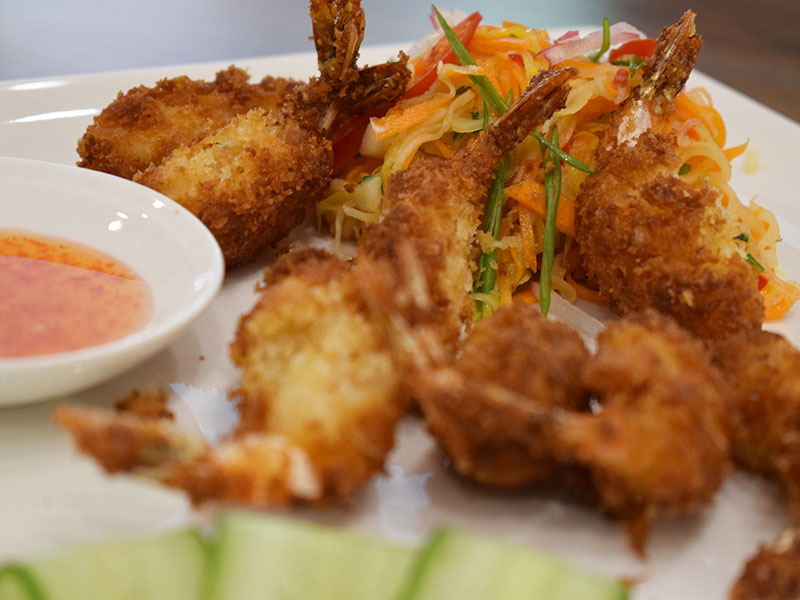 We also had the Coconut Crumbled Prawn, which as you'd imagine is prawn dipped in crumbled coconut and then deep fried. Calling all those who don't like coconut in their food, with this starter, you won't even realise it's coconut because the flavour is so slight.
Main Course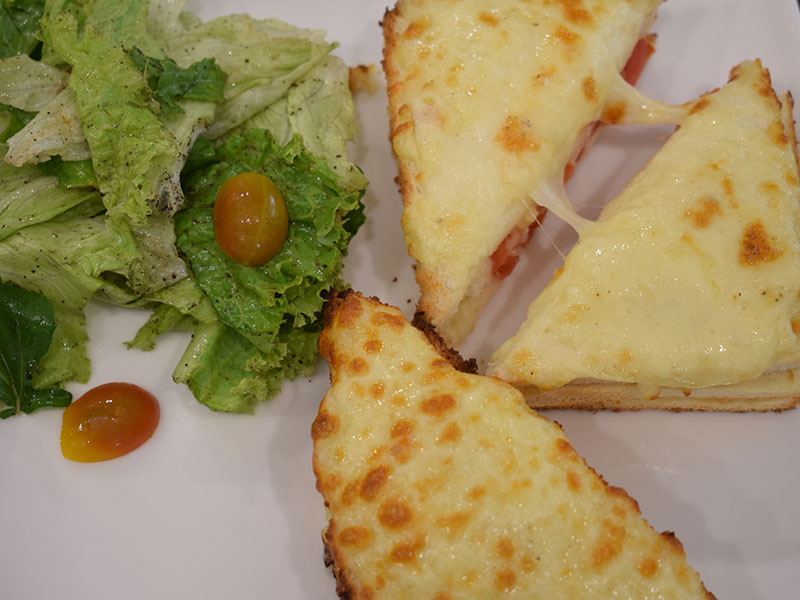 There's so much to choose from, but we started off with a Croque Monsieur, which is covered in so much cheese it would make just about anyone the happiest person alive. And served with a side of salad, it's a complete meal.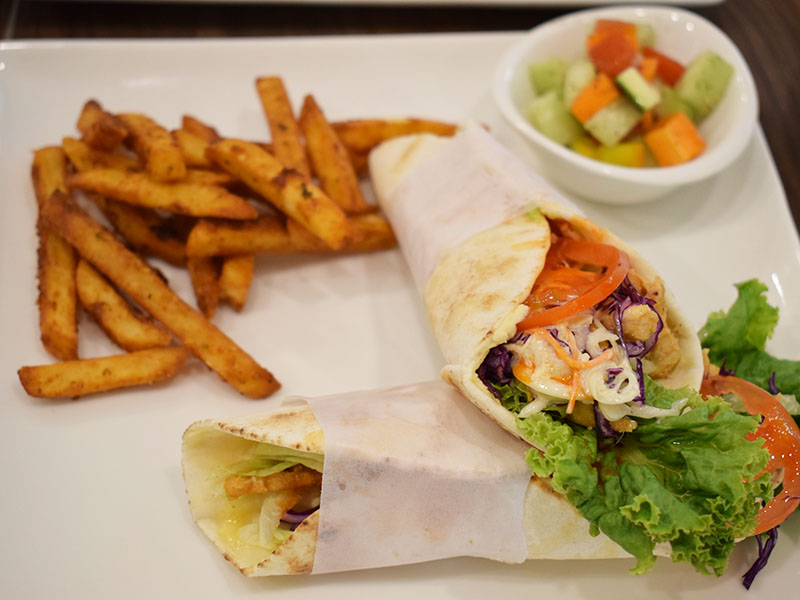 Also on our table was the Chicken Shawarma served with seasoned French Fries. Best had hot, this is definitely one of those meals that you know will fill you up. And combined with the fresh juices, it's the right way to spend any afternoon with friends.
The Good Spot is now open in Adyar, from 11am to 11pm at 3A, Second Main Road, Kasturibai Nagar, Adyar.