Time To Say 'Konnichiwa Japan' As Hilton Chennai Brings In A New Festival
On a beautiful weeknight, we made our way to the Japanese Food Festival at Vasco's, Hilton, in Chennai. This award winning all-day restaurant is currently hosting a marvelous Japanese Food Festival with a lavish spread of all things Japan and when we heard about it, we just had to be there. We had a chance to hear a little bit about the festival from the lovely folks at Hilton, who also gave us a tour of the set up and dishes and we learned that the menu for the festival is exclusively designed by the Japanese Master Chef Kazuhiko from Tokyo. Chef Kazuhiko honed his culinary skills under the expert guidance of the renowned Chef Miyazaki San. Popularly known as Chef Kazu, he believes that "there is nothing better than grandmother's home-style cooking and the use of authentic herbs that are unique to Japan."

The menu boasts of an extensive variety of delicious and authentic Japanese food such as fresh carved and addictive Sushi, delicately sliced Sashimi, lip-smacking Nikujaga (a beef-based preparation), scrumptious Tempuras, perfectly flavoured Udon Noodles (which we absolutely loved) with a calming Miso Ramen Soup, Kurobuta Pork, Hokkaido Scallops, Grilled Eels and crispy Silken Tofu. If you're wondering what they taste like, hang on, cause we're getting there in a bit. We enjoyed every bit of the festival from drool-worthy appetizers to scrumptious mains. And the part that everyone looks forward to, the dessert, won our hearts. Delightful innovations like the Wasabi Sorbet and Tofu Cheesecake had our minds blown! It was an enjoyable Japanese food journey that we completely loved along with the ambiance that Vasco's had to offer, and we think you should try a little bit of Japan right here before the festival ends!

What we had: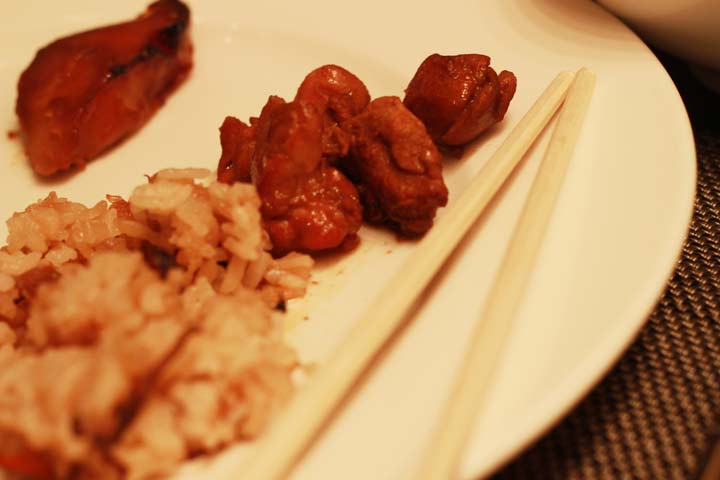 Tori Kara Age – delicious deep fried chicken marinated with ginger with a taste that lingers!
Japanese Style Mixed Rice – A classic sticky rice with mushrooms, this is best enjoyed with some of the lovely Japanese sides offered on the spread.
Sakana No Miso Tuke – For a seafood fanatic, this baked, miso marinated fish is heaven. We really liked this one.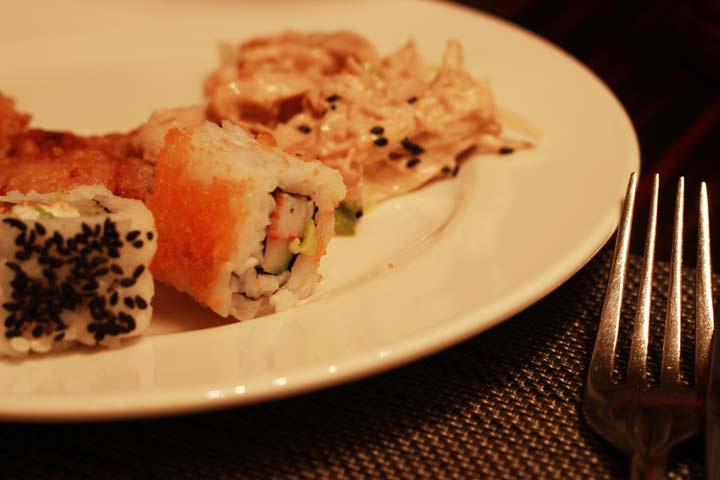 Mushitiri Goma Ae – we thoroughly enjoyed this salad-like preparation of boiled chicken tossed in sesame sauce.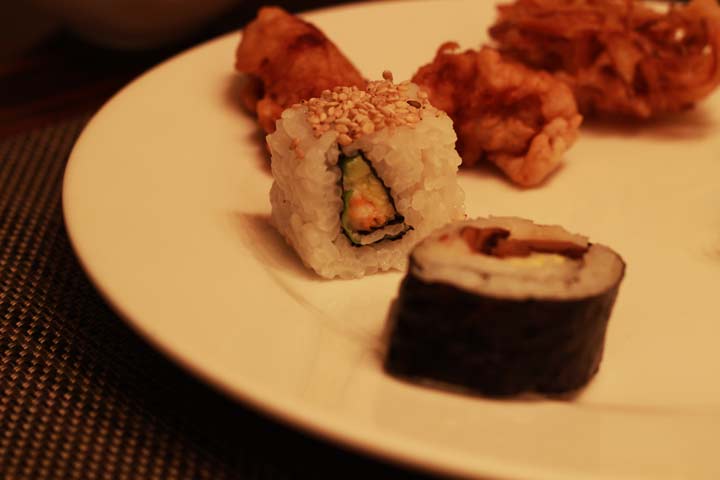 Kakiage – a fun dish to snack on is this crispy carrot and onion mix fried in tempura batter.
Sushi – A handful of vegetable, roe, and tuna Sushi surely made our hearts happy!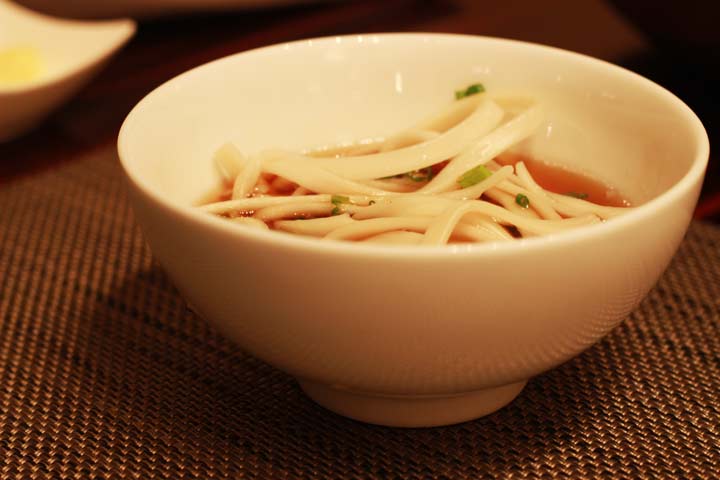 Udon Noodle & Hot Miso Soup – Yum's the word. Trust us.
Tai Jiru – Also another soup that we had is the Tai Jiru. If you love fish, be sure to try the clear red snapper soup!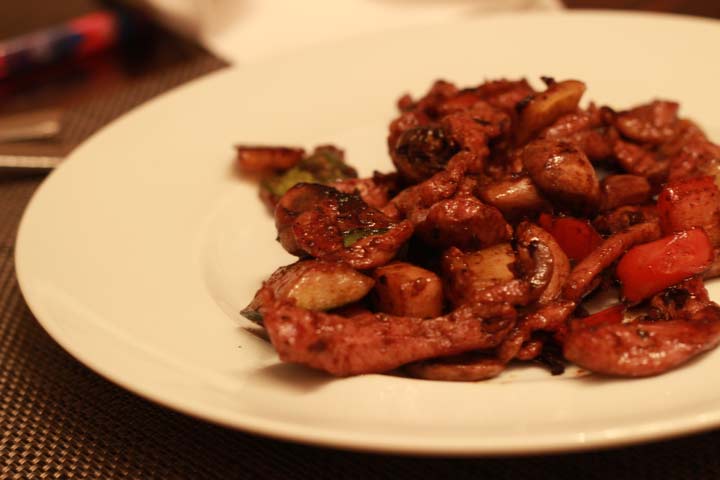 Lamb Teppanyaki – A juicy and soft preparation of lamb that many will enjoy, this dish is really worth trying.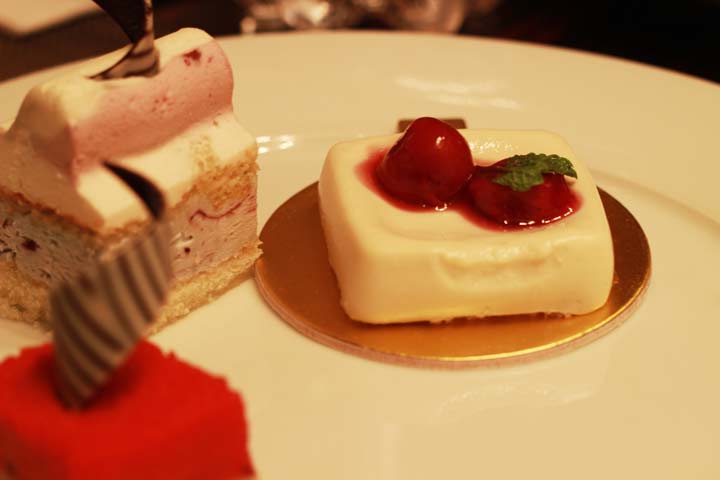 Tofu Cheesecake – Cheesecake with a Japanese makeover, this one really had us wanting more.
Wasabi Sorbet – Something ideal for the summer, this sorbet is a cool (literally) innovation and is something that you need when you want to feel refreshed!
Some Must-Try's:
Jagaimo Butter Shoyu Potato – a tasty Japanese dish of potatoes tossed in butter and soya sauce, something we really enjoyed having!
Teriyaki Chicken – A flavour known to many, this dish is loved for it's soft and tender chicken. We just couldn't get enough of this one.
Buta Shouga Yaki – We really enjoyed this dish. It goes well with the Japanese rice as well. This one is a classic side of sliced pork stir fried with ginger juice. Yum!



The Japanese Food Festival, 'Konnichiwa Japan' , begins from the 3rd of September, 2015 and ends on the 13th of September, 2015, from 7:00 pm to 11:00 pm daily at Vasco's, Hilton Chennai.

[schema type="organization" orgtype="LocalBusiness" url="www.facebook.com/hiltonchennai" name="Hilton, Chennai" description="Hilton Chennai is located in Guindy, Chennai and offers 5 restaurants and bars, an outdoor pool and much more!" street="124/1, J.N. Salai, Guindy" city="Chennai" state="Tamil Nadu" postalcode="6000032″ country="IN" phone="044 22255555″ ]