This World Cup Each Of Messi & Neymar Jr.'s Goal Will Feed 10,000 Children
The 2018 FIFA World Cup is less than a fortnight away, and the excitement for the month-long tournament is palpable from all around the world. Joining in on the excitement and influx of World-Cup-centric campaigns is MasterCard with its supremely valuable and humanitarian initiative as part of their 'Start Something Priceless' campaign, which began earlier this year.
The Initiative
MasterCard's latest initiative involves two of football fraternity's most popular members – Argentina forward Lionel Messi and Brazilian forward Neymar Jr. The company announced on Thursday that it would donate 10,000 school meals to the United Nations World Food Program (WFP) for children in Latin America and the Carribean every time Messi or Neymar scores for their respective team. However, the initiative is not limited to the upcoming World Cup as meals will be donated for each goal scored by the two players over the next 21 months, that is, from June 2018 to March 2020.
Goals that changes lives: for each goal scored by Messi or Neymar Jr. Mastercard will donate the equivalent of 10,000 meals to @WFP to fight childhood hunger and malnutrition in Latin America and the Caribbean #TogetherWeAre10 #StartSomethingPriceless https://t.co/URfIp77ElN pic.twitter.com/Ckq61oJgld

— Noticias Mastercard (@MastercardLAC) May 31, 2018
The footballers, who are former colleagues and have played together for Spanish football club FC Barcelona, have expressed immense pride and happiness on being associated with such a generous cause.
"I'm proud to be a part of this campaign that will help change the lives of thousands of children in my country and other regions of the world. I hope this initiative gives as many smiles as possible to all the children." Messi said on the initiative.
Neymar commented, "I'm happy I can help make sure that children in the region can have a plate of food and more hope. Latin Americans know we can do great things when we come together, and this is an example of that. Together we can fight hunger."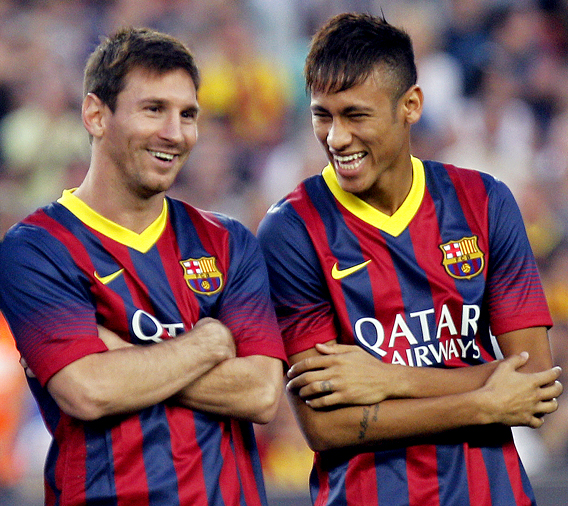 You Can Contribute Too
But it's not just the two players who can contribute to the cause. Every time the hashtag #JuntosSomos10 (which means 'Together we are 10) is shared on Twitter or Instagram, MasterCard will donate one school meal. Moreover, people can also donate money directly through the campaign website, and if a donation is made directly with a MasterCard card, the company will donate ten meals.
Meanwhile, MasterCard has received a lot of backlash for letting two footballers decide whether the school kids in question will eat or not. Many have also said that if MasterCard has the money, it might as well just feed the kids instead of doing it through a highly publicized cause.
Worst PR own goal ever. If you've got the money…. just buy the f***ing food. How sad that the fate of a starving child rests in the foot of a multi million pound player.

— Justin Lockwood (@Lockers75) June 1, 2018
Although in its defense, the company has already donated 300,000 meals to the cause and given the track record of the two footballers, this number is bound to grow in the coming months.
What do you think? Is this move by MasterCard genuine charity, merely a marketing gimmick, or a little bit of both? Let us know in the comments below.