Add Some Zing To Your Plate With The New Sriracha Chilli Sauce By Habanero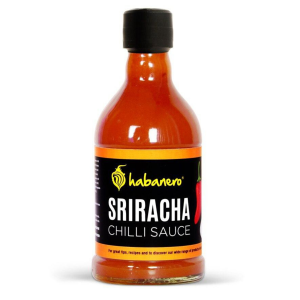 • The sauce is vegan and gluten-free, to cater to the healthy consumer of today
India: Habanero Foods International, a leading manufacturer of packaged food products, today introduced its new Sriracha Chilli Sauce. Unlike the other sauces in the market, Habanero's Sriracha Chilli Sauce add the extra chilli punch to present its own signature take on a Sriracha sauce. Additionally, the sauce is vegan and gluten-free – catering to the growing trend of consumers taking to a healthy lifestyle.
The Sriracha Chilli Sauce is made from fermented jalapeno chilli pepper and garlic, topped with sugar, salt and vinegar to give it a unique flavour that's a combination of sweet, spicy and tangy. It is the perfect accompaniment for rice cakes, fries, sandwiches, fried vegetables, burgers, pizzas and anything that needs a little extra burst of flavour.
"Today, Indian consumers are well-travelled and have a discerning taste for global cuisine. Restaurant-goers continuously seek new flavour and spices for the palate, and millennials are leading the way. They're looking for bold, spicy and adventurous characteristics in ingredients" said Griffith David, Founder and MD, Habanero Foods International.
He further added "For commercial kitchens, convenience is key and time is premium. Our Sriracha Chilli Sauce is the perfect solution for anyone looking to for a convenient option that provides the right flavours, at the right price point. Our endeavour has always been to offer import quality products at affordable prices, and this latest addition is deepening that promise."
Habanero's Sriracha Chilli sauce is available in traditional and modern retail stores across Bangalore, Chennai and Hyderabad. The Sauce is also available online on www.habanero.in (https://www.habanero.in/) and Amazon and Big Basket.
The full range of Habanero's products include:
• Sauces: Peri-Peri, Barbecue Sauce, Hot Sauce
• Dips: Spicy Salsa, Tomato Salsa
• Wraps: Tortilla Wraps
Habanero will soon be launching a wide range of Salad dressing
About Habanero International Foods
Habanero® aims to help people 'Cook like a Chef' in the comfort of their home. The company manufactures sauces (Peri-Peri, Barbeque sauce, Hot sauce, Sriracha and Pasta sauce), salsas and tortilla wraps for the B2C and B2B market, offering import quality products at affordable prices. The products are full flavoured, vegan and gluten free, helping consumers make a healthy yet flavour  some choice.
Habanero products are now available across approximately 500 Modern and General store formats in Bangalore, Chennai and Hyderabad. These products are also available online on Big Basket , Amazon and on our ecommerce site at www.habanero.in (https://www.habanero.in/). Some of the major hotels (Sheraton, Taj) and breweries in Bangalore (Arbor, Byg Brewsky) use our sauces, nachos and tortillas.