The Impossible Burger: A Game Changer Of A Burger
Imagine the best burger you've eaten, the taste of the meat, the aroma, texturesm and flavors. Drooling already? Now what if we told you that there's a burger that has all the deliciousness of the best burger you've every eaten, but is maade without meat. Sounds impossible, doesn't it? . Meet the impossible burger. Made by impossible foods, the impossible burger is a delicious game changer of a burger.


THE COMPANY BEHIND THE IMPOSSIBLE BURGER
Founded by Patrick O. Brown, M.D., Ph.D., Impossible Foods is a Silicon Valley startup on a mission to make the global food system more sustainable. The fast-growing team includes scientists, engineers, chefs, farmers and foodies. The first product is the Impossible Burger. It tastes great — and you can feel great about it because the Impossible Burger is made entirely from plants.
WHAT IS THE IMPOSSIBLE BURGER
A dedicated team of top scientists, farmers and chefs spent five years studying everything about burgers – from cow to bun. After intensice research, they came up with methods and ingredients to naturally recreate the burger experience – the sights, sounds, aromas, textures and flavors.
The burger is made from simple, all-natural ingredients such as wheat, coconut oil, and potatoes. What makes the Impossible Burger unlike all others is an ingredient called heme. Heme is a basic building block of life on Earth, including plants, but is uniquely abundant in meat. It is heme that makes meat smell, sizzle, bleed, and taste gloriously meaty. Consider it the "magic ingredient" that makes their burger a carnivore's dream.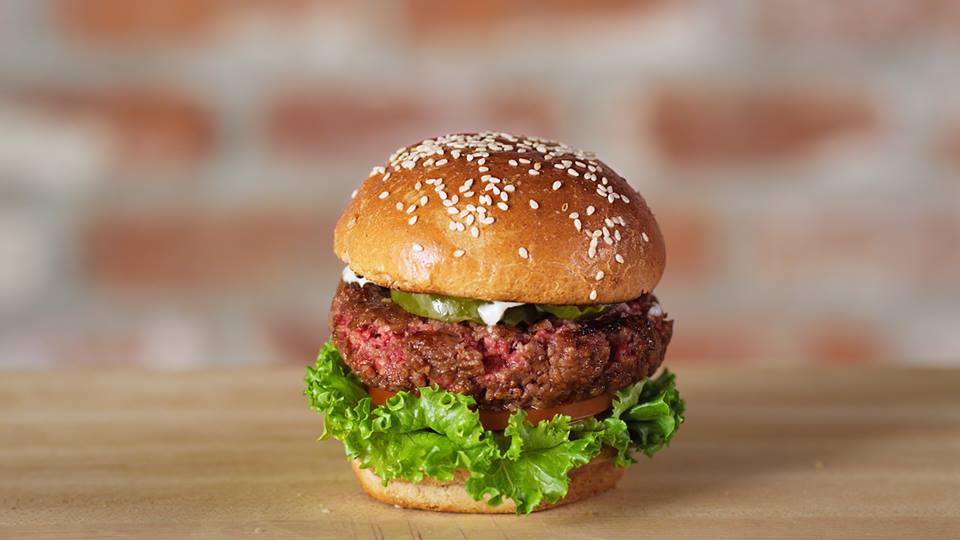 AND IT'S ECO-FRIENDLY TOO
The advantages of going this way, is that the impossible burger uses a fraction of the Earth's natural resources when compared to the production involved in a normal burger. How is this so? The impossible burger requires 95% less land, 74% less water, and creates 87% less greenhouse gas emissions. And it's 100% free of hormones, antibiotics, and artificial ingredients.
FEEDING GENERATIONS TO COME
The way the world produces meat today is taking an enormous toll on our planet. According to livestock researchers, animal agriculture uses 30% of all land, over 25% of all freshwater on Earth, and creates as much greenhouse gas emissions as all of the world's cars, trucks, trains, ships, and airplanes combined.
The Impossible Burger is made entirely from plants, without the destructive impact of livestock, so that everyone will always be able to enjoy a good ol' fashioned burger.
WHERE IS THE IMPOSSIBLE BURGER AVAILABLE?
The restaurant Momofuku Nishi in New York, owned by David Chang, began serving the Impossible Burger in July 2016. By October, the Impossible Burger became a standing menu item on three additional restaurants in California: Jardinière and Cockscomb in San Francisco, and Crossroads Kitchen in Los Angeles. Currently, the Impossible Burger is not available in retail locations. Impossible Foods is also working on plant-based products that emulate chicken, pork, fish and dairy.