The Thai Food Trail: Fruits and Fine Dining Through Suphattra Fruit Land and Rayong
Think Thailand and one's mind immediately fills with images of Bangkok's nightlife and Pattaya and Phuket's beaches. These destinations have gone a long way in creating the 'Amazing Thailand' experience and host droves of tourists yearly.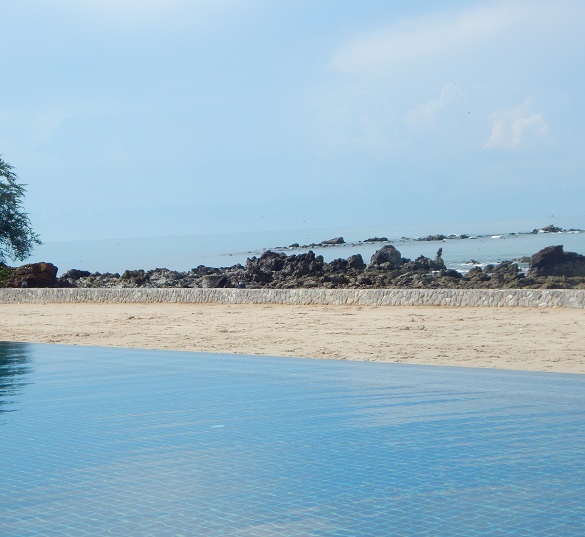 However, Thailand is about a lot more than partying and sunbathing. It has a rich, diverse culture fueled by years of history. Like with all countries, this culture and tradition is highlighted in its cuisine. For instance, one major element of Thai cuisine is rice – it makes its way into most main courses, breakfasts and even desserts. The reasons for this can be traced back to production; rice requires a lot of water to grow and the Chao Phraya River delta in Thailand is a major area of production.
In the mid-1950s, Thai farmers were feeling the effect of a long drought, a problem noticed and solved by HM King Bhumibol Adulyadej, the current King of Thailand. King Adulyadej designed a new cloud seeding technique which increases cloud density and therefore rainfall. Since the technique's inception, the King has been named the "Father of Royal Rainmaking" and Thai farmers have reaped bounties of rice thanks to the amount of water produced. This, coupled with several other historical and cultural reasons makes rice an integral part of Thai cuisine.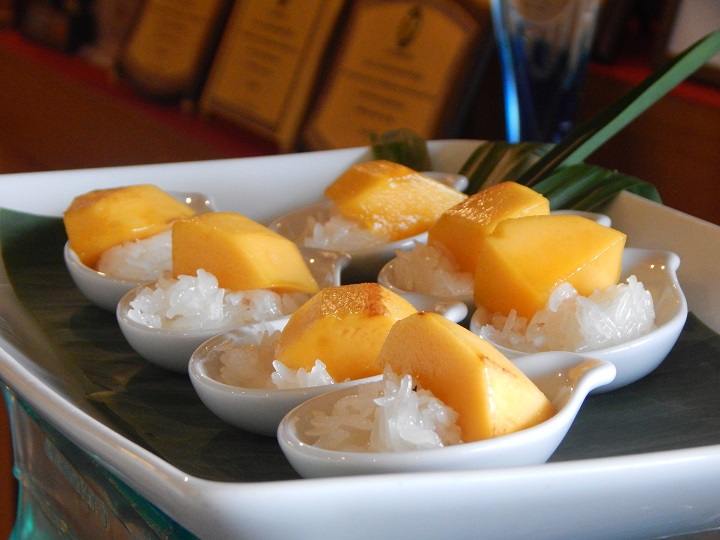 We learned this nugget of information from our guide, Udai, on a recent trip to Thailand with the Travel Writers Association of India thanks to the Thailand Tourism Authority in Mumbai. On the trip, we traversed from Bangkok South East to Rayong, Chanthaburi and Koh Chang sampling the various delicacies that Thailand had to offer us and enjoying a variety of activities in the region.
Over the next few days, we're taking you on a written adventure through Thai food – join us as we take you off the eaten track, won't you?
Thai Cuisine: A Brief Introduction
Before we start on our Thai food trail, allows to tell you a little more about Thai cuisine so you know what to look forward to.
Rice, as we've already mentioned is a major component of Thai cuisine. Other important elements are the pastes and sauces used to flavor dishes, as are a collection of fresh herbs and spices. Nam pla, for instance is a fish sauce that enhances a wide range of dishes while Kaffir lime is a delicious addition to many Thai curries and soups.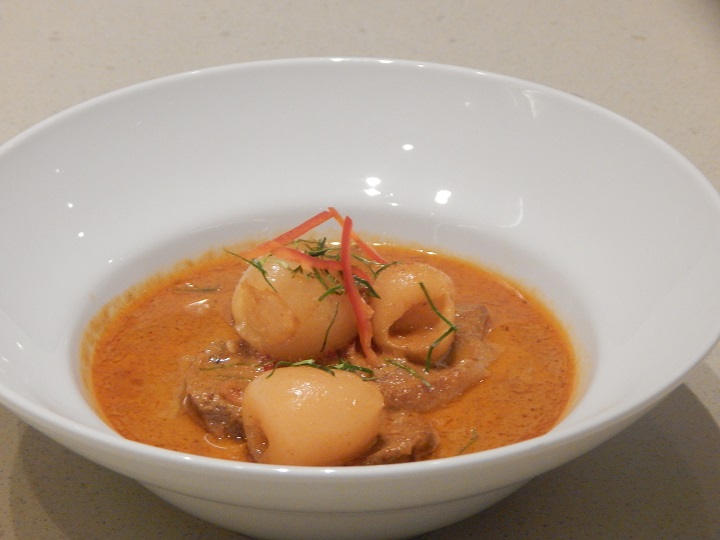 Additionally, the Thai love their fruits; along with the familiar mangoes, pineapples, papayas and dragon fruits, Thailand produces unique, special fruits like the durian and the mangosteen with exciting, new flavors for a tourist.
A Sojourn At Suphattra Fruit Land
"The Durian is the King of fruits in Thailand, while the Mangosteen is its Queen," our guide, Udai tells us while we're on the bus en route to Suphattra Fruit Land in Thailand's Rayong district. We later learn that for every bite of durian, one is encouraged to have a mangosteen to balance out the heat of the fiery durian fruit, just as a good royal couple balance out each other.
The Suphattra Land is an expansive fruit orchard which grows durians, mangosteens, zalaccas, mangoes, pineapples and a collection of other fruits as well as rubber. It also has an area filled with honeycombs, where it harvests fresh honey.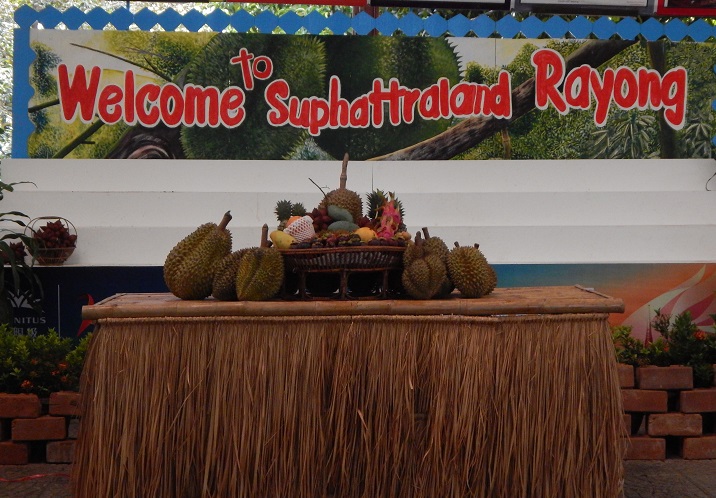 Each day, Suphattra Land hosts hundreds of visitors, who can take a tour through the plantation stopping at two fruit buffets on the way, allowing them to eat what they see. After being welcomed with a deliciously refreshing fruit smoothie at Suphattra Land's entrance, we hopped on the open air tour bus and were driven through the first leg of the plantation for a fruit safari – everywhere we turned, emerging from lush green leaves and flourishing bushes, were fruits at different stages of growth. We made our first stop at a fresh fruit buffet, which had a marvelously photogenic display of fruits grown on the plantation.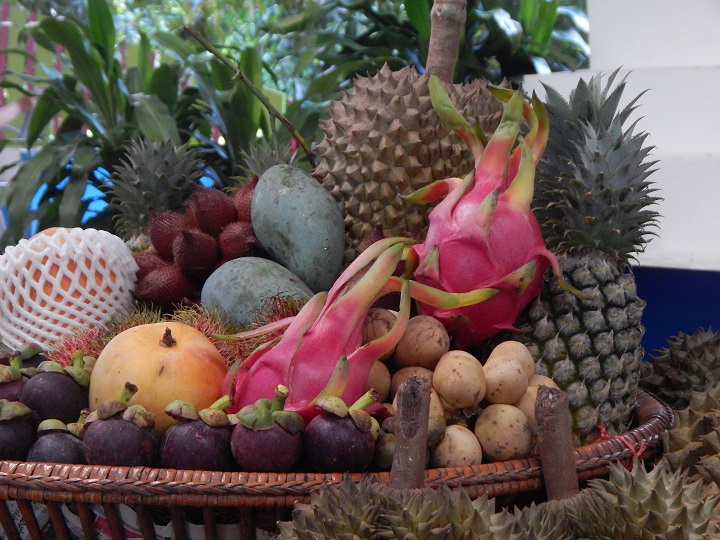 Nearby, the team from the plantation was hard at work cutting fruits to offer them fresh to the visitors. It was here we had our first taste of Thailand's king of fruits – the durian. The durian is a large fruit protected by a thick, thorny cover. When its cut open, a pungent odor is released often scaring away first time eaters – fun fact: the durian is banned at several posh hotels because of its smell.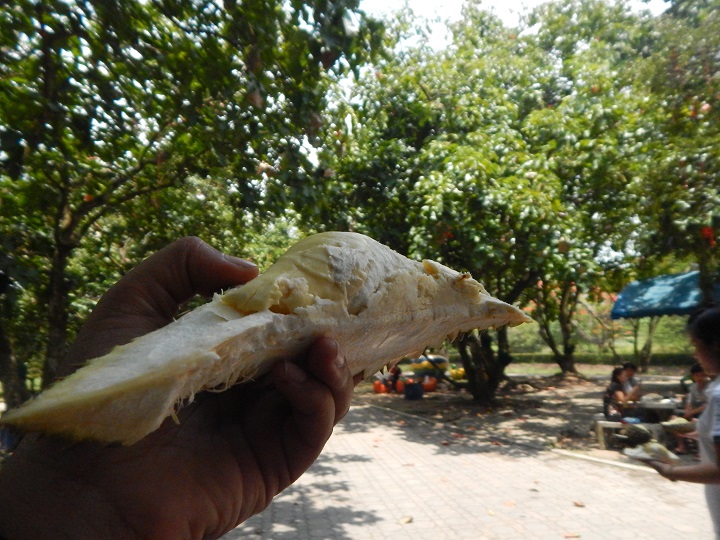 Don't be one to get scared; when you get past the smell and eat it, we guarantee you'll enjoy the smooth, custard flavours paired with a richer deeper taste of almonds. Thanks to its rich quality, the durian is a 'heaty' fruit, which is why Thai folks recommend you eat a mangsoteen after it to cool your body down. A much smaller fruit that can easily be peeled by squeezing the top gently with your palm, the mangosteen is a white juicy fruit, which dissolves in one's mouth in a balance of sweet and tangy flavors. We also enjoyed the rambutans, another typical Thai fruit which is also juicy and sweet. With its prickly cover and white flesh, it's a close cousin of the more familiar lychee. Other unusual tastes were the salak and the mangoes, which were less sweet, but also less fibrous than your regular Indian mangoes. Included in the fruit buffet were sweet juicy pineapples and rich papayas which were fashioned into delicious salads flavored with rich nam pla mixed with sugar.
After filling ourselves with the bounty of fruits, we had significantly whet our appetites for lunch.
Lunch at Tamnanpar Restaurant
A half an hour drive from Suphattra Land is the Tamnpar Restaurant, attached to a water park and resort. To get to it, we walked a good five minutes through what seemed like a winding jungle trail, which was surrounded by green fauna and buzzing birds.
The restaurant highlights the jungle theme with open air and outdoor seating and wooden furniture which surrounds a large collection of plants and water bodies.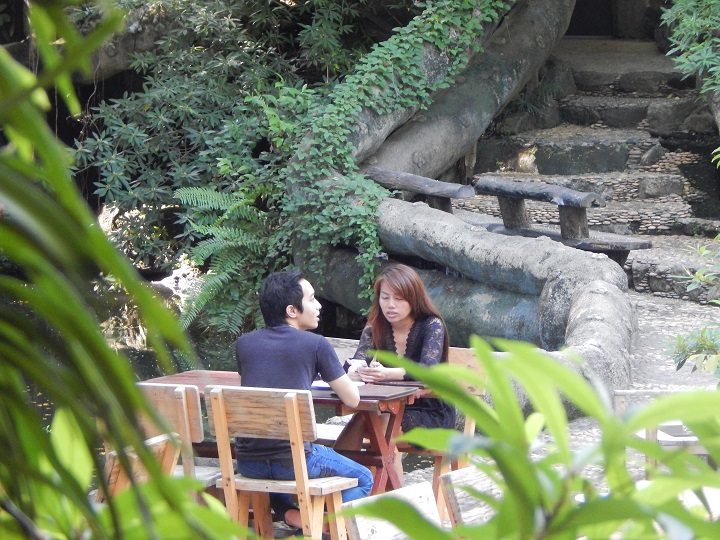 We called for a massive spread, which included a variety of preparations of seafood, lightly seasoned greens and a collection of carbohydrates mainly in the form of noodles and rice. We particularly loved the fish soup which was spicy and soothing, an appetizer of oysters, sprinkled with fish sauce and sugar and large, juicy prawns which were lightly grilled and beautifully tender.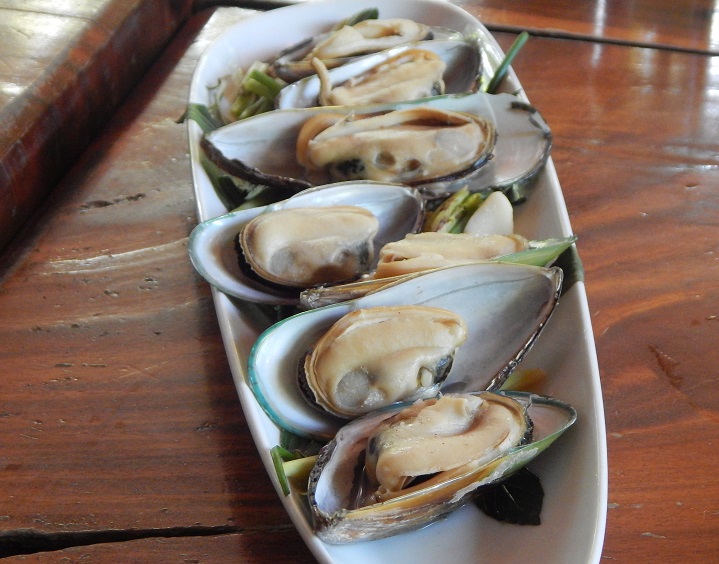 We also loved a chicken dish stir fried with peanuts in a sweet sauce that made for a wonderful balance of textures. Through our meal we were also introduced to the morning glory, a tender, semi aquatic plant popular in Thai salads and stir frys. This particular preparation had the morning glory stir fried with peanuts and a heady garlic sauce.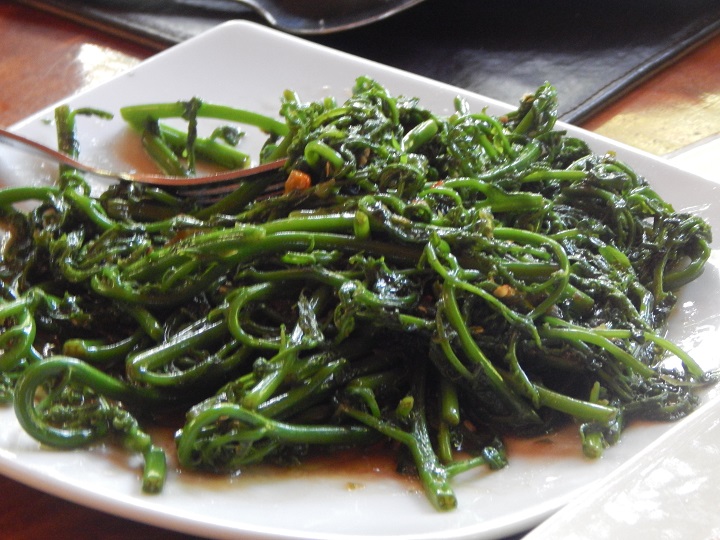 When at the Tamnapar restaurant, adventurous eaters can also try the crocodile preparations.
After enjoying a hearty meal, we walked over to a shuttle bus and were taken on a tour around the Tamnapar resort, which has several beautifully furnished family cabins. These well stocked cabins paired with their proximity to the resort's water park which has a magnificent pool and lake with a variety of water sports make Tamnapar the perforce family destination.
Fine Dining at The JW Mariott Rayong Resort and Spa
After touring the Tamnapar Resort, we headed over to our own resort, the luxurious beach side JW Mariott Rayong Resort and Spa which boasts two pools (one fringing the beach), a golf course, a beautiful spa and a variety of restaurants.
Arriving at the Resort, we were presented with a welcome drink, a garland and a chilled glass of champagne which we enjoyed while taking in a view of the pool, the beach and sea beyond.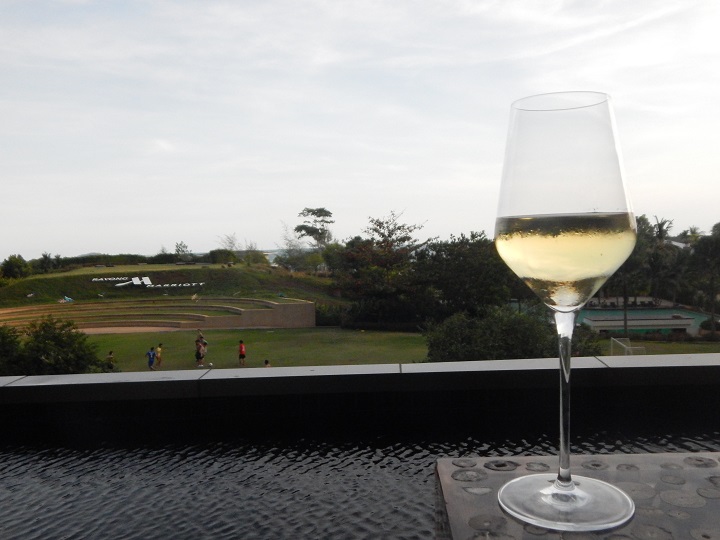 We then headed up to our rooms, each with a view of the hills and a plethora of amenities to freshen up for dinner at the resort's C-Salt Café.
'Freshening up' included a visit to the spa, where we enjoyed an intense, pressure-ful Thai massage that loosened up all manner of knots in our necks and backs with aromatic oils and our skilled masseuse's hands, followed by a cup of rejuvenating green tea paired with a crunchy plate of biscuits.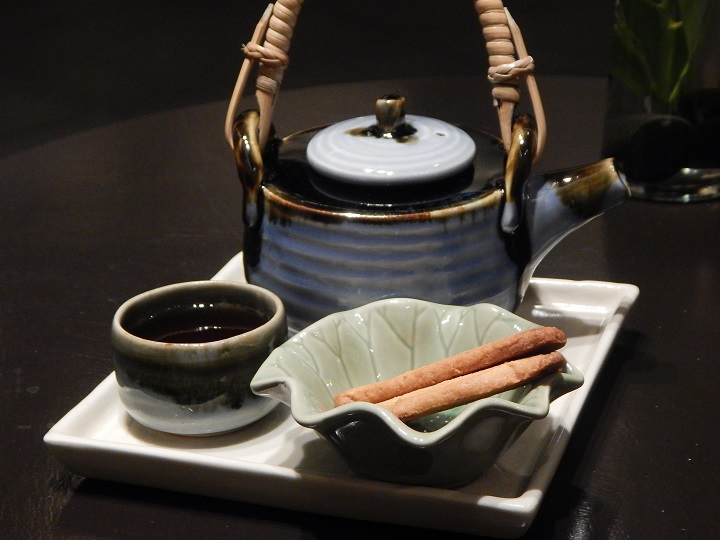 After an extended shower we donned our finest threads and headed down to C-Salt Café where the chef had whipped up a range of delicacies. We continued our day of fruit extravaganza with a mangosteen salad, which combined the zingy mangosteen with fresh prawns, boiled egg and cashew nuts creating a fresh, subtly flavoured entrée.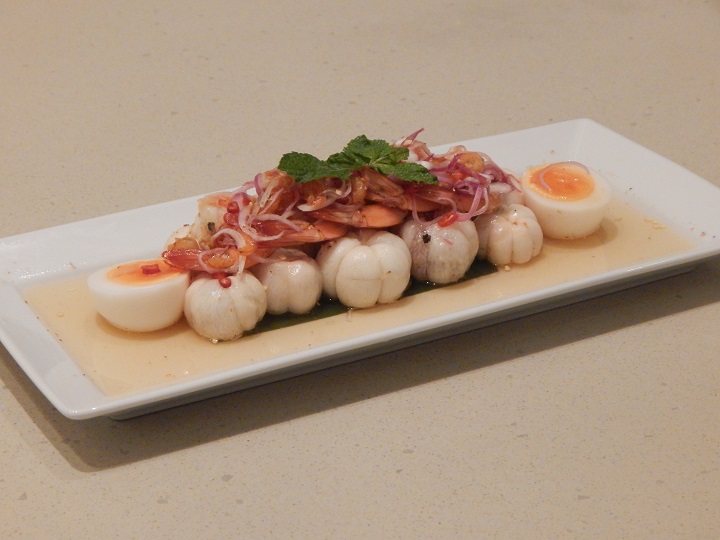 We followed that up with a serving of a rich Roasted Duck Thai Curry with tender duck paired with rambutans stuffed with pineapples.
Indians missing a taste of home will be overjoyed to learn that Chef Anil Rawat is a member of the JW Mariott Rayong Resort and Spa's culinary team; he sent out plates of hot buttered naans, crispy rotis and a delicious lamb curry to dip them into.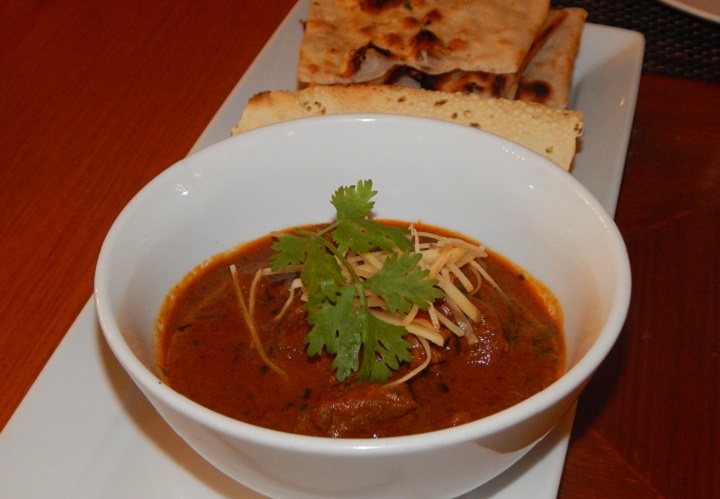 At breakfast, also at C-Salt Cafe we spotted some more Indian offers at the buffet; alongside a collection of 2-minute, 3-minute and 6-minute eggs was a station for aloo parathas, aloo bhaji and dahi. Indeed, the breakfast buffet had offers for every palate imaginable, from cheeses to cold cuts to hash browns to cold pressed juices to traditional Thai breakfasts which include noodles and fresh fruits.
The breakfast we enjoyed served to highlight the resort's appeal to the international crowd; it's an especially popular spot for Indian destination weddings. With its delicious food, luxurious view, spa facilities and other forms of recreation it's not hard to see why.
Here's a video, conceptualized and created by the Travel Writers Association of India team to give you a better understanding of our experience; stay tuned for more of our Thai Food Trail tales!