Tender, Based on Tinder, is a Food App In Which You Swipe Your Way To Recipes  
We all know of Tinder, the dating app that allows you to swipe left through other users until you find someone you may be willing to chat with. Then, you swipe right. But, have you heard of Tender? No, contrary to what it sounds like, it's not a mushier, more romantic version of Tinder. Instead, it's devoted to the topic of our first love; food.
Swipe Left For Photographs
A user on Tender swipes through a multitude of internet gathered photographs until they reach a photograph of a meal that they may be interested in eating. The app has categories such as drinks, desserts, chicken, vegan and so forth, to allow a user to easily narrow down on their meal preferences.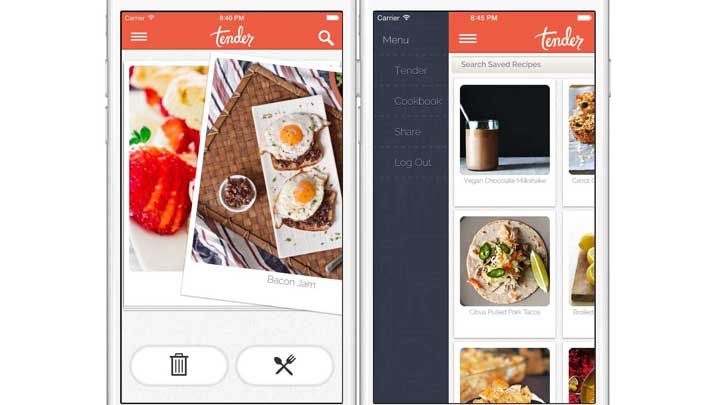 Swipe Right For Recipes
Once a user arrives at a photograph that is sufficiently drool worthy, they can swipe right and get the recipe saved in their Tender cookbook. They can access the recipe's original source, and will quickly have a variety of recipe options for dinner.
Food Porn With a Purpose
Tender was started by three Boston based friends, Jordan Homan, Necco Ceresani, and David Blumenfield who were roommates in college that discovered a mutual love for food. They conceived the idea of an app that would make the prospect of cooking more exciting.
"As a twenty-something, we are all constantly combating the impulse to just eat-out or pick something up," Homan told Boston.com. "But Tender gets you psyched about the prospect of making food, and it makes it easy to do so. It's no surprise that people love food porn," he said, "but it really does seem like people have a passion for tantalizing themselves on their way home probably with the thought: 'What will I make for dinner tonight?"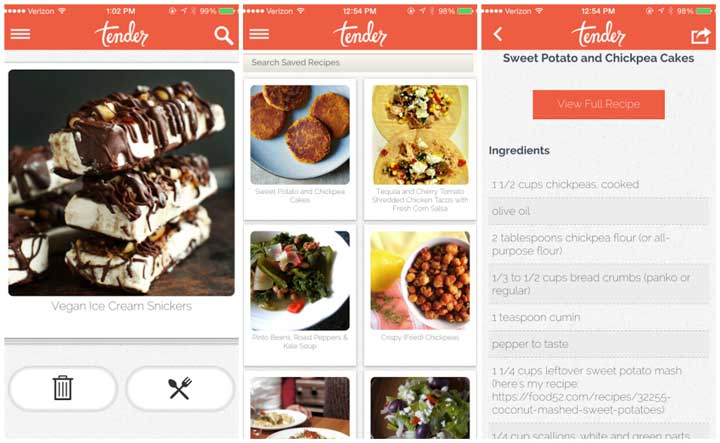 Homan told Boston.com that Tender was designed for young adults; the millennial generation who enjoys visuals of food (Instagram is a testament to that). But, he adds that it has also become popular among parents, and older folks who have become more tech savvy.
Future medications to the app will possibly include an undo option, when a user has swiped left on a photograph that they like by mistake, and better filters.
However, even without these adjustments, the app has been becoming steadily popular, especially in America. Swipe right for success!
Tender is available and free via iTunes and Google Play.