After Hyderabad, Tea Trails comes to Chennai.
Tea Trails is a venture of Zone8 Tea World Pvt. Ltd. founded by Uday Mathur, Kavita Mathur, Ganesh Vishwanathan and Sanjeev Potti. "I, and some of my co-founders at Eurokids – our earlier venture for pre-schoolers, wanted to move on to something new after it gained traction. In 2011, Kavita, my wife, took a sabbatical and wanted to study about tea as she had developed a passion for it. She travelled to tea gardens, went across the world to educate herself about all aspects of tea. Kavita piqued my interest with her insights about the tea industry. We realised that food capitals in the world like New York and San Francisco have over 50 tea lounges each while that is still a novel concept in India, which incidentally has the distinction of being the world's second largest consumer of tea after China. We grow the finest teas in the world. Darjeeling tea is considered the champagne of teas – at a recent auction the highest quality tea was sold at Rs 1.25 lakh a kg. Yet we get only the lower grade CTC for domestic consumption. Not just that, we also have the unique distinction of 'cooking' our tea with milk and sugar! We, Kavita, Ganesh Vishwanathan, Sanjeev Potti and I, co-founded Tea Trails with an initial investment of Rs 5 crore in 2013. The name Tea Trails showcases the history of tea. We have 80 varieties of tea currently at our cafés," explains Uday Mathur to First Post.
Last month, the company forayed in South India with its café in Hyderabad's Banjara Hills– that marked the brand's first cafe outside the Mumbai region. "With the launch of Chennai café, we are now present in the two cities in South India. We are expanding our franchisee network to be a pan India player. South India is a major market for us and we are confident that this Master Franchise Agreement in Tamil Nadu will give us the required presence across Tamil Nadu," said Mr Sanjeev S Potti at the cafe's launch.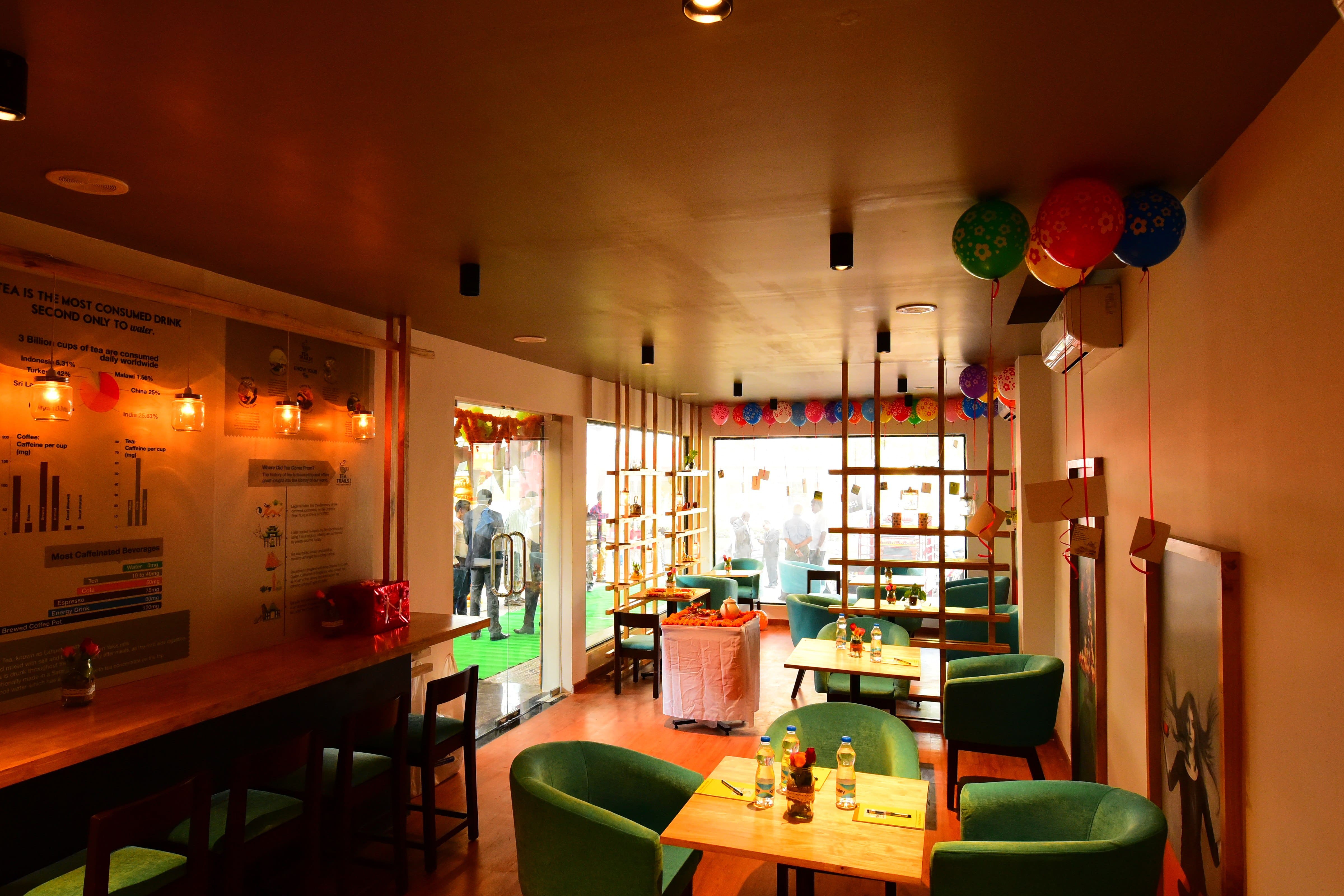 Noted cine director Thiru KS Ravi Kumar inaugurated Chennai's Ashok Nagar branch. Slimlines food and Beverages Pvt Ltd has been named its master franchisee for Tamil Nadu.
The company raised a seed fund of 1M last year. "We plan to use the funds for our growth and expansion in focus markets with an aim to increase our network with over 250 outlets by 2018. We plan to open outlets at malls, commercial spaces and high streets. We are also looking at smaller kiosk formats at food courts," adds Uday.
Popular favourites include adrak chai, masala chai to the exotic white, oolongs and Darjeeling tea. Do give them a sip!