Tasting A Flavourful Assamese Meal By Chef Kashmiri Nath
Bringing an array of flavours from Guwahati, Chef Kashmiri Nath is one of the few chefs who've made Assamese cuisine popular in Mumbai. With dearth of restaurants serving this cuisine, people who haven't even stepped in North-East of India can never possibly savour all the lovely dishes it has to offer. We've been lucky to have been invited to one of Chef Nath's pop-up by Rushina Munshaw Ghildiyal at APB Cook Studio. The simple yet robust flavours refuse to leave us and we can't wait for her next pop-up.

Chef's Corner

We spoke to Chef Kashmiri Nath, learning about the cuisine that's so close to her heart and here's what she said, "The food I cook is quintessentially Assamese home cooked food and hails from different parts of the state. The ingredients are not roasted in oil but are ground in a mortar pestle and added to the curries. We use simple ingredients like khar which is burnt banana ash water which is added to alkaline dishes. The dishes are cooked with the least amount of oil and use various cooking methods which can prove to be healthy in day-to-day life. These methods are roasting, grilling in turmeric leaves, steaming, cooking over open-fire and cooking in bamboo shoot hollows. The bamboo releases its own juices and gives a beautiful flavour to rice, meat or whatever is being cooked in it. In an Assamese home you'd find on the plate some rice, dal, pitika, fish tenga or if it's a vegetarian household, it'll be a vegetable."
Bring On The Food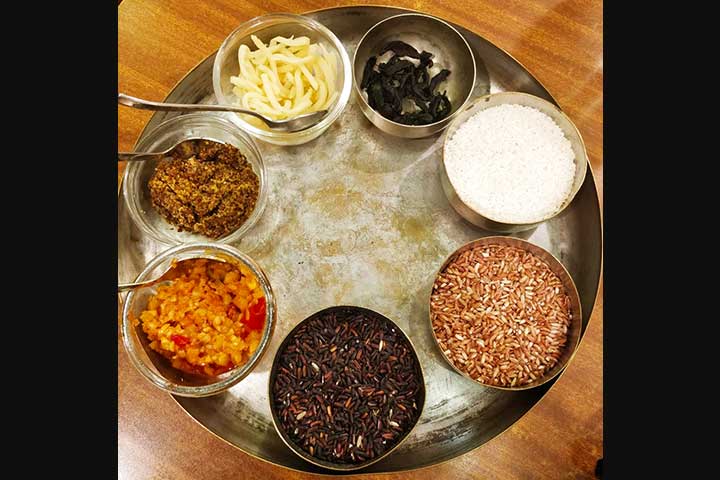 At the pop-up held at the APB Cook Studio we relished classic Assamese dishes like Masor Tenga (a simple, sour fish curry which was out of the world), aloo pitika (a must to mix with the rice and fish to have to complete taste) and of course the red rice which made the meal filling and healthy. We also loved the Pork with Bamboo Shoot which we mixed with the Joha Rice and the fresh, zesty spinach tomato salad. As we passed around dishes, sipped on refreshing Assam Kokam Sharbat and finally tucked into a mind blowing Black Rice Kheer, time flew by. When food lovers sit at one table, tuck into food close to home and conversations flow, those are the meals one relishes the most and look back on. On that note, we recommend that you register yourself up for one such amazing workshop or pop-up with Chef Nath and give your tastebuds a reason to thank you.