Talking And Tasting Woks With Anand Bhatia, The Co-owner Of Lower Parel's Wok This Way
"Are you non-vegetarian?" is one of the first questions that Anand Bhatia, the co-owner of Wok This Way at Lower Parel asks us as we step in to the quirky, spacious restaurant. "So am I," he smiles, as we reveal that yes, we are adherent non-vegetarians, "but Wok This Way is purely vegetarian."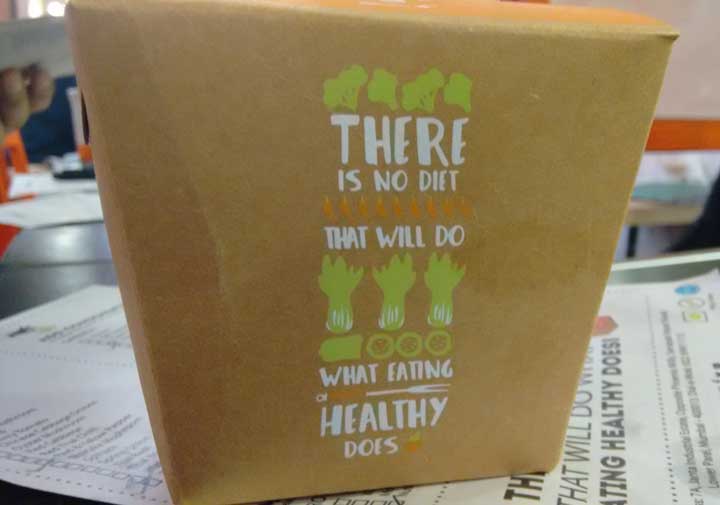 When we ask why, he explains that a major focus behind the few-months-old eatery is healthy eating. "We make all our ingredients from scratch. No MSG," Bhatia says as he takes us through the menu of noodles, rice, sauces, condiments, vegetables and proteins that you can mix and match to build your own woks. Even the noodles (there's a choice between your regular hakka noodles, lo mein noodles, soba noodles, spinach noodles, tomato noodles and udon noodles) are made in-house.
Corporate Friendly
Situated opposite Palladium mall and in the vicinity of one of Mumbai's rapidly expanding corporate hubs, Bhatia sees Wok This Way as a healthy, nourishing option that corporates can look forward to. "Many corporates come from the suburbs and prefer not to carry tiffins over long distances. And, there's only so much biryani that one can eat," he says. Wok This Way gives them the chance to step out of their offices and enjoy a well-priced, healthy meal that will leave them feeling energised and refreshed.
The focus on leaving customers more energised is seen in Wok This Way's decor as well. Opposite the live kitchen, where you can watch the chefs stir up your wok, sits a bookshelf that holds Manga comics, books and games like Jenga which will allow customers to kick back, relax and take their minds of work for as long as they'd like to stay. "They've been here for some two hours," Bhatia says pointing to a group of college students with an indulgent smile.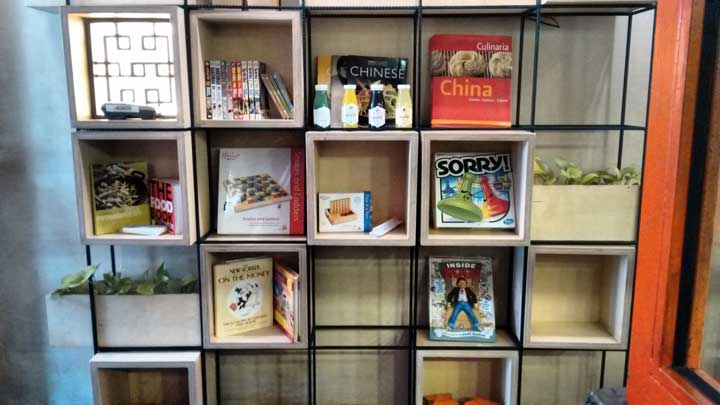 Attention To Detail
Along with the games and books, smaller details point to the great amount of thought that have gone into enhancing customers' experience. "We've spent a long time planning (the restaurant)," Bhatia says. Indeed Bhatia is no stranger to the hospitality business, as he's also been running the Golden Swan Group for years.
So, customers are served their meals in recyclable boxes that allow them to eat their meals on the go. However, if they're not comfortable with eating out of a box, Bhatia demonstrates that the box can be opened out to form a flat plate and then easily closed back to a box again, depending on the customer's needs.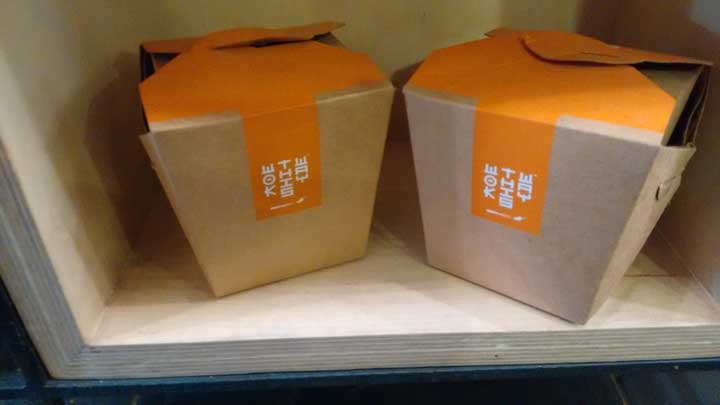 This attention to detail is also seen when it comes to the utensils provided for customers, who can choose between chopsticks or bamboo spoons and forks. An environmental awareness is evident when Bhatia explains that all the utensils are made using recycled, natural products that can be further recycled.
Tasting The Talk
Further enhancing the customer experience is the menu, which interactively allows the customers to check boxes of what they want in the wok and then carry it over to the live kitchen where they can watch their wok being made.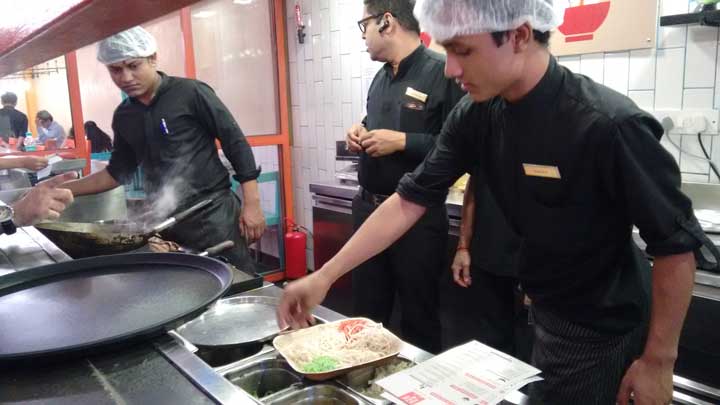 While sipping on some delicious JusDivine concoctions (Wok This Way doesn't have any sodas or caffeinated beverages), we crafted our Woks on paper. Then, two minutes after handing them to the chefs the steaming hot boxes of noodles arrived at our counter.
One box held a combination of soba noodles, Teriyaki sauce, Shiitake mushrooms, button mushrooms bok choy and water chestnuts with kinu tofu, sesame seeds and spring onions. We were impressed by the texture of the in-house noodles as well as the beautiful blend of apricot jam and sugar in the Teriyaki sauce. The freshness of the vegetables was evident through their colour.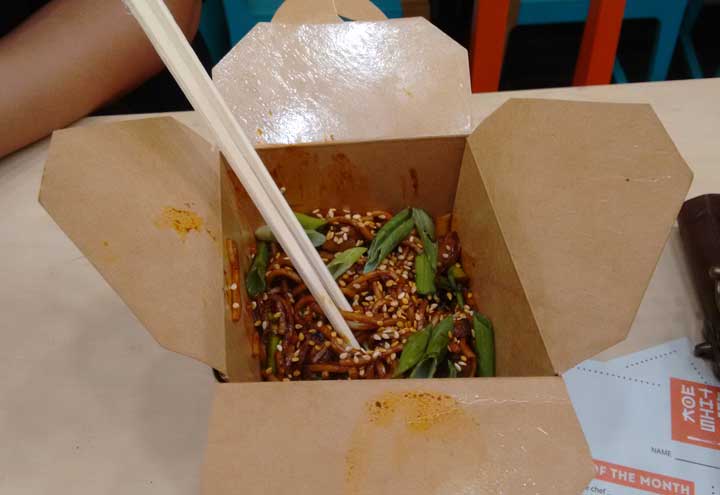 The other box carried udon noodles, which were slightly meatier than the soba with a beautifully spicy Hunan sauce and an indulgent serving of Red Thai chilli, American corn and baby corn; a fiery meal for one who loves spicy fare.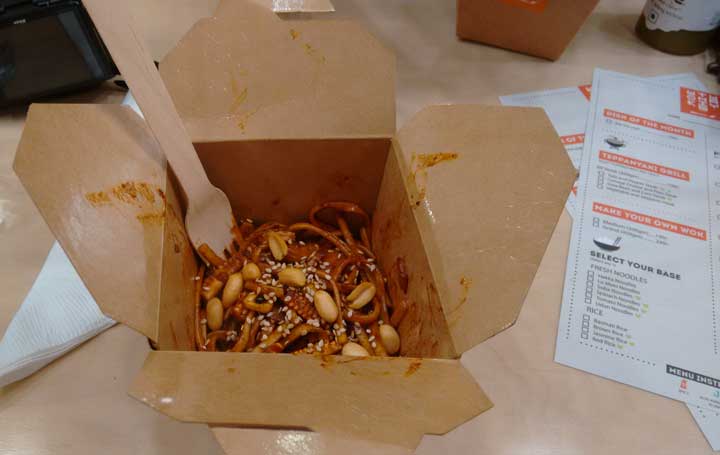 The great thing about building your own wok is that, provided the components are fresh and well made (which you can be assured of at Wok This Way), you can tailor your meal to your own taste preferences and can very rarely go wrong. You walk away feeling pleased with yourself about your mix and match skills!
Dish Of The Month
Each month, Bhatia explains, Wok This Way includes two new dishes on their menu to provide regular customers with exciting new options. This month, out of the Kimchi Pancakes and the Malaysian Laksa curry we decided to call for the curry.
"A traditional Laksa curry," Bhatia explains, "contains and egg and sausage." Not wanting to sacrifice on the traditional appearance, Wok This Way has ingeniously constructed an 'egg' out of cottage cheese and 'sausages' out of soy chunks.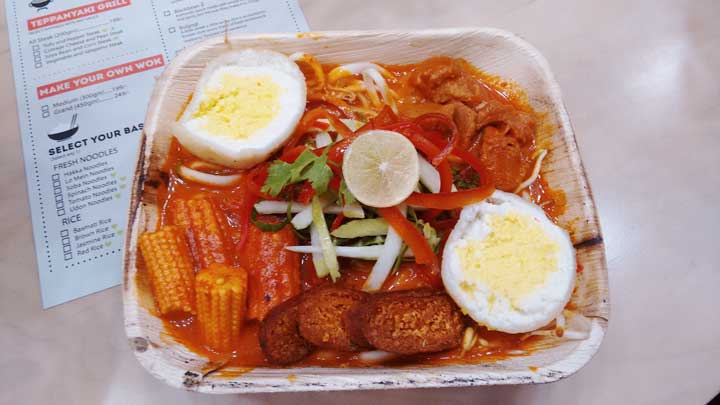 After being impressed with the appearance, we fell in love with the hearty, faintly spicy broth that would be the perfect way to fight off the sore throats caused by the current flip flops in the weather.
Cheat Desserts
Bhatia reveals that they thought about having healthy desserts as well, but decided against it. "After all, desserts are desserts," he smiles. So, if you want to reward yourself on a completely healthy, all veg meal, treat yourself to a slice of Java Cake, Rogue Velour or Infinite Caramel.
"The great thing (about the food) is that it isn't heavy," says Bhatia. After sampling it, we agree; we'd had hearty, delicious meal but were still feeling energetic enough to walk over to the mall opposite and indulge in a few hours of shopping. Corporates, we imagine, would be similarly able to walk back to office and have a productive day after a similar meal.
Walk over to Wok This Way and test it out yourself. We're sure, like us, you'll find your way over there again and again after your first try.
[schema type="organization" orgtype="Organization" url="https://www.wokthisway.co/" name="Wok This Way" description="Enjoy healthy, all vegetarian woks at Wok This Way in Lower Parel! " street="7A, Janta Industrial Estate, S B Marg,Opp Phoneix Mills, Lower Parel" pobox="4000013″ city="Mumbai" state="Maharashtra" country="IN" phone="022 30151123″ ]