Take A Look At Donald Trump's Hamburger-Less State Dinner Menu
It is safe to say that the current President of the United States, President Donald Trump, is by far one of the most offbeat presidents the nation has seen. From sending his security detail on McDonald's runs to time and again professing his love for Big Macs and hamburgers, Trump is hands down the most fast-food-loving President. Which is precisely why the Internet had predicted that his state dinner may or may not serve comfort foods like mac and cheese.
And as if that wasn't enough, Trump, during his election campaign had stubbed the very idea of state dinners during his election campaign in 2016. "Forget the state dinners—that cost, by the way, a fortune," Trump said on the campaign trail in Iowa in 2016. "We shouldn't have dinners at all. We should be eating a hamburger on a conference table." Alas, Trump has proved everyone – and himself – wrongs by announcing a swanky menu for his State Dinner this month.
Earlier this week, the White House hosted French President Emanuel Macron and French First Lady Brigette Macron at the Trumps' first State Dinner on Tuesday, 24th April. And instead of Big Macs, fried chicken, and steaks, the White House kitchen laid out a rather lavish banquet for the occasion.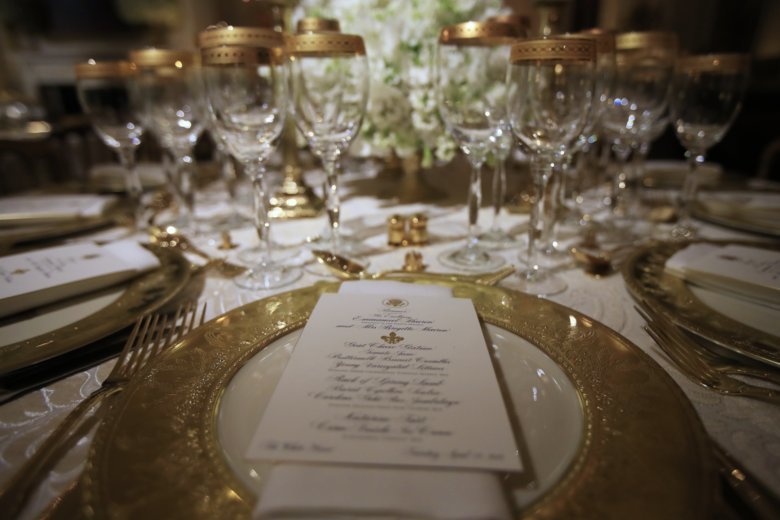 What's For Dinner?
CBS Journalist, Mark Knoller took to Twitter to share a snippet of the three-course menu that was prepared for the State Dinner. Here's all the food that was cooked in the White House kitchen.
First Course:

Goat Cheese Gateau

Tomato Jam

Buttermilk Biscuit Crumble

Young Variegated Lettuces

Main Course:

Rack of Spring Lamb

Burnt Cipollini Soubise

Carolina Gold Rice Jambalaya

Dessert:

Nectarine Tart

Crème Fraîche Ice Cream
According to a press release from the Office of the First Lady, the menu is meant to "celebrate the wondrous first harvest of spring, using greens from the White House kitchen garden." Moreover, First Lady Melania trump kept up with tradition and used Hillary Clinton's china for the evening.