Super Mario Fans In Washington DC Need To Check Out This Awesome Themed Pop-Up
No matter how old we get or how little time we have for Nintendo, the minute someone says that there's a Super Mario themed bar in the area, you're going to drop everything and run off to see what the big deal is, whether they've lived up to the expectations you've built up in your mind since you heard about it.
So for those living in Washington DC, there's something awesome happening. The bar known as Cherry Blossom has a pop-up themed after the famous Nintendo brothers for a few days. Pop-ups and themed anything are extremely popular these days and this is certainly not any different from that. The rooms located beside Cherry Blossom have been converted for the purpose of this pop-up, and it's only there a limited time, so make sure you swing by at the earliest.
At the pop-up, the decor is absolutely perfect in every way thanks to all the origami, waving cats and mushrooms and even Koopa-inspired things. And that's not all! They've got Mario Kart contests, bartenders dressed up as characters from the famous game and even a special corner that is dedicated to King Koopa. Basically everything you'd ever imagine being there at a Super Mario themed bar or restaurant, this place has it down perfectly.
You can even take a look at their menu, which is completely themed as well, check it out below: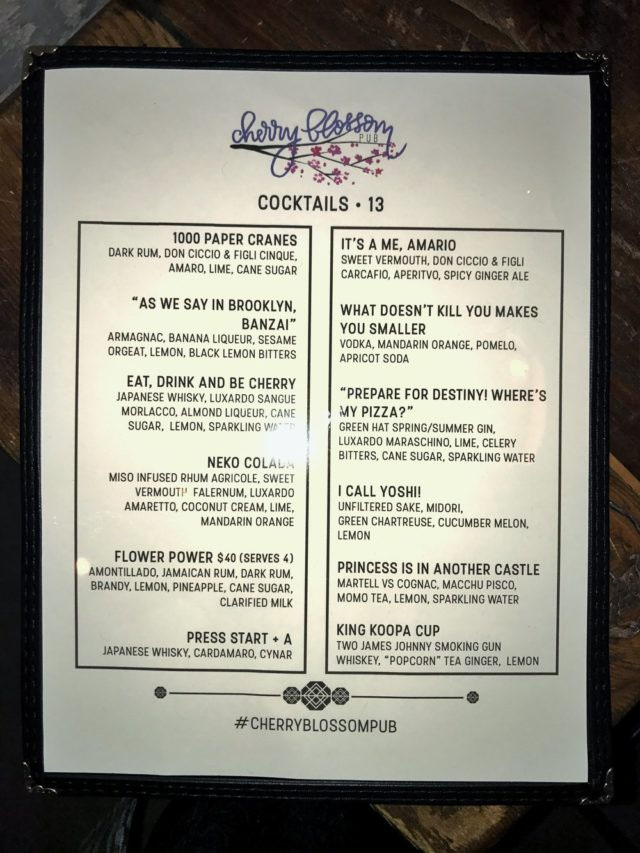 Featured image credit: Alex Eveland. Menu image credit: TV OverMind