Sudha Chat's Hot Chilli Bhajjis, Kachoris and Samosas
You're not going to believe how good the Bhajjis at this place taste until you taste them for yourself. This heavenly place we talk about is a tiny little shop in Shanthinagar right next to the Hockey Stadium, called Sudha Chats. Don't let its size fool you. This place packs enough people in a day to give even McDonalds competition. You will never find it empty. And you will never be disappointed by a visit here.
The shop is run by a family of three, Mother Father & Son. And the scene does look out of a 50's black and white movie. But not the sad kind. This happy family of three has divided their duties, with the mom in charge of frying the delicious bhajjis in a large tava of oil. And the father in charge of making batter while the son is in charge of distributing and cash-collecting. He is also one of the nicest people to have a conversation with while you try to chow down your tongue-burning bhajjis.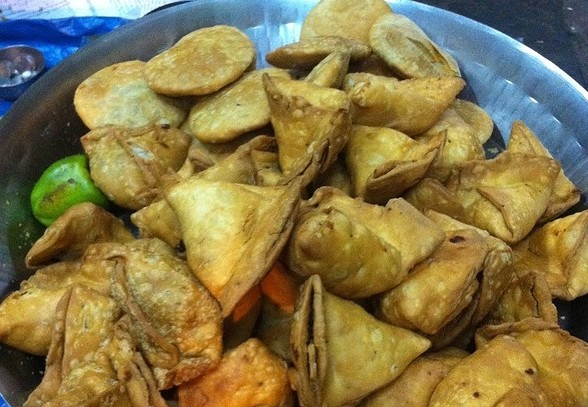 Sudha Chats has a wide variety of chats ranging from capcisum bhajjis, chilli bhajjis to kachoris,samosas, batatawadas. They even have hot gulab jamun and cold badam milk to wash down your chats with. The samosas are the best that we have had in Bangalore. This institution started in 1984 and it's still going strong.