Subway India Introduces SubWraps To Their Menu
This March, popular Quick Service Restaurant, Subway has introduced two new exciting items to their menu; the SubWraps. While – naturally- Subway is best known for its Sub(marine)s, made with loaves of bread and customisable fillings, these wraps along with their already existing salads will give customers at Subway more options when they're looking for a quick, healthy meal.
The SubWraps
The brand has introduced two SubWraps; the vegetarian Chatpata Chana wrap and the Chicken wrap. While the vegetarian wrap is served with honey tamarind sauce, the non-vegetarian wrap is served with harissa sauce. They're both made using whole wheat, soybean, ragi, oats, maize, barley and black gram and are priced at Rs. 40 (veg) and Rs. 69 (non-veg) – perfect if you're broke bit still want to eat healthy.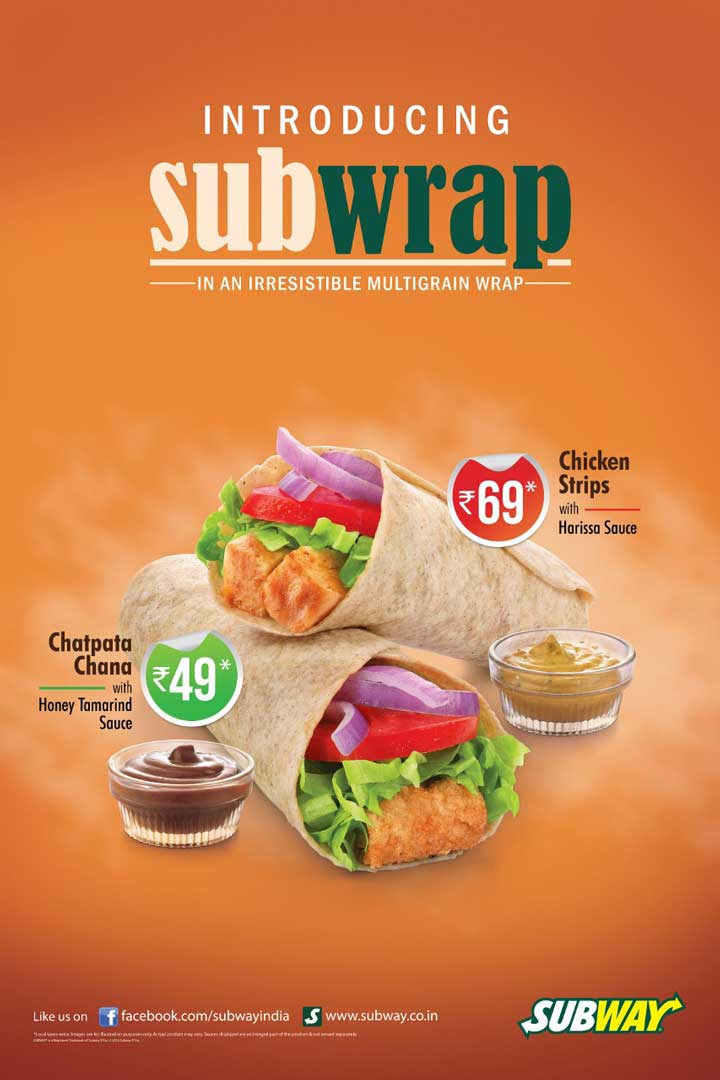 Speaking about the new product, Sanjiv Pandey, Marketing Manager, Subway Systems India Pvt. Ltd. said, "SUBWAY is committed to providing its customers with exciting new product choices while offering them a great value proposition. SubWraps will give another reason to our customers for treating themselves and their friends to a tasty snack anytime of the day."
The Ad
To promote their new products, Subway India has released a new TVC and will also be advertising across social media, print media and in stores – keep your eyes peeled! Here's a look at the TVC (wink if you get the pun):
Subway India
Today, Subway operates 551 restaurants across 70 Indian cities. In accordance with customer demands, 50% of the Subway menu is vegetarian – the chain also has several pure vegetarian outlets across India.
Subway is the world's largest Quick Service Restaurant brand, and plans to expand across India, giving more customers a change to try the SubWraps – and the legendary Subs, of course.