Start Your Day With The New Chocolaty Kellogg's Chocos Fills
Cereal giant, Kellogg India has announced the launch of its latest breakfast cereal – Kellogg's Chocos Fills, a crunchy cereal snack with a delicious chocolaty filling, a unique combination of nutrition and taste. A baked (not fried) food, it is made with the goodness of three nourishing grains – rice, oats and wheat. While being naturally cholesterol free, it provides protein and fiber and is fortified with essential B vitamins*. The soft chocolaty filling adds to the taste of the product. It can be consumed with hot or cold milk or had straight from the pack. 
Speaking about the new product offering, Mohit Anand, Managing Director, Kellogg India, said, "Kellogg's Chocos Fills gives us an opportunity to go beyond the breakfast cereal category and strengthen our snacking portfolio. Given the growth that the snacking industry has seen over the years, the size of the opportunity is huge and Kellogg's Chocos Fills helps us to tap into a bigger pool and serve more consumers. The product has been developed after extensive consumer research and we hope it will delight the consumers." 
The cereal can be eaten both as a breakfast cereal and as a snack, which makes it a strong player for foraying into the breakfast as well as the snacks market. "Kellogg's Chocos Fills is a versatile product which opens up new consumption occasions for the brand. The food will delight consumers with its unique experience of taste with the goodness of grains", Sumit Mathur, Director-Marketing, Kellogg India, said.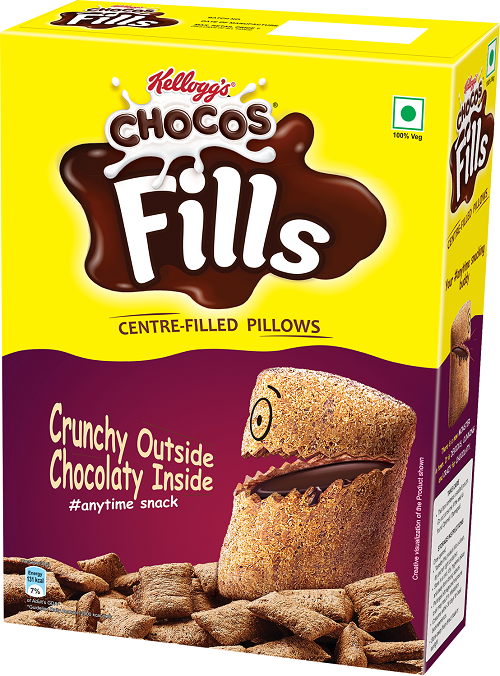 Image Source
The Choco Fills Campaign
Speaking about the communication campaign, Sumit continued, "The multi-media communication campaign is centered around the product. We have received great response from its digital leg and we are looking forward to engage consumers with the TVC that has just been released."
Kellogg's has chosen a multi-media route to launch Kellogg's Chocos Fills. The first phase was to intrigue the audience by building curiosity around chocolaty treats going missing. Influencers such as Kenny Sebastian, Biswa, Rohan Joshi, Tanmay Bhatt, Sahil Shah, etc. posted native content around the curious case of missing chocolaty treats.


The grand reveal of the food happened via a TVC revolves around a 'Chocorobber' character who will go to any lengths to consume chocolaty things in disguise. The TVC shows Chocorobber as a person who is mischievous, but all for a good cause around his voracious appetite. Watch the full commercial below.
Available in a 32 gm pack priced at Rs. 20/- and a 250 gm pack at Rs. 185/-, Kellogg's Chocos Fills is now available in major general and modern trade outlets across all markets in the country.