Starbucks Just Announced Three New Drinks, Pick Your Favourite! #POLL
Starbucks' Spring menu this year is nothing short of a dream. The coffee giant recently released a massive bunch of new drinks like the coconut cold brew, and breakfast items like their gluten free sandwich and organic avocado spread, but looks like they do not plan on stopping any time soon! Consumers in Japan, Philippines, and USA have something more to look forward to this season. Here's all the caffeine that you should look forward to this season:
The Pink Drink – USA
So Starbucks' sought after secret menu is known for concocting some crazy, some impractical, yet some totally mind-blowing beverages. One such drink was the Pink Drink, which sent all Instagrammers in a frenzy with its pastel pink do. Here's some good news, the Pink Drink has made its way to the permanent menu and is now sitting proudly amidst a fleet of frappuccinos and cold brews. The drink was special not just for the way it look but more because of the inimitable strawberry açai refresher base topped with coconut milk and strawberries (which now you won't have to remember, because all you've order now is a "pink drink").
"We're thrilled that the beloved Pink Drink is joining the Starbucks menu, just in time for the warmer spring months," Vivienne Long, vice president of U.S. retail beverages, said in a press release. "This delicious and refreshing drink is a celebration of our customers' and baristas' creativity and is just one of the 170,000 ways we craft beverages to meet each person's unique taste preferences."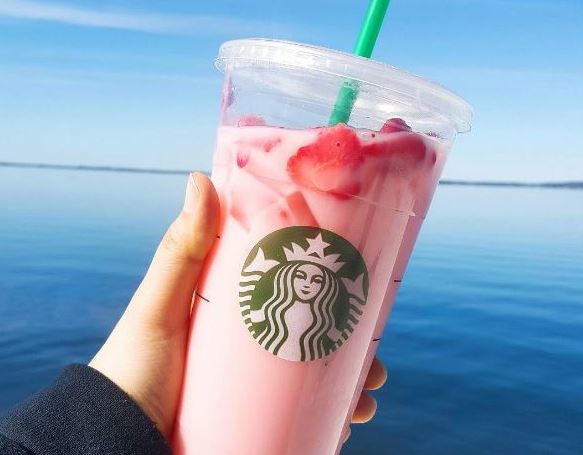 Image: Starbucks Newsroom
Sakura Blossom Frappuccino – Japan
Staying ahead of the cherry blossoms painting Japan in bright and calming hues of pink, Starbucks is all set to serve the seasonal bloom in cup topped with some whipped cream. Behold, the gorgeous Sakura Blossom Frappuccino, a limited-time beverage in Starbucks' Japan outlets.
In addition to the signature blossom hue, the drink goes on to pack a subtle cherry blossom flavor topped with a swirl of whipped cream, finished off with a sprinkle of crunchy rice pieces, which is a first for any Starbucks drink. In addition to the flowery fresh Frappuccino, you can also enjoy the Sakura Blossom Latte that gets a little extra fun on top with pink chocolate flakes. And what's more? The two cherry blossom beverages are served in special cherry blossom cup as well? Oh, Japan!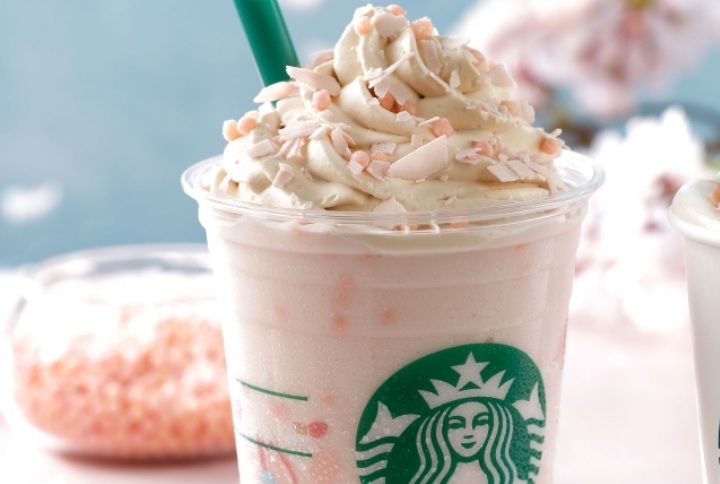 Image: Obsev
Pop'zel Coffee Frappuccino – Philippines & Singapore
While USA and Japan are tripping on the pretty shades of pink, Starbucks Philippines is busy playing Frappuccino Frankenstein. The coffee giant has eliminated all need to buy food and drink separately as it has successfully managed to bring together snack and drink in one big delicious Frappuccino called the Pop'zel Coffee Frappuccino.
The Pop'zel Frappuccino is a sweet and salty (THE BEST) combination of the classic coffee Frappuccino blended together with – wait for it. No, wait a little more. Okay now – popcorn and pretzel syrups! Yes, popcorn and pretzel syrups exist and we can't even. Anyhoo, the unique snack-drink amalgam will come decked with a whipped cream swirl further topped with caramel corn and salty pretzels. *kneels down in gratitude*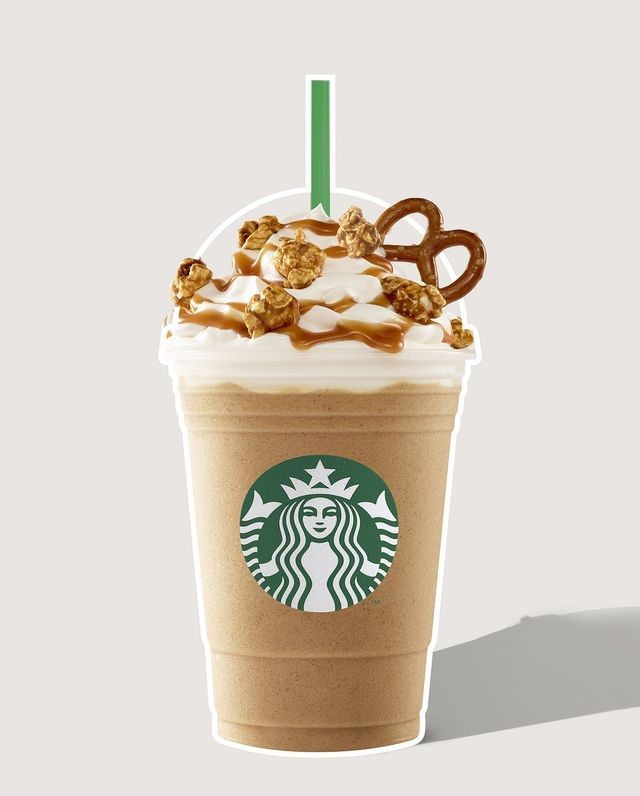 Image: Delish
So now that you know what Starbucks will be busy rolling out for the next week, – that should be long enough for them to think up of something new – which new beverage managed to sweep you off your feet? Vote below!
[polldaddy poll="9723202″]
Feature Image: Cosmopolitan