Swensens!! The minute I heard it's opening soon in Chennai,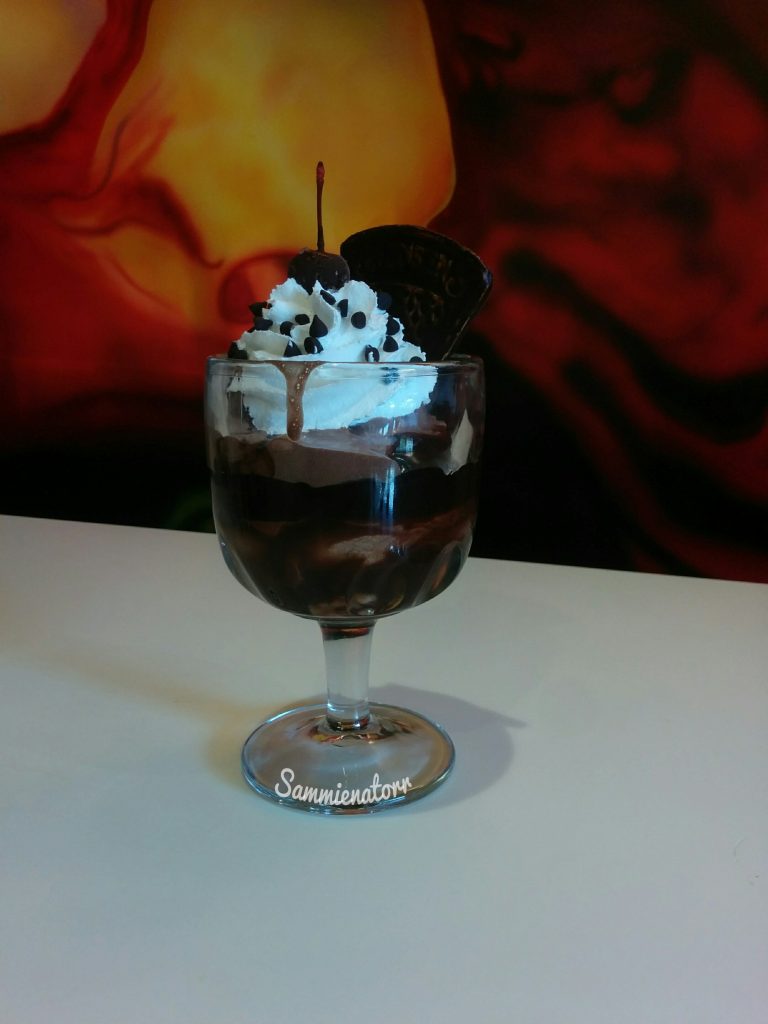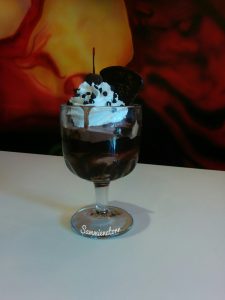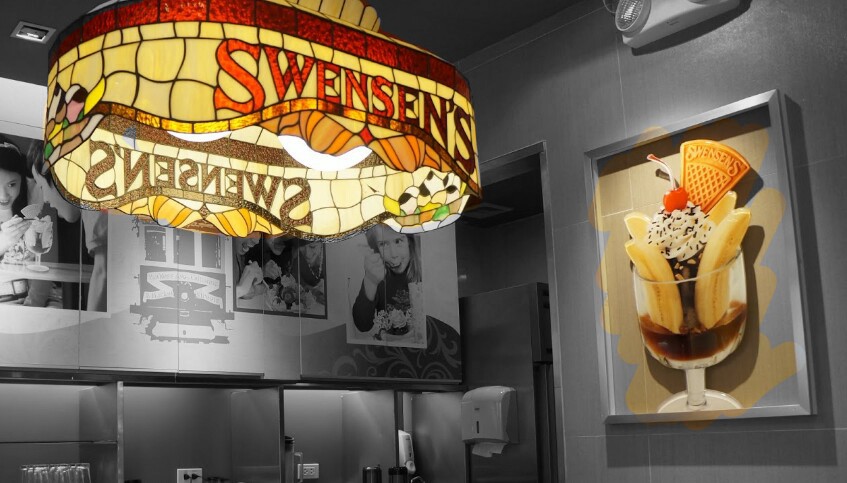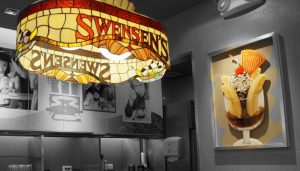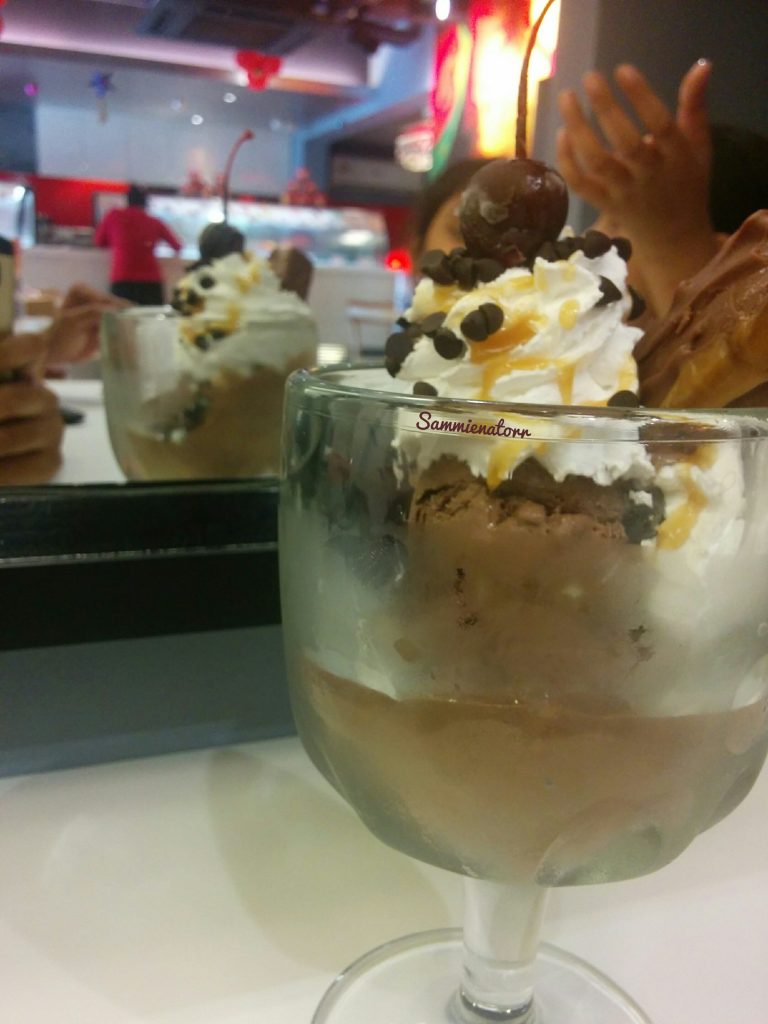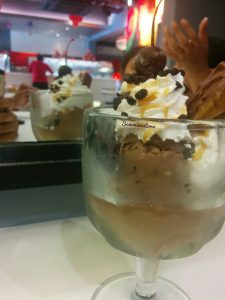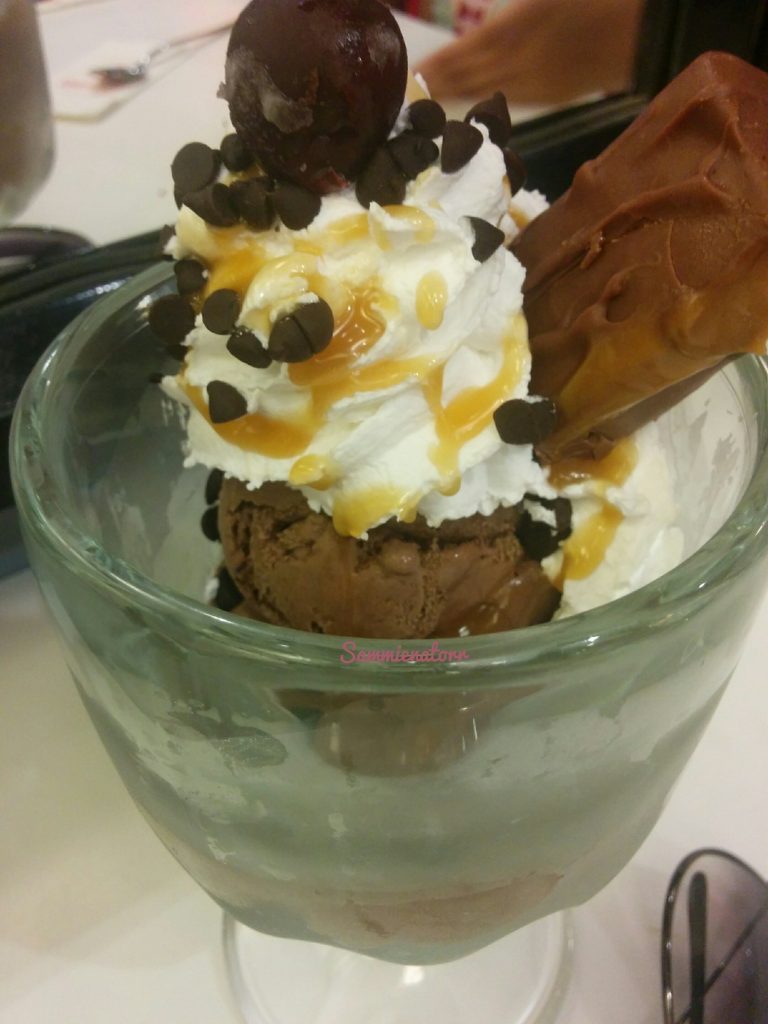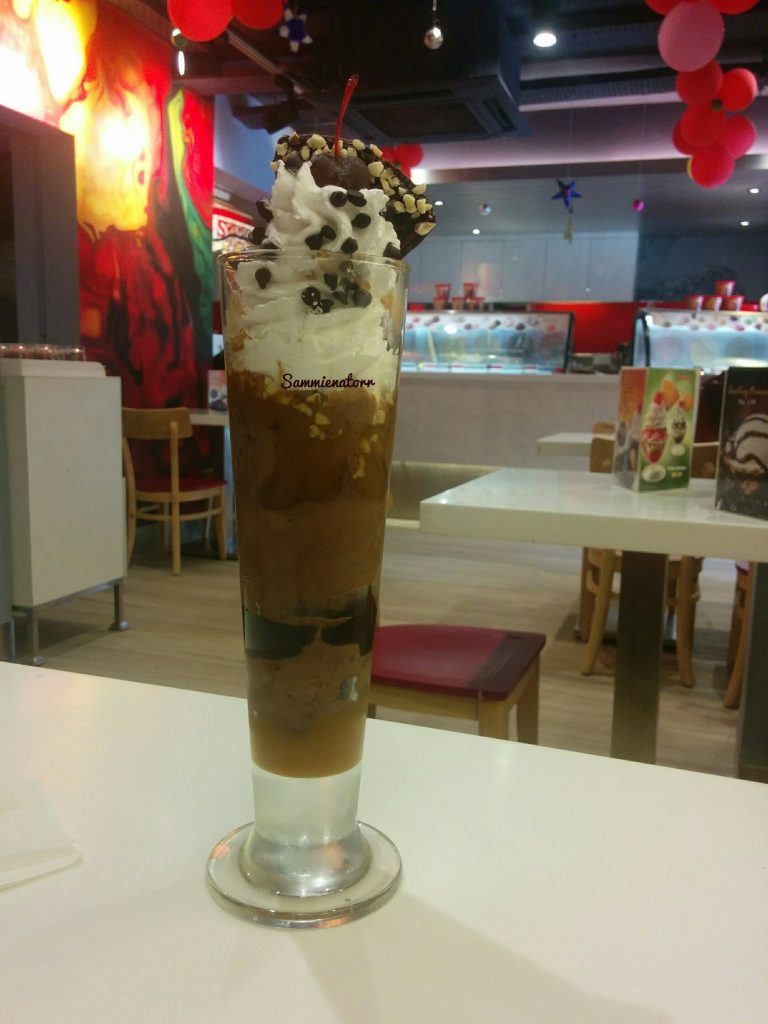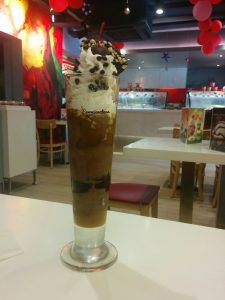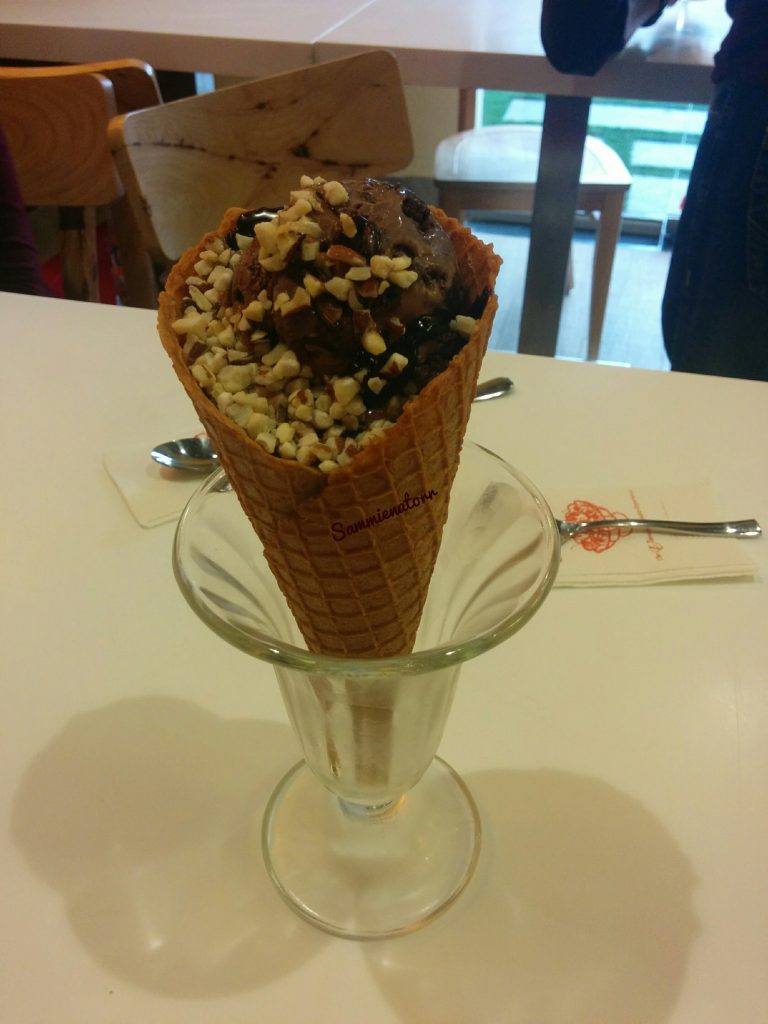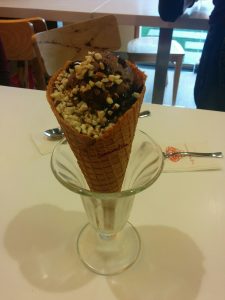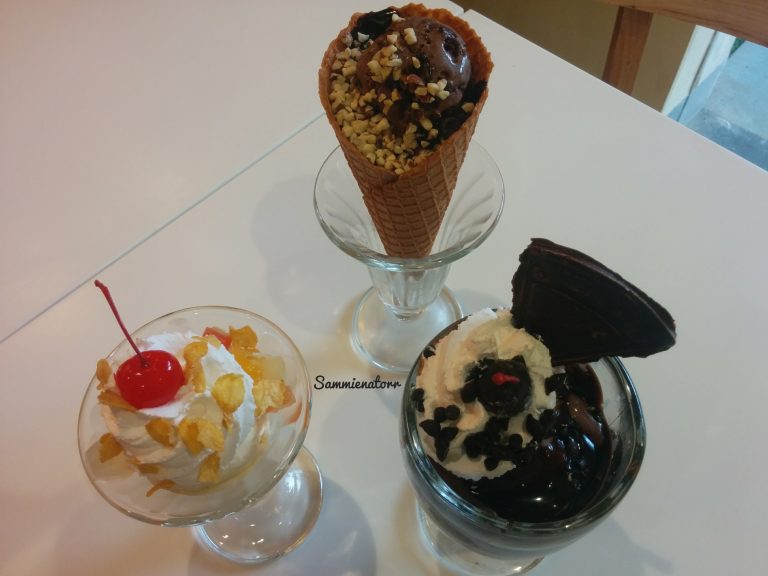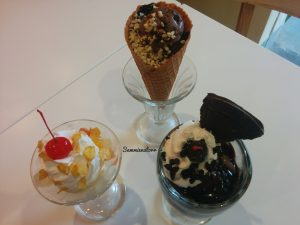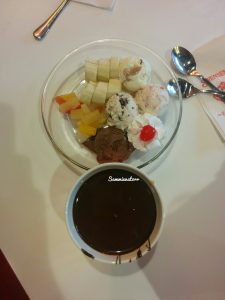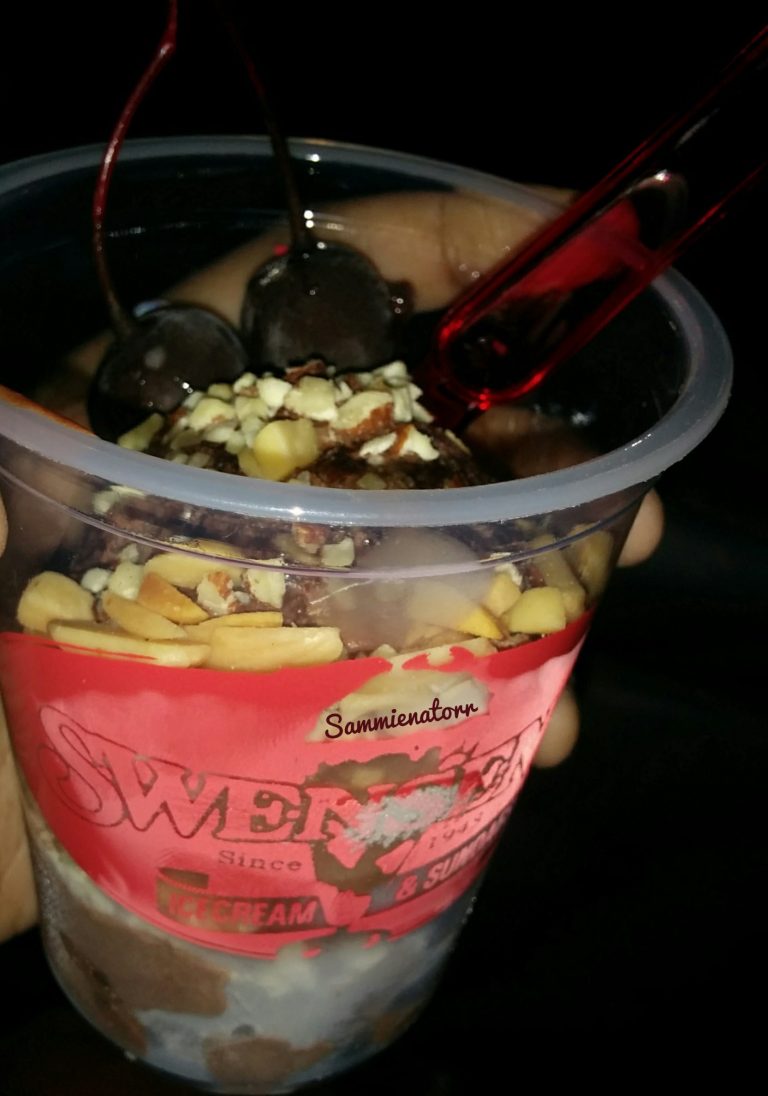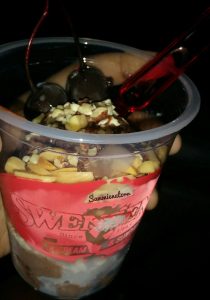 I was excited!! Added it to my #2016Bucketlist and so far have been to the place all of 4 times already.. Yup, that's how much I love the place. It's yummie on the lips and light on the pocket.
The place looks straight out of 70s Archie's comic. Done up in beige and red, with Tiffany lamps hanging above the counter, it's cute. The outdoor seating area, though small, is quiet beautiful as it over looks the beach.
Service is quick and the staff very courteous and helpful.
During my 4 visits. I have tried a number of sundaes and flavors.. What I tried, a brief :
? The Big Rock Chocolate Mountain – Three majestic Scoops of sinfully dark and delicious chocolate based ice cream, with oodles of Caramel, nuts, dark bitter sweet chocolate sauce, whipped Creme and one shiny beautiful cherry on the top and served in a taaallllll glass.. Oh so beautiful that I could look at it all day, but it lasted about 4 minutes after reaching the table. I gobbled it down that fast. Priced at 200 bucks, it's a steal!!
? Sticky Chewy Chocolate Fantasy – A large scoop of sticky chewy Chocolate ice cream served with bitter chocolate sauce, topped with whipped cream, dark chocolate chips and chocolate dipped cherry, its plain orgasmic.. Priced at 180 bucks, it's worth every rupee..
? Snick-A-Choc – One scoop of crunch chocolate blended with a mashed up snickers mini, slathered in Caramel, topped with roasted peanuts, whipped cream, a while mini mars bar and that cherry again.. It's heavenly.
? Mars-Me – Mars mini mashed and slathered in Caramel, topped with chocolate sauce and a scoop of mud night brownie ice cream with whipped cream, cherry and a mini mars bar on the top. Yumm!!
? Fondue for Two – a bowl of bubbling hot dark chocolate served with 4 ice cream Scoops of your choice, chopped up bananas, kiwi, cherries and jello. My friends chose scoops of – Strawberry Cheese Cake, Chocolate, Cookie & Cream and banana & cream. The chocolate dip was perfectly dark and thick and delicious. The fruits were fresh and juicy. Priced at 270 bucks, it's worth every bit!! A MUST TRY!!
? Ice Cream Shake – Thick, rich in flavors served with whipped cream and cherry on top. It's very filling and really rich. My friend ordered Turkish coffee Ice cream based shake and he was not one bit disappointed. Priced at 99 bucks a glass, it's too good.
? Carnival Golden – Bananas, whipped cream, mangoes, vanilla ice cream layered beautiful and slathered in Caramel.. Beautiful.
? Single/double Scoops – I have tried and absolutely loved all the single scoops I've had at Swensens.. The name says it all :
?Rocky Road – Dark Chocolate ice cream, roasted chopped nuts and dark chocolate buttons..
? Midnight Brownie – Chocolates ice cream with chunks of brownies..
?Crunchy Chocolate – Chocolate with Praline and chocolate buttons.
?Sticky Chewy Chocolate – Just as the name suggests it's sticky, chewy and oh-so-chocolatey..
Single scoops are priced at 49 bucks and double scoops are priced at 79 bucks, the toppings are 20 for each.. The size of the Scoops are very generous and everything is very fresh.
The cherries demand a special mention, they are juicy and delicious.. I keep going back for them 🙂 I absolutely love them..
Can't wait for them to open up somewhere in north Chennai!!
Ambience – 4/5.
Service – 5/5.
Ice cream – 5/5.
Flavours – 5/5.
Toppings – 5/5.
Pricing – 5/5.
Location – 5/5.
Parking – Lucky if you can find it.