Sometimes All You Need Is A Mojito
Come summer and the sensual rumba ho Mojito (mou hi:tou) from faraway Cuba is just perfect to invigorate long sunny days and hot nights. Deep-rooted in a several-hundred-years of history, Mojito found its way to fame in the beautiful Cuban capital of Havana in the early 1930s and has over the decades become the country's cultural icon.
Mojito – The Cuban Connection
There are several theories that explain its origin. Bacardi traces the drink's roots to 1586, when Richard Drake and his pirates tried to sack Havana for its gold. While the invasion was unsuccessful, Drake's mojito-like cocktail known as 'El Draque' made with aguardiente (a crude forerunner of rum), sugar, lime and mint, for medicinal purposes became a Cuban favourite.
Around the mid-1800s, the recipe gained in popularity as the original Bacardi Company was established. The Havana Journal claims that mojito owed its origin to the African slaves who used this drink to place a little spell – or Mojo. Mojo to Mojito was only a question of time. Or, as the Cuban playwright and poet Federico Villoch (1940) proclaimed: "When aquardiente was replaced with rum, the Draque was called a Mojito."
Mojito became a worldwide sensation thanks to celebrities such as Brigitte Bardot and the Australian actor Errol Flynn. But it was Ernest Hemingway who made Mojito a celebration and the most preferred cocktail. It is believed that he would frequent a bar called La Bodeguita del Medio just to taste his favourite drink. His handwritten tribute,"My mojito in La Bodeguita, My daiquiri in El Floridita" is still displayed at the bar.
More recently, Pierce Brosnan drank a mojito as James Bond in "Die Another Day, and the drink made an appearance in "Miami Vice," as well as "The Rum Diary" starring Johnny Depp.
Rum, as we all know is one of the world's first distilled spirits made from sugarcane. And the largest producer of sugarcane and rum in the 18th and 19th centuries was Cuba.Any wonder, that Mojito is a combination of sweetness, the all refreshing citrus, and mint flavours – a perfect complement to the hot, sticky weather.
Barbecue or are just hanging out with friends, a mojito serves as the perfect drink to quench anyone's thirst. All you need is a combination of rum, mint, lime, sugar, sparkling soda, and lots of ice to make the perfect mojito that's sure to leave all of your friends impressed.
Although Mojito is very easy to prepare, it's also a cocktail with lots of personality. So let your creative juices flow as you experiment to satisfy everyone's taste. Gin and vodka to rum, lemon, apple, strawberries, or other fresh fruits for lime, icing sugar or simple (sugar) syrup for sugar and the mint with yerba buena (a Cuban mint variety)!
There are several variations to Mojito and each of them taste equally good! Need some inspiration? Take a look at some of the popular varieties.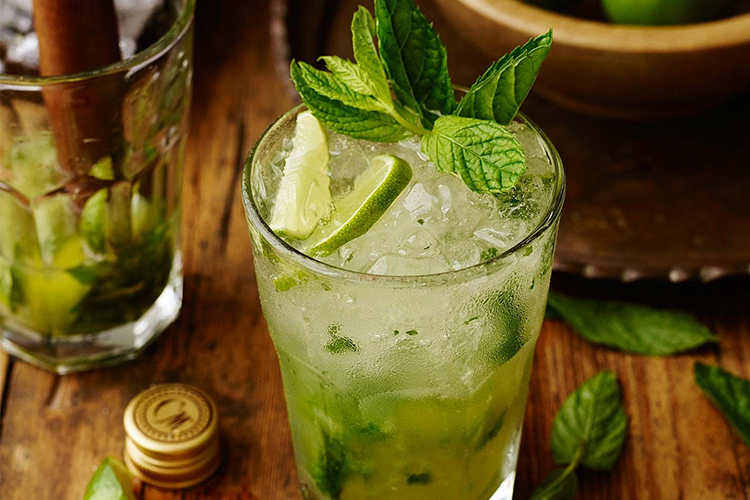 The Mexican version – tequila instead of rum
Virgin Mojito – alcohol free
Dirty Mojito – dark spiced rum, brown sugar and key limes.
English Mojito – gin and sprite instead of rum and soda (sometimes even cucumber)
Mojito Royal – with Champagne as a substitute for soda
Greek Mojito – with Metaxa
Malibu Mojito – flavored with coconut
Lychee Mojito – with canned lychees from China or Thailand
Pomegranate Mojito – with pomegranate juice
And of course, the list can go on, especially when the party comes spontaneously. So, just let your imagination play and dare to create a composition of your own.
And don't forget to share your favourite Mojito recipe with us.