Show How Much You Care with Opulent Diwali Hampers by JW Marriott Hotel Bengaluru
This Diwali, share the historical charm and majesty of Namma Bengaluru with your loved ones with the exquisite hand crafted hampers by JW Marriott Hotel Bengaluru. The boxes depict the story of Old Bangalore with paintings of iconic spots in the city like Russel Street, the Barber House Visits, Koshy's Coffee House and many others.
The varieties of hampers available at the hotel are Premium, Gold Silver, Wellness, JW Opulent, JW Premium and JW Classic. The hampers include goodies like a Ganesh Idol, Hand Crafted Chocolates, Indian Mithai, Hand Crafted Baklava, an IPhone 8, A Bottle of Dom Perignon, Artisan Glasses, A Jar of Pomegranate Confiture, Bottles of Castello Olive Oil, and Organic Honey along with a few other goodies.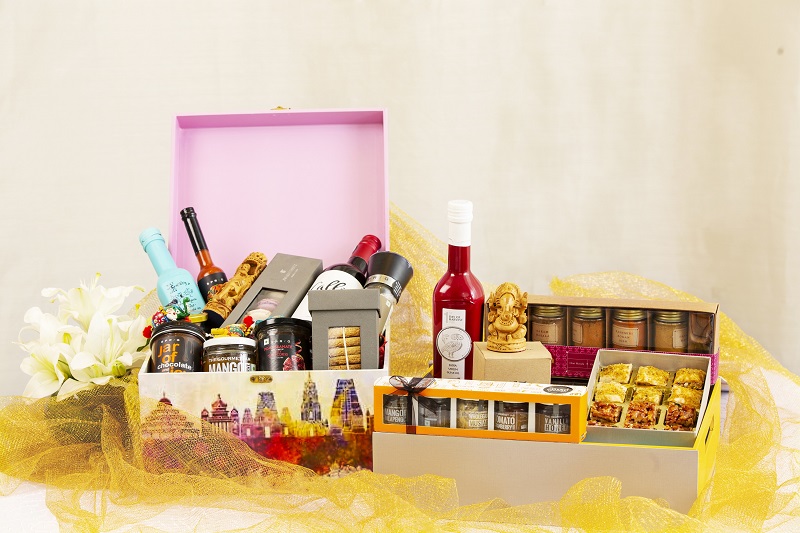 To make the festival of lights even more colourful and vibrant, get your hands on the signature Diwali by Marriott Hamper which is a creation of the talented Chefs at the Marriott family. The hamper includes classic sweet treats like 70% Dark chocolate discs, Blueberry lime bonbons, Raspberry balsamic bonbons, Jamun bonbons, Black olive and sea salt bonbons, Caramel passion bonbons, Matcha tea pistachio bonbons, Cookies, Health bar, Chocolate bars, Pecan tart, Florentine and Laddoos.
Share a bit of Namma Ooru with these Diwali Hampers by JW Marriott Hotel Bengaluru!
Price: INR 2,000++ onward