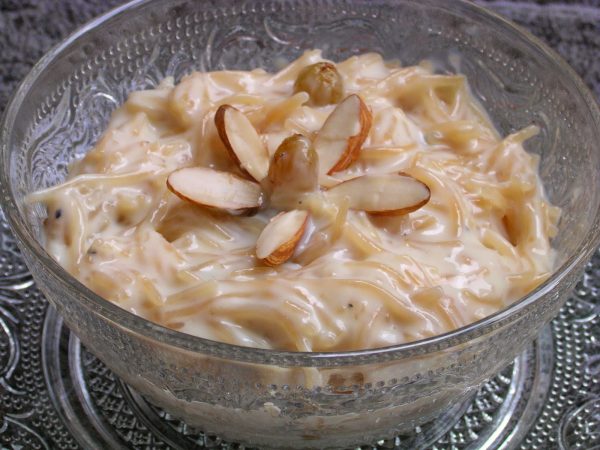 | | |
| --- | --- |
| | |
How To Slice Dry Fruits For Sheer Khurma
Inorder to slice the almonds, soak them in water or boil them in water then peel off the skin and slice the almonds.

Boil the cashewnuts and slice them .

Similarly pista or pistachios can be boiled and sliced.

This way the dry fruits can be chopped easily.
Take a sauce pan, add ghee to it and heat it.

Break the vermicelli and add into the heated ghee, on sim flame saute vermicelli/seviyan till it gets golden brown.

Stirring is important while we saute them.

Keep the sauteed / fried vermicelli aside.

If there is excess ghee then strain the fried vermicelli.

In the same sauce pan, add ghee, add sliced almonds and saute slightly and keep aside.

Add sliced cashews into the same sauce pan, saute slightly and keep aside .

Saute pistachios in ghee as well and keep aside.

You can saute dates if you wish to.

In a separate vessel or cooking pot boil the milk.

Into the milk, add fried vermicelli and let it cook for few seconds on sim flame till the vermicelli becomes soft.

Add sugar, add condensed milk as well and cook for few minutes.

Do not stir much else the vermicelli will not be visible.

Taste it, add sugar if required.

Add fried almonds,fried cashews, fried pistachios.

Finally add cardamom powder, stir it and switch off the flame.

Serve hot sheer khurma in dessert bowls and garnish with ghee, dry fruits and dates and enjoy!!!!
We get seviyan from the market which is specially used for making this dessert or you can use the vermicelli which is usually available.

But the real taste comes from using specially made sheer khurma vermicelli

The real taste too comes out if pure ghee with wonderful fragrance is used.

Add rose water drops if you wish to in the finishing dish as an optional ingredient and you could also add raisins too and many other dry fruits.

While adding seviyan do not add it at once. Add them gradually and check the thickness. If the thickness is what you desired for then do not add more vermicelli else the sweet would thicken totally.