Seriously, The Latest Food Hybrid Is A Mashup Of A Burger And A Burrito
Just when you thought that 2016 was done with all the food mash-ups, the last month brings to our attention that there is still somethings that are left to mash up and put together to tempt the people of the world. We've had sushi donuts, the udonut, the spaghetti grilled cheese sandwich, the burger pizza from Domino's and the list goes on and on and on.
But this new food hybrid isn't just a one time thing, it comes with its own restaurant and Brooklyn is the lucky part of the world to experience this first. We're ending 2016 with the Burgrito, which as you can imagine is a mashup of a burger and a burrito.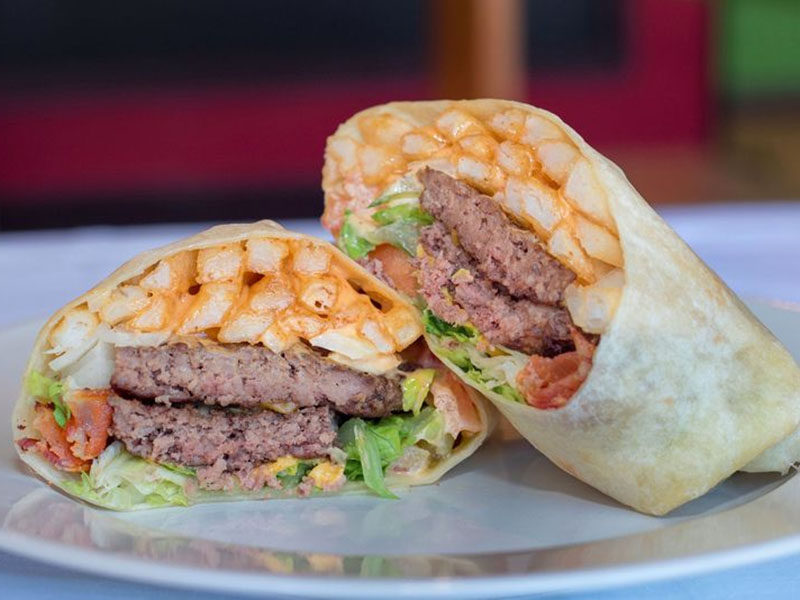 Like a burrito, it's stuffed with tomato, bacon, lettuce, American cheese, onion, chipotle sauce, fries and of course hamburger meat. Because you can't have a Burgrito, without the burger part of it, right? Don't worry vegans, they have an option just for you. It doesn't have a catchy name, but Veg-rito will do.
Lawrence Laby, owner of Burgrito, spoke with Mashable about this new venture and said, "The combination of burger and burrito seems to work as we have had great support from the community in our Bethpage location. However, the main reason that people enjoy our food is that it's simple, fresh and prepared well and consistent."
He also spoke about probable expansions from Long Island to Park Slope and said, "My brother Darin and I, who own and operate Burgrito's [on Long Island] together, have a connection to Brooklyn. We worked there for our family moving and trucking business for over 10 years each prior to acquiring Burgrito's almost two years ago. We like the energy and development in Brooklyn, both on the residential and commercial/retail side."
Don't confuse the Burgrito with the Whopperito, which was Burger King's attempt at creating something with a cheeseburger and a burrito.