Say It With Fabelle Ruby Gianduja – India's 1st Ruby Chocolate On this Valentine's Day
Fabelle Exquisite Chocolates, distinguished for presenting one-of-a-kind chocolate experiences is set to redefine Valentine's Day gifting this year with Fabelle Ruby Gianduja; India's first Ruby Chocolate. This differentiated and first-of-its-kind gift crafted by Fabelle is made from Ruby chocolate, the fourth variety of chocolate, discovered 80 years after White, Milk and Dark chocolate. Ruby chocolates are made of a unique cocoa bean which are processed in a differentiated manner, have a natural Ruby colour and a mild fruity chocolate taste. Gianduja is an Italian delicacy from the Napolean era and Fabelle has recreated Gianduja by using Ruby chocolate, infused with rich hazelnut paste for a multi taste chocolate experience.
Ruby Gianduja is handcrafted by expert chocolatiers in ITC's state-of-the art manufacturing factory in Bengaluru. Each chocolate is individually gift wrapped and then packed in a specially designed ruby colored tin boxes which exudes a regal panache. Fabelle is India's first chocolate brand to introduce Ruby chocolate in the country and has elevated the Indian chocolate segment by taking it to newer heights through unparalleled offerings and mass personalization, given its institutional strengths.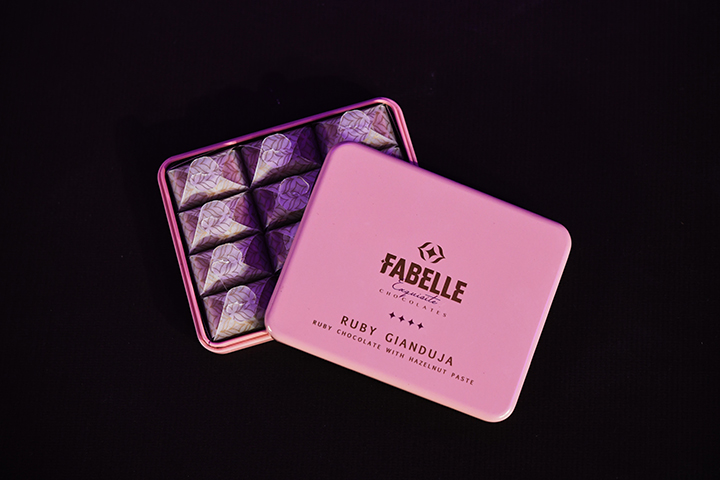 This gift for the beloved comes in an innovative, personalized gift box wrapped in a photo sleeve with images of your loved one, which will evoke strong memories of the fine expression of love. Consumers can log on to the website www.itcstore.in/fabelle/valentinesday to order a box of Ruby Gianduja with personalized photo sleeve. Furthermore, consumers can create a unique picture collage in video format that can be developed on Fabelle's microsite and also take a unique Love-of-a-Kind compatibility test with your loved one.
The box of 12 cubes of Fabelle Ruby Gianduja is priced at Rs. 1295 along with a minuscule charge for the personalization. It will be available across chocolate boutiques at select ITC Hotels in India, from February 1st, 2019 onwards and customers can choose their delivery date between 13th to 20th February. Orders can also be conveniently placed through ITC's e-commerce portal atwww.itcstore.in/fabelle/valentinesday and delivery date can be chosen by the guest.
Where Can You Find It?
· Fabelle at The Chocolate Boutique, ITC Grand Central, 287, Dr. Babasaheb Ambedkar, Road, Parel, Mumbai; 022 67045143
· Fabelle at The Chocolate Boutique, ITC Maratha, Sahar, Mumbai; 022 61841979
· Fabelle at The Chocolate Boutique, ITC Gardenia, #1, Residency Road, Bengaluru; 080 66825270
· Fabelle at The Chocolate Boutique, ITC Windsor, #25, Windsor Square, Golf Course Rd, Bengaluru; 080 61401111
· Fabelle at The Chocolate Boutique, ITC Maurya, Diplomatic Enclave, New Delhi; 011 66325360
· Fabelle at The Chocolate Boutique, ITC Grand Chola, #63, Mount Road, Guindy, Chennai; 044 49065410
· Fabelle at The Chocolate Boutique, ITC Sonar, JBS Haldane Avenue, Kolkata; 033 23004407
· Fabelle at The Chocolate Boutique, ITC Kohenur, HITEC City,Madhapur, Hyderabad; 040 47665654