Savour Mahe's Coastal Delights In Goa
Chef Sandeep Sreedharan hails from the South Indian town Mahé, a former French territory. He along with Parth Timbadia have brought sumptuous coastal delights to Goa making the most of the fresh produce. Their new collaboration, located in Anjuna is also named Mahé and will have a menu that is inspired by chef's travels as well as his hometown. "It's all about a confluence of ingredients and techniques used in the area to bring out simple rustic dishes in a way they have not been introduced before," say the partners about the venture.

Mahé Opens In Goa

The restaurant is located inside a century old Portuguese house which has been updated while retaining the Indo-Portuguese charm. The bar at Mahé is named Blush, the dining room is Jade and there's also a lovely garden space for an al fresco dining experience. The outdoor section will give the travellers a Goan feel with pebbles and foliage all around. The dining area inside is meant to create a nostalgic vibe with French pastel highlights, Scandinavian detailing and modern Indian digital art.

Bring Out The Food

One can pick from a refreshing variety of coastal delights at Mahé all created with freshest, seasonal produce. In small plates you can relish Stuffed Morels with street style potato jus, Confit Yam with cherry tomatoes, Pickled Mussels in EV Coconut Oil, Steamed Fish, Red Snapper Ceviche, Chorizo with a poached egg or Slow Cooked Mackerel with fresh plums among others. Their specialties include sumptuous grills of fish, prawns, lobster, squid as well as paneer, mushroom, baby corn & tapioca. The sauces for these grills are region specific and these are from West Coast, East Coast and Sri Lanka.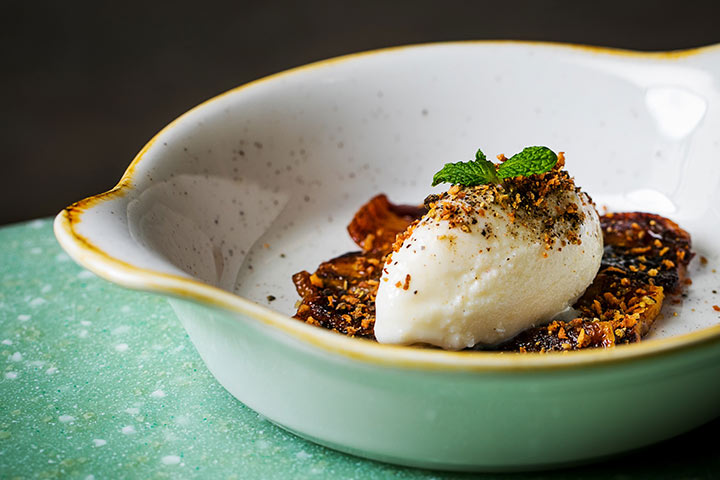 Mahé also has sumptuous large plates on its menu like Slow Cooked Lamb with tapioca mash & consommé and the Fish with Moilee Foam. There are also classics like Chicken Chettinad, Green Moong Curry, Fish Pulimulagu and Mahé Prawn Curry with Dosas, String Hoppers, Appams or Rice. Pair your meal with refreshing signature cocktails like Negroni de Goa, Kokum Shrub and Mallu Mai Tai. You can also pick from Sheikh on the Level – black tea gin, cardamom, fresh lemon, brown sugar & egg whites, Glad Rags Sheela made with straight bourbon, apple & cinnamon and Ossified Mrs Grundy – a mix of cherry tomato vodka, house spiced bitters & fresh lemon.

So get ready for a true coastal experience as you unwind in the newest restaurant celebrating the coastal food in Goa.