Saif Ali Khan Starrer 'Chef's Trailer Looks Good But There Just Isn't Enough Food!
A few months ago, actor Saif Ali Khan was scouting the streets of Old Delhi and brushing up his cooking skills to shoot for a Hindi remake of Jon Favreau's 2014 food-centric flick Chef. And finally, the trailer of the remake was released earlier today on T-Series' YouTube page.
Much like the original, the remake too revolves around the life of a successful Michelin-starred chef, Roshan Kalra (played by Khan), who lives away from his family, which resides in India. Chef manages to capture the father-son relationship between Saif and his son (played by Svar Kamble) well, however there just isn't enough food! In the trailer, at least. On the other hand, Jon Favreau's Chef, each and every scene – even in the trailer – was laden with a bunch of tempting food shot. Right from Carl Casper's Pork Cubanos to the spread he had crafted for Ramsey Michel, there was a fair amount of food to drool over.
That said, there are a few shots of Kalra and his son enjoying some chhole bhature in Chandni Chowk and Khan cooking up some pizza and pasta. And yes, there is a food truck too, so we look forward to be proven wrong once the movie releases.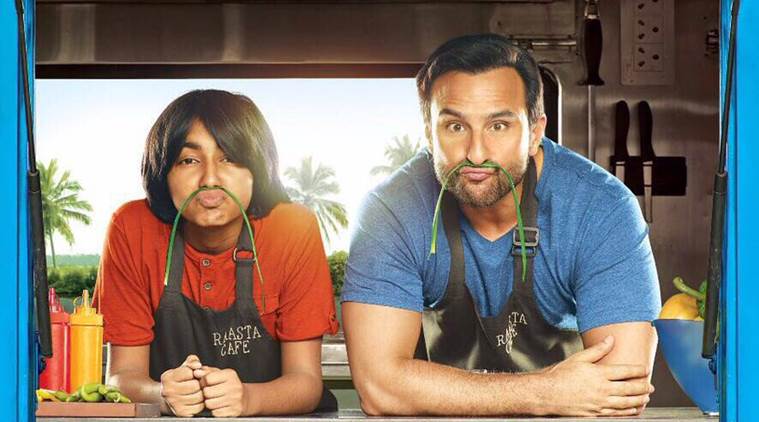 Image: The Indian Express
The star cast looks promising with National Award winning actress Padmapriya Janakiraman playing Khan's wife and Chandan Roy Sanyal in a supporting role, but we really hope the movies doesn't overshadow the food and emotional aspect of Favreau's original story with too much song and dance.
Directed by the maker of Airlift, Raja Krishna Menon, the movie has been produced by T-Series and Abundantia Entertainment. Chef will hit theatres next month on 6th October. Take a look at the trailer below.
And here's a look at Jon Favreau's version.
Feature Image: T-Series