Ruchi Soya Industries Limited Launches Hunky Chunky Soya Chunks
Ruchi Soya Industries Limited, one of India's leading FMCG Companies and its largest oil manufacturer has just launched soya chunks under the brand Mahakosh Hunky Chunky. With this new product, the Mahakosh portfolio expands from only containing oils to soya chunks.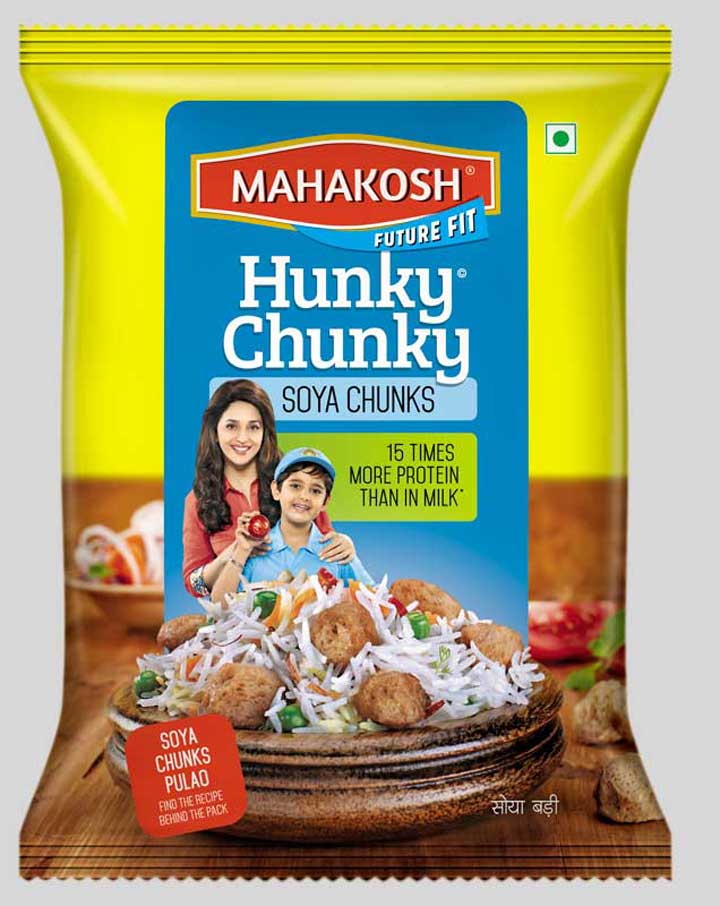 Battling Protein Deficiency
A recent study conducted by the Indian Market Research Bureau found that 80% of Indian diets are protein deficient.
"As protein deficiency is major problem affecting a majority of Indians; Mahakosh Hunky Chunky has been launched to provide a hygienic, cost effective, protein rich vegetarian meal option to consumers", said Dinesh Shahra Founder & Managing Director, Ruchi Soya Industries Limited in a statement to the press.
The Mahakosh Hunky Chunky Soya Chunks contain 52% protein by weight, higher than the protein content by weigh in chicken, eggs, pulses and milk. Additionally, Mahakosh Junky Chunky Soya Chunks, the company claims contain 15 more times protein than cow's milk.
Ruchi Soya Industries already has one type of soya chunks on the market – Nutrela.
Nutrela will target the premium end of the market, priced at Rs.50 for a 200 gram packet, while Mahakosh soya chunks will be priced at Rs.35 for 200 grams.
The Marketing Push
The brand ambassador for Mahakosh is Madhuri Dixit Nene. The product will be marketed with the tagline "fit hain toh future hai."
"We have extended our association with Madhuri Dixit Nene for the soya chunks category also as we feel that she is someone our target audience looks up to in terms of modern cosmopolitan woman who effortlessly delivers on her many roles a working woman, a caring wife, a loving mother and trendsetter celebrity," said Satendra Aggarwal, the COO of Ruchi Soya.

Dixit will star in the new product's soon to be launched TVC.
The company is targeting West Bengal, Rajasthan, Uttar Pradesh, Delhi, Bihar and the North Eastern States as major markets for the new product. It will be available in both chunks and granules and prices at Rs. 15 for 90 grams, Rs.35 for 200 grams and Rs.100 for 1 kg.