Royal Challenge Sports Drink Pays Tribute To Olympic Athletes
In recognition of the Indian Olympics contingent participating in the 2016 Olympics in Rio over the next few months, Royal Challenge Sports drink has released an ad film featuring Virat Kohli. In the film, Kohli considers the amount of preparation and dedication that goes into preparing for the Olympics and ruminates on how different athletics in the Olympics are from cricket tournaments.
Paying Tribute
The two and a half minute film begins with Kohli saying "In this country where more cricket than blood runs in our veins, there are some unheard and untold ambitions running too, albeit silently. Unheard and untold, but no less than others…"
The film goes on to focus on a variety of athletes from gymnasts to runners to table tennis players with Kohli's voiceover explaining that athletes can give so much of themselves to their sport because they are "Made of Bold" :
Subroto Geed, SVP – marketing, United Spirits, said, "Virat is a supreme and world class athlete. The 'Made of Bold' film from Royal Challenge Sports Drink is about Virat, the athlete, paying tribute to the countless other athletes of India for making a bold choice of their sport and pursuing it despite all the odds. It brings to life the brand's purpose of inspiring the spirit of taking on life through one's bold choices."
#PlayBold
The advertisement continues with Royal Challenge Sports Drink's #PlayBold campaign which invites Indian sports persons and Indians in general to 'Play Bold'.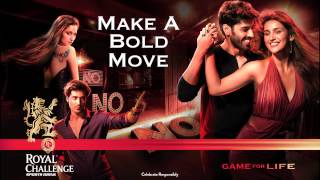 In the days that led up to and since the start of the Olympics, several large brands in India have released campaigns to draw the Indian public's attention and support to the athletes competing. Along with Royal Challenge Sports Drink, Tata Salt has been conducting an awareness campaign; read more about it here.