Rotti-Shotti on the Go at Indian Paratha Company in Bengaluru
We, Bangaloreans don't have a lot to complain about, we have great food, amazing people, beautiful weather and fantastic watering holes. But as a foodie who has had the opportunity to visit the North of India, I would have to say that I miss the good ol' dhabas. Wouldn't you agree? Yes, we have our friendly cart-deliverers but there's nothing like stopping on the highway during a long road trip to refill on some mouth-watering food.
Well, Indian Paratha Company located 10 kms away from the Airport on the Hyderabad-Bangalore Highway might just be the answer to our dhaba woes. Even if you're not planning to drive all the way to Hyderabad, you could stop at IPC on the way to the picturesque Nandi Hills. But, we drove all the way just for IPC and it was completely worth it.
The Charm:
IPC itself is a wooden cottage set in the hills, surrounded by green shrubs with an elegant Jain Temple in background which soothes your senses almost immediately. The outdoor seating almost makes you wish you were by a beach side but we will take the hills anyday.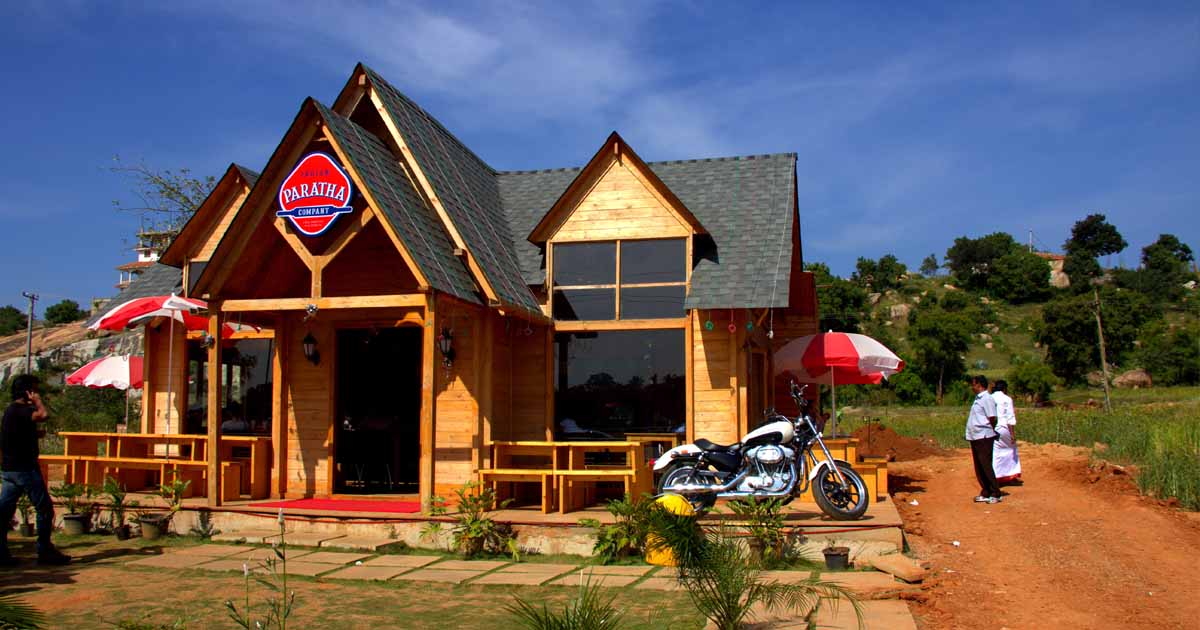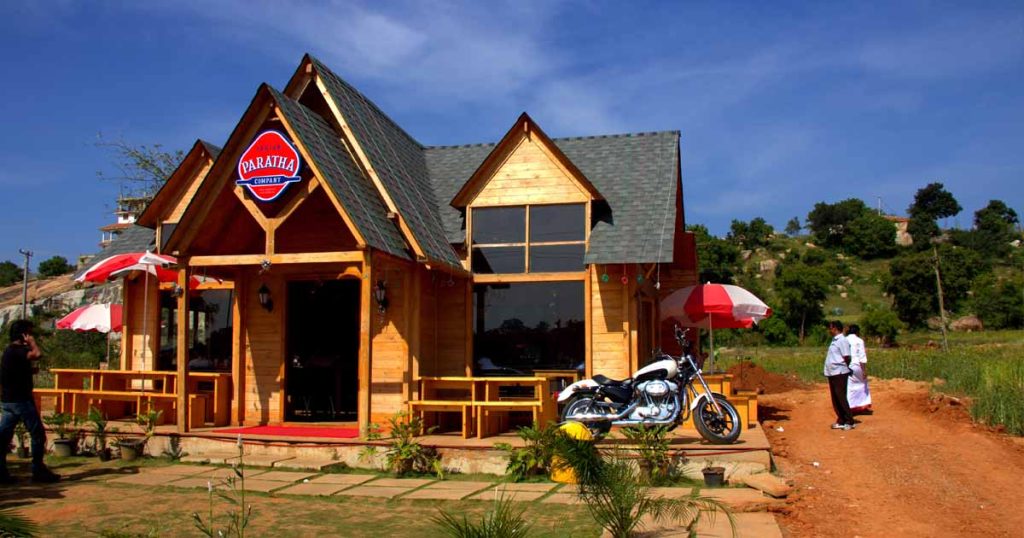 The staff is extremely cordial and always willing to help although the norm of the restaurant is self-service.
The Menu:
Indian Paratha Company as its name suggests has a typical vegetarian Punjabi menu. From parathas to lassis, the menu itself will make you go balle balle.
What stands out from their menu is a new fushion dish called parathzza. Yes, you guessed it right. It's a pizza on a paratha. A base made of paratha-dough (akin to the pizza-base) and the stuffings laid-out on top (akin to pizza toppings) – voila, you have a parathzza!Ingenious, isn't it?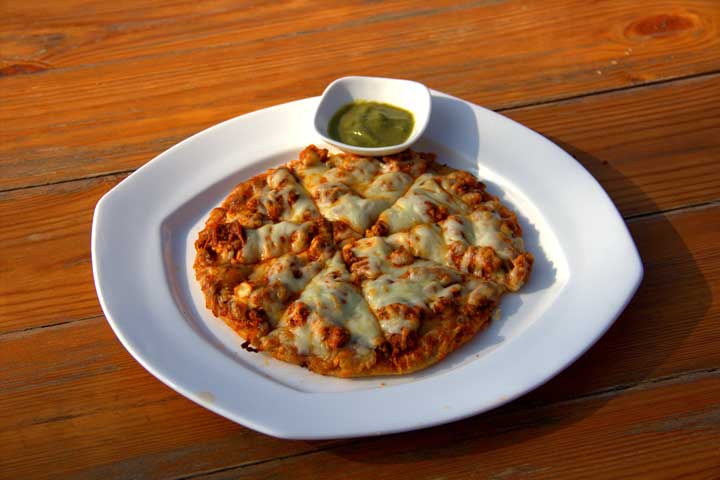 We ordered one Soya Kheema Parathzza right away accompanied with an Aloo Paratha, a Lassi and Chaas (Buttermilk). We kicked back on the wooden chair, put our feet up and chatted away with a cool breeze running through our hair. We didn't get too far with our weekly gossip before the waiter brought our paratha and parathzza to the table. We digged into the parathzza first, a tad bit apprehensive. But one bite, and our HF motto – "you can never have too much cheese" – was once again proven right. The Paratha-dough base was perfect and the cheese and soya went well together.
The Aloo Paratha was traditionally served with pickle, curd and chutney and was delicious. The lassi was rich and creamy, although we wish it was cooler. The chaas was just what we needed to beat the summer heat and we proceeded to order another.
IPC does also make sure to market their chais because there's nothing like a paratha and chai combination, right? But we decided against it as we preferred the cool beverages (we could make a joke about us being really cool, but no). Be sure to try out their chais, we have heard nothing but good things about them.
All in all, Indian Paratha Company charmed us with its wood-panelled cottage, serene ambience and of course, delectable hot-parathas. Chak De Puthar!
What we had:
Aloo Paratha
Soya Kheema Parathzza
Lassi
Chaas