Rohit Barker's Latest Brainchild, Nevermind Opens Its Doors In Indiranagar
Bangalore has a burgeoning nightlife, and no one knows it better than RJ/DJ/celeb Rohit Barker! It just makes sense that someone who knows the intricacies of Bangalore's party scene would want to create a space perfect for Namma Ooru's social scene, and that's exactly what Nevermind, the latest bar to open up in Indiranagar, has set out to be! Conceptualised by a few friends – Rohit Barker, Shylesh Jain and Rice's Obliquity team, Nevermind has been created to be an escape within your own city; a place with a tropical touch, a place where intimate conversations are possible; a place where the lively ambience that is so characteristic of Bangalore is not too far away.
The Space
Designed by Jatin Hukkeri of WAD, Bengaluru, this single floor, with 3000 sqft of space has undergone an immense transformation to create a lovely space that invites you to come, sit down and have a drink and chill. It may even be termed eclectic –a ceiling clad with mirrors to give you that never-ending feel. To break the monotony that a single floor can induce, the floor space has been divided with circular elements – creating nooks with a unique character – as well as allowing for a bit of privacy.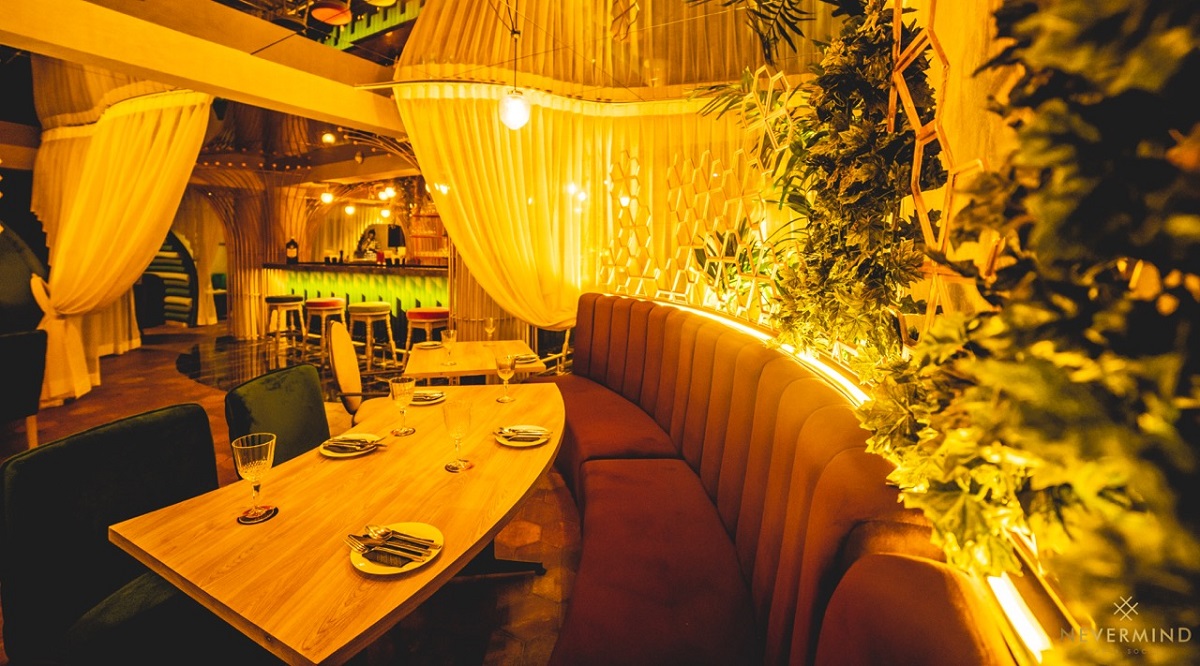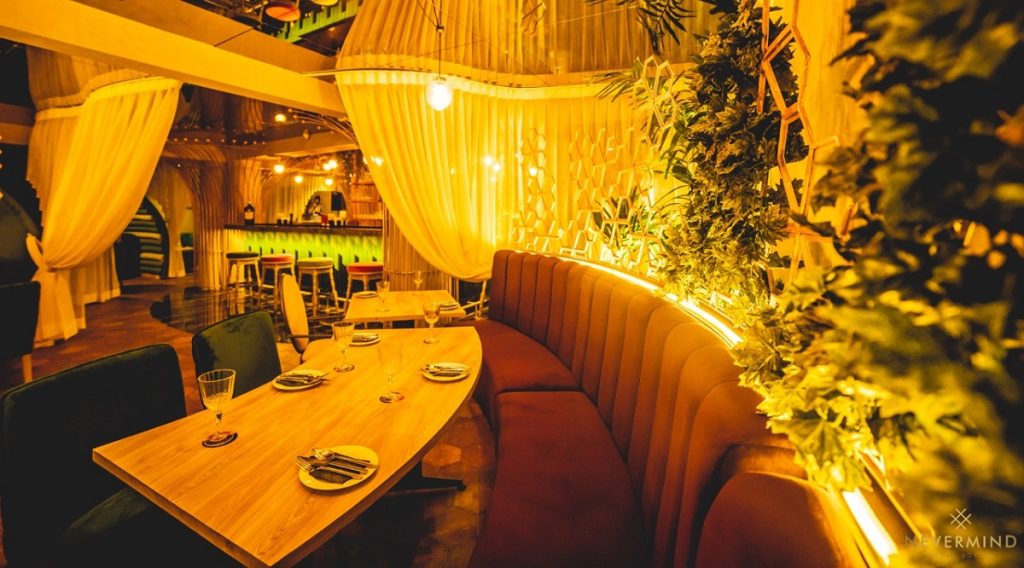 Cocktails & Cuisines Galore
At Nevermind, it's the specials that you need to check out, and their cocktail menu is the perfect example of that! Take a look at the Nevermind Essentials. A Cane Sangria brings together White wine, pineapple sour, ginger, lime and sugarcane juice. The Good Wife – Coconut cream, white rum, an infusion of curry leaf, coconut water and sugar syrup may be your thing.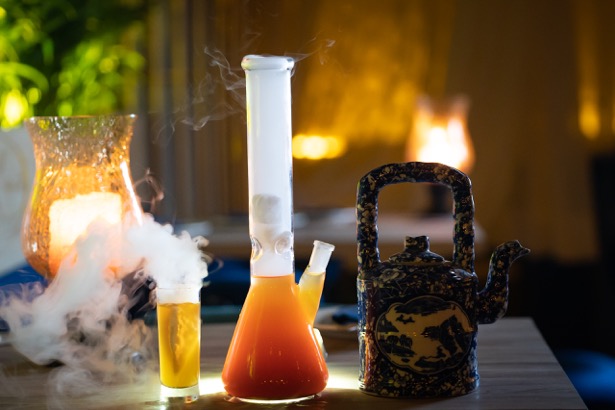 If you like some drama with your drinks, the Smokin Cocktails is what you should aim for. The Smokin Tea Time with Kahlua, Tea infused white rum and some sugar syrup is a brilliant concoction. The Smokin Pink Downfall with vodka, tender coconut water, lime and cranberry juice, a touch of thyme and sugar syrup is a good one. And then you have the Smokin Violets – Gin, Triple Sec and Sambuca that come together in this one. For the G&T lovers, the Booze and Tonic section is just what you should be checking out. Think Rose & Cucumber, Ginger & Pineapple and Cucumber & Carrot.
On the food side of things, think Modern Indian and World Cuisine which is being served currently, along with a soon to be launched Pan-Asian Menu. The All Day Bites work perfectly with choices from the bar. They also work well whether you are a large group looking to try out a number of dishes or a small one looking for a bite and drink. From the Modern Indian Menu, try the Chicken Makhni Bao – the classic tandoori chicken, served in a bao with a side salad.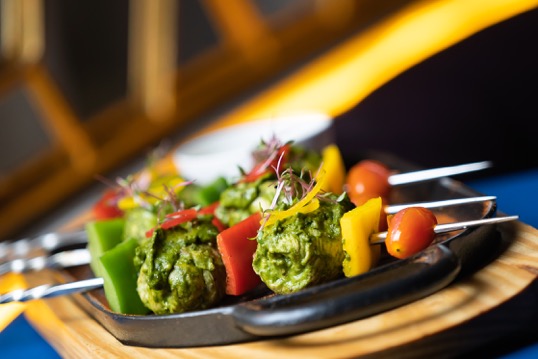 Vegetarians could experiment with The Lychee kebab that is finished in the tandoor. You could also give the Grilled Yogurt galoutis a shot, with a mint dip on the side. The Multani Tandoori Broccoli is also a great bet.
From the international menu, the Chicken Filo Parcels – chicken with Moroccan spiced minced meat generously layers in a filo sheet. Beef Teriyaki, Pesto Chicken and more are there for you to choose from too. This menu has a lot going for it in the starters segment.
Mains run the whole gamut of popular and innovative options – From Pesto Pasta to Coastal Prawn Curry with rice, to Lahori Aloo with parathas and more. Would you like the option of Slow Cooked Beef Steak? You will have it right here, or perhaps a Pan Seared salmon is more your thing? At Nevermind, that option is available too! And if none of that works – then you can't go wrong with pizza!
The soon to be launched Pan Asian menu would have the following Bacon wrapped salmon – Pan seared salmon wrapped in bacon tossed in wine, oyster sauce finished with tossed cherry tomatoes. Malacca wok tossed beef -beef tenderloin strips tossed in Asian greens, oyster sauce and chilly bean sauce and Panang curry flavoured braised lamb shank -slow cooked shank infused with Penang curry dressing
The dessert menu is simple and works well for all the sweet tooth folks out there. A Brownie Cheesecake, a Bananoffee Pie, some Cinnamon Churros, you get the drift! So, what are you waiting for? Head on over, and visit the new kid on the block – Nevermind!