Robots Will Take Your Order At This KFC Store In Shanghai
There's a robot army out there. But this time, it's the nice kind and not the ones out of a bad sci-fi movie.
This robot takes your orders for fried chicken. It's the best kind. At a high-tech new KFC store in Shanghai, customers can order via a voice-activated robot.
The robot is called Dumi and is sophisticated enough to handle order changes and substitutions. According to the Nanfang, "its makers admit that the robot has trouble distinguishing between certain dialects and accents."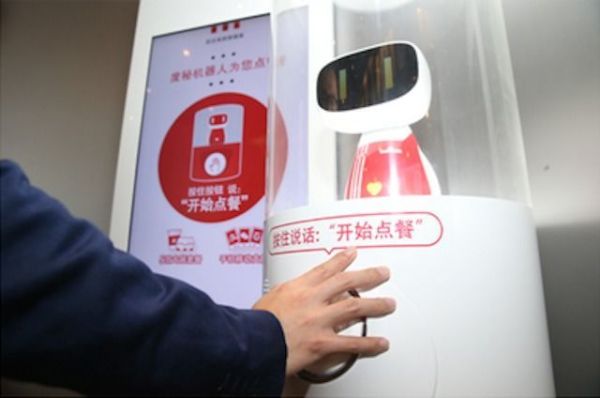 Although the robot can handle order changes, English doesn't seem to be part of its repertoire for now. The robot isn't the only technological advancement in this store. Located inside Shangai's National Exhibition and Convention Center, customers can charge their mobile phones at wireless charging stations that also enable them to stream music, and pay for their meals via mobile payment services including Alipay and Baidu Wallet.
This new concept store is being called "Original+" because Joy Wat, CEO of KFC China, says it "combines both the company's "Original Recipe" chicken and innovative technologies."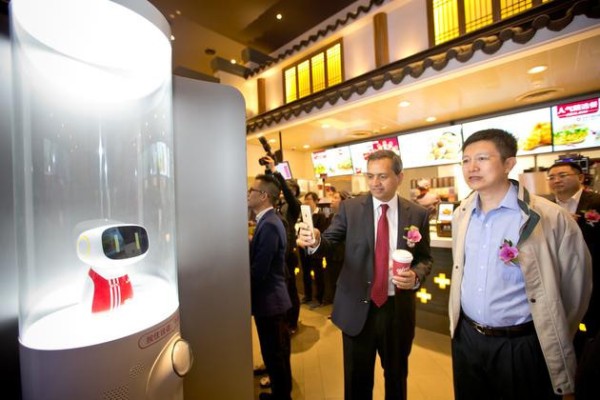 Other KFC stores are offering other technological features for their customers. In Shenzhen, the first of a number of planned "QQ" KFC stores allows customers to pay for their order using the popular text-messaging system.
According to the Shangaist, it's these kind of innovations that have catapulted KFC's success in China. Yum Brands has 7,205 stores in China, 5,019 of them being KFC franchises. Yum China accounted for nearly half of total revenues, with a staggering $1.3 billion dollars in the first quarter of 2016 alone.