The Rising Pune Supergiant Team Swears By 'Too Yumm!' For Guilt Free Snacking
Ever felt an uncontrollable urge to snack on something crunchy (read fried) and crispy sans the ensuing feeling of utter gluttony and guilt? Well, join the club because we all have, at some point in our everyday life, wanted to let go of all our calorie conscious self and scoff down a handful of deep-fried bhujiya, cookies, and other unhealthy savoury snacks. But we've got some great news for all you snack-loving souls. In fact, it's more a solution than news because now you can snack guilt-free! And what's more? The Rising Pune Supergiant team has given its seal of approval to this healthy alternative, a.k.a. Too Yumm!
Now, we ain't saying that the Pune IPL team are a group of health experts but you have to give it to them for knowing what's good and what's not for a healthy lifestyle, right? They are professional sportspeople after all! And given the current wave of staying healthy and fit, irrespective of what your profession is, it is only smart to switch up your greasy snacks for some healthy ones, right? So let's get to know the latest player in the snacking market, shall we?

R.P Sanjiv Goenka Group's new FMCG brand, the brand aims to help those who are health conscious, control their intake of bad fat, and sugar, by providing irresistible and healthier snack options with goodies in them. The range features two delicious varieties of healthy snacks and nibbles including crunchy wheat thins and fox nuts which are baked and air popped respectively and not fried. Take a look!
Wheat Thins
Wheat combined with healthy flours like soya, amaranth (rajgira) moong dal and jowar results in a high protein, high fibre healthier snacking option called 'Wheat thins'. The snack is crunchy, wholesome, and the perfect snacking option for your mid-meal munchies.
Keeping the Indian palate in mind, wheat thins are available in four different flavours. Achari  & Minty Pudina flavored wheat thins  are customized  to satiate the tangy food cravings while Butter Garlic wheat thins give out a delicate yet delicious flavor of butter and garlic & Desi Tadka  flavoured wheat thins are for all the times when we wish to eat something which is spicy yet healthy.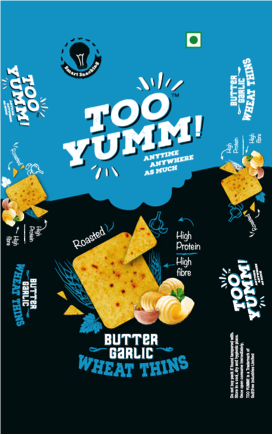 Fox Nuts
The 100% air popped fox nuts with their goodness of protein and antioxidants are not only healthier but also have a delectable taste.
To give customers a variety to pick from, the Fox nuts come in four different flavours. The Wasabi flavored fox nuts have an international touch to the regular Indian fox nuts. The other two flavours namely; Tandoori & Chatpata masala are a perfect concoction of spicy and tangy flavours. The home-style classic flavored fox nuts have a simple yet strong taste of pepper and make it a perfect option for guiltless snacking.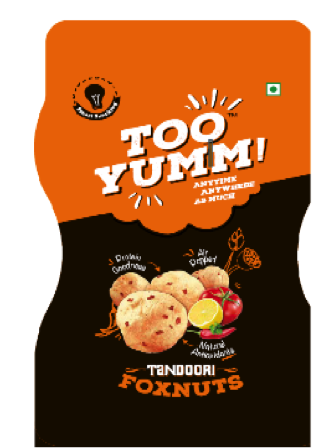 Still going to grab those wafers? Get up and treat yourself to these delicious and healthy snacks by Too Yumm! instead!