Ring In Fall With The Dunkin' Donuts Reese's Peanut Butter Square
One of America's favourite donut brands, Dunkin' Donuts has pulled out an ace card and brought the world a tasty new treat; the Reese's Peanut Butter Square. This product is the result of a collaboration with The Hershey Company which is behind the delightful Reese's Peanut Butter Cups.
The Reese's Peanut Butter Square is filled with Reese's peanut buttercreme, topped with chocolate icing and finished with orange icing drizzle; a colour scheme that was inspired by the original peanut butter cups.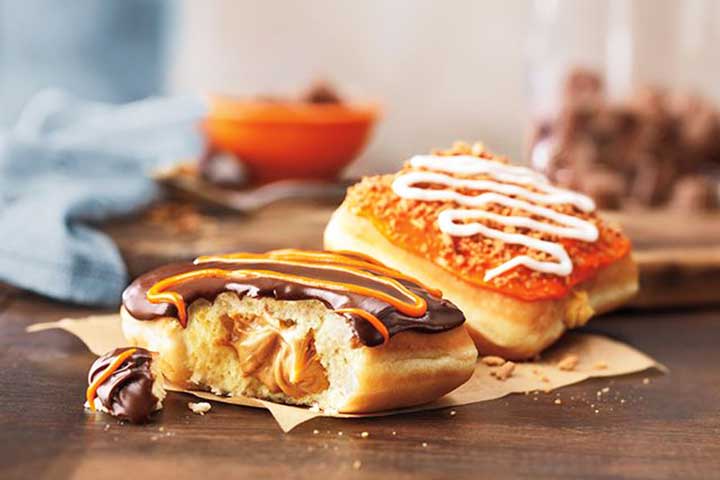 Assistant News Editor Michelle Curran of The Daily Mail's Femail said: "I don't actually like Reese's chocolates but I really liked the donuts. It tasted more like custard.' The publication also commented "Femail reporter Carly Stern thought the filling lived up to the well-known brand with aplomb, saying it 'had that smooth, extra-sweet peanut butter taste. It was really good!'"
This gorgeous treat is part of Dunkin' Donuts' new fall collection of goodies. Also making waves are the Pumpkin Cheesecake Squares, which have a pumpkin cheesecake filling, orange icing and a graham cracker crumb topping. Filled with oodles of sugar, this option is best for the ultimate sweet tooth. The sweetoholics may need to remember that the product contains 340 calories as does the Reese's Peanut Butter Square. As much as you'd like to keep going back for more, it's best to save these products for a treat.
If you are looking to indulge yourself (hey, we could all use a break now and then!), then head to your nearest Dunkin' Donuts soon. These products are limited to the store's Fall collection only.