RHI Launches 'Don't Eat the News' Awareness Campaign
Don't Eat the News
Religare Health Insurance has launched a campaign called 'Don't Eat The News', which aims to raise awareness on the harmful consequences of eating food wrapped in newspapers.
The Food Safety and Standards Authority of India (FSSAI) issued an advisory stating that the usage of newspapers to wrap food is prohibited as the printing ink used on newspapers contains many harmful chemicals like pigments, dyes, preservatives and alcohol. These chemicals are dangerous to health if ingested and can cause food poisoning, digestive problems, high blood pressure, kidney ailments and even cancer.
To raise awareness on this, Religare Health Insurance started a campaign, partnering with street vendors, and distributing fresh paper wraps with these health warnings against food wrapped in newspaper printed on them in edible ink. They have also included a hotline for enquiries. Times Now News reports Mr. Paritosh Kataria, Head of Marketing, Religare Health Insurance as saying, "In India, newspapers are widely used as packaging material by small restaurants, street food vendors and even at homes. We realised that there was an urgent need to discourage this rampant practice by creating awareness, especially among un-organised food operators and also people at large. We decided to engage with street vendors and replace their newspapers with fresh paper wraps containing an awareness message."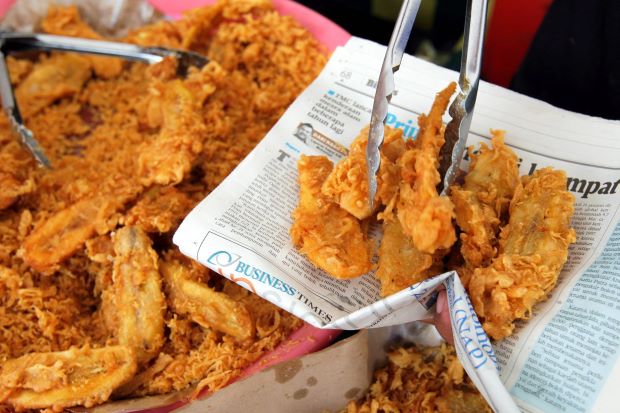 Right Message in the Wrong Place
Siddhartha Singh, CEO of Famous Innovations explained the idea behind the campaign to Times Now News, "The idea is simple yet disruptive because it makes use of an already available but unutilized medium. It's a classic attempt at trying to catch the reader with the right message in the wrong place – in a way that they can't ignore it. Health Insurance is an important category that deserves far more attention than it is getting. Which is why we sought a non-traditional communication format – something that is involved in people's everyday life and experiences."
The campaign has been successful, according to Religare Health Insurance. Within two weeks, they have received approximately 55,000 enquiries. Following this, they plan to tie-up with street vendors around the country in six major markets – Delhi, Pune, Chennai, Chandigarh, Hyderabad and Bangalore, and raise awareness about this health warning across the country.