Restaurateur Priyank Sukhija Has Major Expansion Plans On The Cards
A lot of you may be familiar with the name Priyank Sukhija and for those of you who haven't, you must have dined at one of his long list of restaurants, which includes names like Boom Box Café, Fork You, Lord Of The Drinks, 1 Boulevard, Townhouse Café, Warehouse Café, and much more. And lucky for us, the restaurateur isn't going to stop innovating anytime and is, in fact, planning to expand his business further in and outside India!
Owner, CEO and MD, First Fiddle Restaurants Pvt. Ltd, Sukhija is all set to introduce some new names in the industry, including Cafe JLWA and Daily Dose, night club Conclusion. He is also looking to increase the number of outlets of his existing restaurants.
Speaking about the concept of his new ventures, the restaurateur told India Retailing, "In September, we will be bringing in a new brand called Cafe JLWA. It is a new kind of a restaurant, something that we have never tried before with food and cocktails. The outlets will be opening at Bandra in Mumbai and at Janpath in Delhi simultaneously."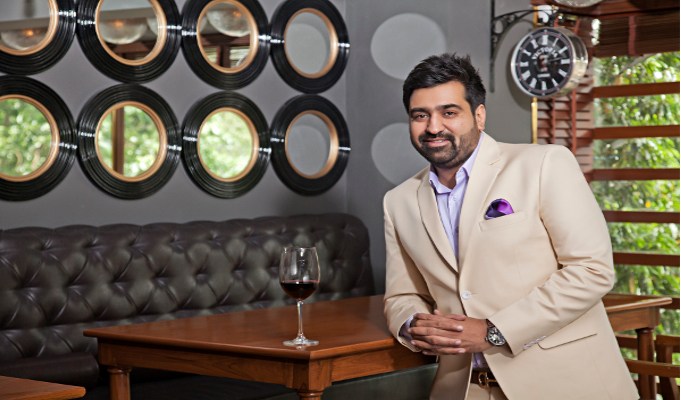 Image: India Retailing
"I am also working on another brand – Daily Dose. I have already taken a location in Mumbai which spans over 14,000 sq.ft whereas we are scouting for a place in Delhi. The restaurant is going to be more approachable to everybody and it is easy on pocket. The first outlet of Daily Dose will be opening by this year-end in Mumbai. Cost of every dish at Daily Dose will start from INR 250 onwards and drinks in the cocktail menu will be 20-30 per cent cheaper as compared to our other restaurants," Sukhija said adding that, "I am also introducing a nightclub by the name Conclusion in JW Marriott which will be opened by December this year."
On the financial front, the company is looking to rake in as much as INR 100 crore by March from HNI investors to aid the expansion plans, Sukhija said. It is safe to say that a substantial chunk of the restaurant industry in Delhi and Mumbai has Sukhija's mark on it. And his mark is only going to grow bigger over the coming years.
Feature Image: Foodness Gracious